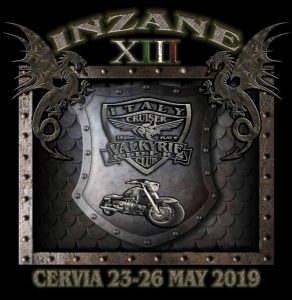 Check out the VRCC EU website http://www.valkyrieriders.eu/inzane.html
Teaser by Beer (poor video quality/nice music though by Stephen — Crossfire (Official Music Video) https://www.youtube.com/watch?v=bJsdoecdCVI&feature=youtu.be
Beer
During the Gifhorn Meeting in 2006, the EU Chapter Reps decided to start organizing Inzanes along the lines of those in the US: let's all get together, ride and party.
Each country would voluntarily take on the organization in turn during the next Chapter Rep meeting. Nowadays, Chapters are given a two year heads-up to get their act together.
Having organized 3 major EU meetings as member of a team, I would like to spend a few pages on the preparation of an international EU VRCC meeting and give you an 'inside' look of some of the organizational aspects.
As Willow once puts it for the US Inzanes:
It's more complicated than a lot of attendees seem to realize. The hosting hotel does provide enough rooms to keep everyone but also provides the parking lot, the banquet hall, and maybe a few other needs some based upon the rooms that are rented in the hotel. Whereas there may be some places such as a nice campground that would be a good spot for a number of riders to gather, they would not necessarily, or even possibly, be meaningful candidates for InZane. For what it's worth, InZane annually provides a fair portion of the input needed to keep up the rather inexpensive VRCC. It takes a lot of work on the part of a few staff members. It's a lot more than simply deciding that here's a nice place so we'll do it there.
Here is a brief example, and by no means complete overview of an EU Inzane preparation. It may- or may not be done totally different by somebody else.
Preparation, organisation and support
There is always a good spirit of hospitality, friendship and common bond during a Valkyrie Meeting, whether it be an Inzane or other meeting. If everything falls in the right place and is running smoothly during these days, the participants enjoy themselves and hardly notice what kind of preparations have preceded the meeting. It appears we take the success of these happenings for granted.
That is certainly true to the extent that the participants ultimately make the party. And in that sense, it is always a pleasure to organize an event for the average VRCC Rider. There is hardly any bunch of people who are so friendly, relaxed and easy going as the VRCC Rider.
In Europe, there is no such thing as a fixed staff that will take care of Inzane meetings. So, each and every time, different people are organizing these meetings in different countries. The downside is that experience will be absent or lost, on the positive side there is no routine except for the fixed dates which usually fall in June. Then the ice has melted up North, there is enough daylight time to travel in the Scandinavian countries and it does not jeopardize the holiday family planning starting in July. Next, you want to avoid other major events which causes people to have to say no. Like local VRCC meetings, major sport/bike events/expos, elections, Olympic Games, Inzane in the US and the like. Finally, it would also be nice to arrange a meeting during a long weekend where everybody does not have to take leave unnecessarily. Doing this for 20 or so different countries takes some time. In the US it makes sense perhaps, to do the Inzane midweek and travel during the weekends. If travel distances are shorter as in Europe, this may not be desirable.
Team effort
First of all, organizing an event like Inzane is a team effort. This sounds obvious but if you are dealing with team members of different backgrounds and/or without previous Inzane experience, it is crucial that they get along really well, are dedicated and willing to go one step further than you may normally expect. Especially since everything they do will be on a voluntary bases.
So, respect, maintaining a good spirit, formulating action items and a time path, delegation of tasks and responsibilities and informing each other is vital. Personally, I have been very lucky in the past to have been a member of a team just like that and would like to use this opportunity to thank the Lowlands team members once more for their exceptional efforts.
Acquisition
Many hotels are usually booked a year in advance by travel agencies. That is why a good time to start the preparation of an Inzane is two years in advance.
Doing business with a hotel- or event manager far in advance can be tricky, however. During the preparation phase, he/she may promise you all kinds of possibilities and/or facilities. Many of these agreements are made verbally and do not show up in the final contract.
It's a matter of trust, based on local circumstances when the time comes. Now, these managers have a tendency to move around between hotels quite frequently. So, chances are you may be talking to a different manager during the execution of your meeting who is clueless. Or he leaves for his home after office hours and in the evening his personnel doesn't know or doesn't care. So the smart thing to do is to have the manager present or on call all the time. If not, you run the risk of lack of food, understaffing, cues at the bar, registration problems, parking issues, etc.
Time to start selecting your core team. Who in your Chapter is crazy enough to load a pile of work on his/her shoulders, start up an Inzane voluntarily and has a network that comes in handy. Most important however is drive and determination.
You will have to open bank accounts. During the preparation phase, you will be responsible for amounts of $100.000, – or more. A wise thing to do is to transform your Chapter in a legal entity so you will not be held personally responsible or liable as organizer for cancellation, theft, damage or injury during the meeting.
There may even be a fatal injury during a group ride out. While the rider and next of kin are usually aware of the risks of riding in a group and accept that poop sometimes happens, the insurance company will take legal actions to prevent having to pay for the loss and/or damage. And starts to sue the organizers for being responsible for the cause.
The VRCC (US) is a Limited Liability Corporation. When I got in touch with oZ about this story, he wrote to me that he had to pay big bucks for legal protection when he started the club and website. 'All these costs were very necessary especially in the U.S. where suing people is a favorite pass time; Karen and I had to protect our home and well-being from prosecution and loss of assets and money. One person falling down on a ride, rally or gathering could sue us and I needed a corporate shield'.
There have been few cases where participants have behaved badly in their hotel rooms. Wrecking bath tubs and alike. If the room is made up after the visitor left and the participant lives in another country, the hotel will try and get the organizers to pay for the damage. Things you have to consider and cover.
In any case, EU participants are now asked to sign a paper during registration, stating that they are personally responsible and liable for their own safety and others in traffic. Individual riding behavior and individual traffic adherence is mandatory during all rides and neither the organizers nor the VRCC Chapter takes any responsibility for theft, damage or injury to person or property, caused by actions of participants to any third party in question or vice versa during the meeting. Sadly, these precautions have to be taken to prevent organizers from being sued.
Finally, it is really handy to have someone make up a website with databases for information, registration and payments.
Location
The first and most important factor is where to do the EU Inzane in your country. Congested, populated areas are a no go for obvious reasons. And there are a lot of these in Western Europe. So find a spot where 200 plus motorcycles can ride safely and without too much traffic, traffic lights, bumps and detours. The surroundings must be pleasant and interesting to be riding through. And last but not least, find a suitable hotel in such a remote location that can accommodate over 300 people. Hotels with such a capacity in Europe are usually located in cities and hard to find in the boon dogs.
In some EU areas, the population sees bikers mainly as a nuisance and troublemakers and the local authorities will not grant permission. Worse still, in some cities it is even prohibited to walk the street wearing jackets with your Chapter's patch or colours. Thanks to riots caused by 1% MC Clubs.
Dealing and wheeling
If you tell a hotel manager you will visit his hotel with up to 400 people, he will be delighted. But when he has to sell no to other people because you reserved the rooms, he usually wants to get a down payment. Just in case. This happens at a time you don't know how many people will show up. After all, it will be at least another year before the registration starts.
As an example of how things can turn sour, in Russia the Inzane was Cx all together on short notice when political turmoil prevented the organizers from arranging a EU Inzane in St Petersburg in 2014. Thanks to Bobbie and VRCC UK, they picked up the glove and organized Hinckley instead.
In the early days, organizers of an international EU Meeting had to pay a deposit for the hotel arrangement out of their own pockets. This sometimes constituted a considerable amount. I know a Chapter Rep who had a debt of nearly $80.000, taking the risk all by himself.
This issue was recognized and tackled after some time during a Chapter Rep meeting in 2006. To stimulate participation, the Chapters promised each other not to organize a local event during the time an Inzane was planned. Long term reservations and down payments were incorporated to prevent late cancellations and hotel letters of recommendation from previous Inzanes were passed along. As experience grew, an average of at least 200 regular participants could be anticipated.
You may ask yourself why go through all this trouble and have the participants book individually instead.
You can opt for several registration possibilities. Have the participant book and pay the hotel and meals by him/her self and register for meeting events.
Like sometimes in the US, you pay separately for a room, and either a full registration (includes a Joe Boyd memorial shirt, an Inzane pin and the Saturday dinner), the poker run, an event shirt, grand prize raffle tickets and bling raffles or buy a day pass and pay separately for the events and banquet dinner.
Or the participant of an Inzane pays for a complete Inzane arrangement instead. Room booking is done by the Chapter. So, everything will be included except beverages at the bar. The advantage of the latter is that you can arrange group discounts more easily. This is common practise in the EU.
You have to take into account that people spend enough money as it is by travelling and other expenses.
So now you start dealing with the manager. What will be included in the meals and at what costs. Will the hotel make sufficient quantities to provide for second helpings or late show ups. Will there be enough personnel to accommodate and refill the buffets if necessary. Will the hotel prevent cues when 400 people start ordering drinks at the bar at the same time. Will there be a discount for the participants.
The majority of hotels see their profit mainly in bar consumptions. Alcoholic beverages are expensive in the EU. You tell them that VRCC Riders are of a very thirsty mankind species so the hotel has to consider quantity when calculating profit. Hopefully, you will get their regular price of a consumption down. Or have the hotel serve alcoholic beverages for free during dinnertime. Or provide the room fridge for free. Anything. This, to prevent some people from not coming if they consider the price of consumptions outrageous.
At one time, I had a beer company sponsoring free beers for everyone during the whole evening. I had to cancel this offer because the hotel would not permit any other drinks except from the hotel bar. Bummer.
If you are convinced the hotel will offer a fair and realistic price, you can start calculating the participant's attendance fee. Here you have two choices. Either keep the price down and have the attendants pay just for the hotel arrangement and rely on sponsoring and club sales or come up with an all-in, more expensive price that covers things like a live band, free T-shirt, tokens of remembrance, free entrance fee for a sightseeing trip and lunch for a common ride out, patches, raffles, night guards, etc.
Next, you have to start negotiating about memorabilia like printed T-shirts, pins and patches. There is a whole array of possibilities on the market, all varying in quality and price. A problem with small quantity orders is always the fabrication of a mould for imprinting. That usually is costly. The individual printing thereafter is cheap.
Finally, you want to consider to incorporate extra's pending on your budget and possibilities, like on site vendors, organize biker games, fireworks, tuning stand, display, shows, etc.
Prepare for ride outs
Riders in the US and elsewhere are blessed with vast areas in remote locations. Not so in Western Europe.
Obviously, you want to select nice country roads for riding.
If you ride in a group, this is considered a rally in many EU countries and police escort is mandatory.
Now, since it is weekend these police officers work overtime for your tour and you have to pay a bundle for their services. The practical solution to this problem has been to tell the Riders that they are legally riding individually. So, the whole group of sometimes over 200 bikes is riding their own trip. They just happened to be in other motorcycle traffic. Next, the local authorities, police and medical services have to be informed about your meeting and rides. This makes sense if a calamity occurs.
In some countries, each individual town authority (town hall) has to be officially informed if you trespass their area of responsibility. So you need to get their permission first. You can imagine if you want to ride a 250-mile tour how many towns, villages and counties you will be crossing. So, you have to be creative again to tackle this issue.
Since the majority of participants come at your party to ride most of all, you have to select, inspect and publish safe and nice routes in the local area.
A small and curved road can be really nice riding alone but affects safety if you ride with a stretched column of many bikes. Wider roads are normally designed for transient traffic and incorporate too many stops and subsequent break down of your group, causing people to lose sight and getting separated from the lead package. Stops in between have to facilitate the planned number of bikes. And you better incorporate a sanitary facility for ladies.
In the past, we used marshallers in the EU to block junctions and a tail chaser to keep the bike group in one piece to provide for continuity of the ride. Sometimes followed by a salvage vehicle to pick up stranded or broken bikes, if necessary. In many EU countries, blocking junctions by bikers is legally not allowed. Only the police can do this. So, if a car decides to pass the blockade, he/she has the perfect right to do so.
In the past, after blocking other traffic the marshallers would overtake the group and join up in front to do their trick again. This has caused problems. Marshallers overtaking the group have been involved in serious accidents. So you better have sufficient numbers to account for single use at junctions or have the group stop and allow for the marshallers to catch up in front again.
Group Riding
Leading a large group of Riders can be quite a challenge and responsibility. First of all, your link is as weak as the most inexperienced- or irresponsible Rider.
It is only natural that the group starts behaving like a harmonica. The leader may ride at a constant speed, there are always Riders who prefer to have a gap in between. This makes sense if you have an inexperienced Rider in front of you who hits the brakes in front of- or during every curve in the road. If you let the gap become too wide however and start accelerating to catch up on straight parts you should realize that 50 riders down the road, other Riders will have to ride top speed to overcome this, seemingly small alteration.
One time during a EU Inzane, I experienced a few Riders who were drinking whiskey during breakfast. The Inzane leader, Lasse, patiently explained to them that he couldn't care less what they were having for breakfast but he could not possibly allow them to participate in that day's group ride for obvious reasons.
To his surprise, the same Riders were riding along anyway and having more whiskey during lunchtime. Needless to say, this caused some havoc to the point the Riders had to be threatened with calling the police before they could be persuaded to leave the group.
You better inspect the routes just prior to the meeting for roadblocks, WIP, etc. I saw a beautiful customized Valkyrie end up as a wreck in the ditch one time at Inzane because the rider decided to overtake someone else on a curved road in the mountains. At about halfway the curve which he couldn't oversee, the opposite side of the road was broken up by Work in Progress.
Finally, I have seen several serious accidents happen because Riders were not keeping their lane while being overtaken (not always intentionally, they may avoid ditches, potholes, etc.).
As Britman put it once in 2016, LOL (abbreviated)
Part of the problem is some riders do not want to learn the rules of group riding.
The most important rule is it's not a race. Something that many seem unable to comprehend.
Then there's the wait for the rider behind you at a turn if you can't see them behind you rule.
Some are simply unable to get this into their heads.
Then there's the rider who waits until the last moment before getting ready to ride. Everyone else around them is gloved and helmeted and they are still flapping their mouths and making the rest of the group sit and wait.
Then there's the rider who thinks that his bike is in some way magical and doesn't need to get fuel when others on the same model bike are filling up and then needs to stop 30 miles down the road.
Then there's the rider who doesn't ever use hand signals to help advise riders behind who may not be able to see the rider ahead brake light or turn signals. If someone ahead of you is using hand signals maybe the riders behind you would like to be advised of the same information.
Then there's the rider who doesn't ride staggered. Especially the ones who move from side to side in the lane as they are rolling down the road.
Then there's the rider who has to be constantly busy with their GPS, their music etc. whilst slowing, speeding, weaving down the road.
Then there's the rider who whines about "when's lunch" or doesn't like the lunch stop.
Then there's the rider who stops in the middle of the lane at a traffic light or stop sign blocking the lead rider from being able to see the tail end of the group in his mirrors.
Sponsors
I was explaining earlier that the organization has a lot of expenses before even a single participant registers, let alone starts paying. Since the VRCC does not charge any money from its members, sponsors are the means to overcome this problem.
As Misfit puts it somewhere on the board, it's getting extremely hard to get quality raffle prizes donated. Partly because the novelty of the Valkyrie is gone and also because the target group by now is getting too small for any company to be profitable. Where in the early days truckloads of accessories were selling like crazy during a meeting of a few hundred Valkyrie Riders, sponsors now hardly get their travel expenses back. This is equally true in Europe where sponsoring all along is a different ballgame than in the US. It's strictly business and many companies want to have their investment back right away.
Timing is essential. Your request must be on the table when the company decides over its sponsor events. My experience is that chances of getting sponsoring are always better if you start straight at the top.
Write a personal letter to the CEO or member of Board of Directors.
Read their annual investors meeting reports and pick a few sentences that apply to the VRCC to make him aware that you are involved.
Don't ask for money straight away but invite him to a formal charity dinner. Make him believe that you know him. Tell him that you also invited other CEO's, celebrities and public figures.
The majority of sponsor requests/invitations will end up in the dustbin and you will get no answer. Sometimes these letters will be passed on to the lower ranks with a question mark. So, a few months later you start inquiring about your invitation. People don't know who you are but they now feel they have an obligation. They will get back to you this time asking for more information. Ask for a personal meeting to elaborate on your meeting and proposal. Put on your suit. Think BIG, the way these guys do. Don't ask for pennies and dimes. You want a brand new, latest model motorcycle or a considerable amount of money to give away for charity. You want your meeting to make impact and impress. There will be lots of publicity. Their gift will be noticed by influential people from over 20 countries!
Of course, you will not get what you asked for but by now you have an insight in the companies' possibilities. Now comes the time to talk alternatives and what you are really out for. This approach sometimes worked for me.
Many sponsors in the EU have no problem in sponsoring a EU VRCC Inzane, provided that they will get their invested money back quickly. Well, it takes no mathematics to figure out that a target group of 300-400 people is too small to be very attractive for any sponsor. So much for your Inzane cash flow and balance. Sponsoring has also to do with publicity. If you can arrange to be in a newspaper or on local or even national TV, sponsors will be more willing to support you. And your meeting needs to support a charity organization, of course. So, you need to do some campaigning. I have always been grateful for the statement of the US VRCC board message that stated that the club had over 20.000 members and 6 million monthly hits. After all, that number is much more impressive than 400 EU Inzane participants. Nowadays, a smart manager will check the number of website visits straight away, however.
How can you get more publicity. Invite a public figure. A movie star, TV celebrity or national country Miss which is my favourite option. Especially if she has been a Miss World contestant. Or any other public figure for that matter. You have to persuade her to come over for your charity funding and enjoy a day's free ride on the world's best motorcycle ever. If she accepts, your meeting will be in the news but this also imposes a risk. When she comes completely dressed up with the entire circus around her, you lose control over your own meeting quickly. You can still consider this if you attract many sponsors and substantially upgrade the Inzane meeting. So, it is usually more practical to ask the sponsor for a discount or raffle item.
Here is an example of a letter, I sent to a potential sponsor.
VRCC Benelux VzW                                                                                                                                                      Gemert, 23 November 2015
De Wouw 45
5422 DC Gemert                                                                                                                                                            To: Azzam Al Mutawa
The Netherlands                                                                                                                                                                   Managing Director
Tel: +31 492773661                                                                                                                                                              Kuwait Petroleum
Mob: +31 657975901
Beer.vanhuet@gmail.com                                                                                                                                              Subj: Promotion request
Dear Mr. Al Mutawa,
It is my pleasure to invite you to our formal dinner at the hotel Ol Fosse d'Outh in Houffalize on the 4th of June 2016.
After 12 years, the Valkyrie Riders Cruiser Club Benelux has been able to bring the International European Inzane meeting back to Belgium again on 2-5 June 2016. This meeting has been a great success in the past, rendering it the biggest EU Honda Valkyrie event with widespread participation from over 18 countries.
I expect over 400 of these exclusive motorcycles to attend, that are also owned by Tom Cruise and Katie Holmes. Next year, it will be the second lustrum of these meetings which also coincides with our motorcycle's 20th birthday anniversary.
All the more reason for an extra celebration. On Saturday June 4th for instance, we will commemorate the fallen allied WW2 soldiers at the War Museum in Bastogne in the Ardennes.
During the meeting, a lottery will be held to benefit the Medical Helicopter Rescue Center in nearby Bras sur Lienne. In this sparsely populated area, timely recovery of sick and injured people is otherwise not possible. All revenues and income of the meeting and lottery will be donated to this charity foundation.
A Valkyrie will serve as a grand prize for this lottery. We have made contact with Miss Universe Belgium 2015, Annelies Törös as guest of honor to hand over this prize to the lucky winner.
Unfortunately, the organization lacks € 2500, – to obtain this grand prize. We would very much appreciate your involvement in this event therefore, by donating this amount as a generous contribution.
In return we will promote Kuwait Petroleum every way we can and provide maximum exposure of your company prior to the meeting, during the lottery and afterwards on all our 18 EU websites and Facebook. Your company will be added to the sponsor list on our meeting website and permanently on our regular website. We will submit a full report afterwards, including your name and gift to all VRCC Chapters worldwide with over 20.000 members. In addition, we will send you photos and a video of our meeting without delay, together with a token of our appreciation.
If you wish, I am more than happy to come over and discuss this promotion proposal in person.
I do hope therefore, that you will reply to my request in a positive way and that I may hear from you soon.
Yours Truly,
Each time I tried to convince over 80 companies to sponsor the VRCC Meeting, ranging from Esso and Shell to provide discount fuel coupons for the Riders during their travel to small local companies with a chrome piece or tool. Out of those 80, only 4 or 5 react. Below an example of an early day letter to Honda Japan that came back to me through the entire Honda EU chain of command, LOL.
ValkyrieRidersClub Benelux                                                                                                                          Gemert, 17 May 2002
Vondellaan 103
5421PT Gemert NL                                                                                                                                        To: Mr. Hiroyuki Yoshino
Tel/fax: 0492-390090                                                                                                                                          President and CEO of Honda
Email: beerhuet@chello.nl                                                                                                                            Subj: Notification
Dear Sir,
As Chairman of the Valkyrie Riders Cruiser Club Benelux (VRCC) I would like to notify you of a disturbing matter within your Marketing/Public Affairs Department.
My Club is hosting an international meeting of Honda Valkyrie/F6C motorcycle owners by the end of May and has requested Honda Europe to participate in this event either financially or with promotion articles.
The main objective of the meeting is to raise funds for the 'Make-a-Wish' foundation. This foundation makes dreams come true of terminally ill children between 3-18 years of age.
So far, we have had positive responses from quite a number of F6C riders from Italy, Austria, Greece, Germany, Norway, the United Kingdom and the Federation of Russia. Several local- and Japanese companies are sponsoring our event. We are getting promotion articles from our friends in the USA and the meeting will be promoted by various local Honda dealers, online and in the local newspapers and tourist information office bulletins. Furthermore, Miss Netherlands will pay the meeting a visit as guest of honour and television teams will be on location. We have gone through great lengths to promote the Honda F6C 'Cruiser of the Decade' in Europe and beyond.
As stated before, early November last year I have sent Honda Netherlands a letter, requesting their support for this event. After several phone calls, I received an answer that the company did not like to be associated with the model name 'Valkyrie'; hence no support could be provided. Besides the affiliate lacked money and I was told to get in touch with Honda Belgium who was taking care of business on behalf of the Netherlands section. Honda Belgium was very positive but said the company had to wait for a new budget, so they would get back to me. Late March 2002 I received a mail from Honda Belgium to no avail and that they were handing over the matter to Honda Netherlands.
So far, the 'Power of a Dream' has turned out to be an empty balloon as far as your PR department in the Benelux is concerned. We are proud of riding your company's product and have invested a lot in our meeting. I hate to announce at our f6rider site with over 15000 members and 6 million hits every month that Honda Netherlands is ashamed of the name Valkyrie and thus not willing to promote the model. The least Honda Europe can do is to give us a decisive answer whether or not it will be supporting our meeting. I am turning to you as a last resort to kindly ask for your intervenience in this matter.
Yours truly,
Talking about timing, 17 years later the same Honda Europe contributed a considerable amount in buying a Valkyrie as Grand Prize for EU Inzane X as well as providing 3 brand new GW Valkyries for free test rides during the meeting. Unfortunately, the test rides had to be cancelled because an earthquake hit the Honda plant in Japan just prior to the meeting and there were no more models available in Europe.
Some companies in particular have always been very generous and loyal in supporting EU VRCC Meetings like Valkyrieparts in Germany and Bikers Best in the Netherlands. Here are some international responses from the early days. The VRCC owes these companies a lot.
My company is happy to sponsor your meeting by donating one Valkyrie Cruise Control under the guidelines outlined in your letter of March 18 2003. In particular, we would like to send flyers to be distributed to all attendees. We have only one problem – we no longer have computers available for the existing cruise control kit and have yet to get a Valkyrie bike back to do the development work. Nonetheless, we have many orders and are confident we can find a bike to upgrade the kit to the new computer over the next month or so. If your organisation is happy to proceed on the basis that a kit will be supplied in due course when development is complete – not later than July 2003 – then we are happy to be involved. The donation would have a value of around $900 Aussie dollars and include freight to the winner. It would NOT include installation costs however.
Best regards and good luck with the meeting,
Thanks for the update. We certainly appreciate the exposure. We believe we have the best product in the world – but riders are still hard to convince when it comes to the benefits of cruise control. Once they use it and get used to it they can't live without it – but getting that first sale can be tough. The new computer development has now been finalized and looms will be outsourced this week. We should have a product available for the Valkyrie by around mid-June.
Best regards,
Tony Guymer
MotorCycle Setup Pty. Ltd.
https://www.mccruise.com/
Yes, we did receive your letter and can gladly send some Blinker Buddies for your cause and event. We don't really have any promotional materials to send because we haven't done any shows or events yet. Let me know the delivery date and I'll send some out as soon as I can.
Regards,
Jerry Danowski
sales@blinkerbuddy.com
Thank you for your prompt reply. We are very interested in participating. We have a European representative that we will contact to assist in making the arrangements with you. We will be in contact soon.
Haig Balian
MH Instruments, Inc.
https://mhinstruments.com/
We will definitely participate and very happy to do so. I will work on sending product to you by the middle of April.
Mark
CAT Store
staff@catspecialties.com
We received your letter requesting promotional items for the event on May 22-25, and are only delighted to participate by donating two of our top line gauges -a clock and a thermometer, chrome stainless steel. We'll ship them as soon as you provide the USA address you mentioned in your letter. Thank you for contacting us and for your interest in our products.
All the best!
Lori Aldighieri
https://www.formotionproducts.com/
Happy to hear the package arrived okay. We hope that your members get some good use of the gift certificates. I have included a copy of our logo for you to use on your website and we thank you for doing so.
Best Regards,
Al Harrison
The Heritage Saddlebag Co. Ltd.
Thank you for your email message and invitation to be involved. Yes, Tel-Tru is happy to donate 1 unit of the Tel-Tru Valkyrie oil dipstick gauge kit for your event's lottery. I am arranging it to ship by April
16, 2003, to the address in California that you provided. I hope it is a successful event for you.
Best regards,
Yvonne O'Brien
Tel-Tru Manufacturing Company
https://www.teltru.com/
Thank you for your informing us of your exciting upcoming event. We have our distributor American Lifestyle who is servicing the Benelux market. I have forwarded this to Rudi and Peter to follow up with you. Please feel free to contact with any other information in the future.
Best Regards,
I sent our promotion out today via USPS priority mail. It should arrive there on Monday 4/23/03. It is a small package as the Company is small and hardly qualifies as a "grand prize" but I hope the winner will enjoy it. I believe it will be the first one in Europe. Hope the meet is fun for all.
Best regards,
Bill Arbuckle
http://www.madcorider.com/
I would be happy to donate a prize for a worthy cause like yours. The problem is I make covers for all 3 models, Standard, Tourer and I/S. The covers are not interchangeable and they also come in 20 colours. What I might suggest is if you can take some of the Photos off my web page ([url=http://www.winterwoolie.com]www.winterwoolie.com[/url]) and print them up then you can offer the prize based upon the photos. This way if the winner has a Standard or Tourer then I will send them a cover in the colour of their choice for both the Driver and Passenger seats. If the winner has an I/S then they would win a single full cover for both seats.
For a sample I could send you a Back rest for the sissy bar passenger rest and this way you could display it and people could feel the quality. Then you could raffle off the Back rest too.
The winner could contact me and let me know what they want and in what colour, then I could send it direct to that person from New Zealand. Would this be OK.
Botman… Nick VRCC#11099
Sorry for the delay in responding to your previous letter. I have been having some health problems, which has slowed some things down in the Office. We will send a set of the AIR WINGS with UPPERS for the Valkyrie cycle to the address listed on the bottom of your first letter. Shipment should be on Friday, April 11, 2003, for it should arrive at the CA address on April 18 or April 21, 2003. If this is not acceptable, please advice promptly. We will also enclose some product flyers for you to give to the attendants or put on display.
Hope it all goes well for you.
Sincerely,
Barbara Baker,
http://www.bakerbuilt.com/
This year, we send you our new Vest B model 2XL size as a grand prize for the lottery which please find in our website [url=http://www.hit-air.com]www.hit-air.com[/url] line up. We may also send you some Hi Air sports caps and flyers. We wish you success in the forthcoming meeting.
Best regards,
Kenji Takeuchi
President Mugen Denko Co., Ltd.,
https://www.hit-air.com/
I'm changing my name. I received your letter and would be happy to donate one of my accessories for a good cause. I'm a very small business but I will donate something small but very nice. Let me know where to send it and thank you for the invite. I wish I could be there.
James Harmon
Thank you for your interest in Waynes World and for the opportunity to give to a wonderful cause such as the CliniClowns Foundation.
I just received your letter and would gladly like to donate some motor cycle accessories
Thanks
Wayne Kinsman
Execution
A few weeks before Inzane everything has to come together.
A script is handed out with all action items and cell phone numbers to all helpers so they know what-, where and when events are taking place as well as their duties and cases of emergency. Final tuning and adjustments are made.
A day in advance the crew dresses up the hotel with banners and information, sorts out the welcome packages, instructs the reception ladies and hotel manager and checks out the hotel. A final check of the trips is made to see if there have been any changes, detours or alterations to the routes.
Since most participants from different countries are not able to communicate with each other, all the speeches are prescript to be able to translate them in different languages in advance…..it's truly amazing to see Riders from all over Europe having the same fun and sprit even though they speak different languages.
No matter how well the meeting went, if a collision, accident or theft has taken place, that will always be remembered. So the parking place is physically guarded and blocked at night to prevent theft. Better safe than sorry. The rest is up to the participants. PARTY TIME.
Wrap up
After the meeting and clean up, the organization does a debriefing, sends tokens of appreciation and feedback to the sponsors and completes the financial issues. Finally, after a year or so, the IRS hopefully will approve your bookkeeping and you can have a dinner with your crew and rest at ease, LOL.
First EU Inzane 2007 – Karpacz, Poland
Wolf
Beata, Luzik and Tomo organized this great motorcycle event in Europe. It was an honor to be part of this first EU Inzane. THANK YOU!!!
We finally got to this day, Thursday, when the Valkriders arrived from all corners of Europe in the pouring rain. They all came to Karpacz in Poland!!!
Over 240 Valkyrie and everyone eager for the meeting. Some rode more than 2,000 kilometers for this rally, and one individual even 3,500 km!
Everyone was very impressed with the professionalism of the Inzane preparation.
You could hear whispers in many languages: "I have never been to such a motorcycle meeting yet."
Wonderful, wonderful, great ………. etc.
There was a magician, an underwear show, dance lessons, the performance of the best Polish mime, and parade through the streets of Karpacz in costumes from the Grand Theater in Warsaw.
Words cannot describe the atmosphere of this rally and the amount of work put in by Beata, Luzik and Tomo who will be remembered forever.
Editor's Note
Our Polish Bros have gone through great lengths to make this first EU Inzane an unforgettable experience.
324 members participated from Belgium, Czech Republic, Germany, Finland, France, Ireland, Italy, Lithuania, Netherlands, Norway, Austria, Poland, Russia, Switzerland, Sweden and the US.
Karpacz is a very nice place in the vicinity of Książ Castle, the largest castle in Eastern Europe.
It lies within Książ Landscape Park, a protected area which is part of the Waldenburg Mountains. The castle overlooks the gorge of the Pełcznica river and is one of the Wałbrzych's main tourist attractions.
During reception day, dinner was possible until 01:00. Friday night at the hotel a comedian, Karaoke, folkloristic and country dance with nice looking ladies, dance, live music and DJ.
Dinner tables were available until closing time and not unimportant, 1 pint of best the Polish Lager for only € 1,25.
Saturday a joint ride to Czocha Castle with short breaks and lunch. Then on to participate in the event of the city Karpacz – rock concert in support of action for a children's home.
We had special transport passage to the party center where there is live music, DJ, an international tug-of-war competition, bank robbery, individual competitions (the strongest right and left hand), bull riding, country dance, coinage and several other festivities.
And as on Friday: half a liter of the best Polish beer only for 1.25 € and tables full of food until the end of the party from 22:00 possibility to return to the hotel.
Luzik
The Karpacz Inzane in Poland was the first and greatest Valkyrie show organized in Europe. Only preceded by the Inzanes in the US.
The challenge was great, especially because the Polish Chapter and the organizers (Beata, Luzik (Mirek) and Tomo had no experience in organizing such a big rally.
The organization started almost immediately after Gifhorn and lasted for the whole year.
We chose Karpacz for it's good, central location, easily accessible from all European countries and the available accommodation and a positive attitude of the local authorities were great.
Karpacz met all our expectations. Ground Zero of the rally was Hotel Skalny, and two other hotels close by.
Time was running out … And the first day of the rally arrived
Thursday – The weather was terrible. It was raining cats and dogs from the early morning throughout the day. And not just drizzle but very heavy showers.
The first participants began to arrive at 13.00. As you can see, raingear was obligatory equipment. After registration, everyone immediately went to the rooms to change their clothes and gather as soon as possible at the bar to get warm.
Since we had not planned anything for this evening, everyone got to the hotel in their own time and the registration lasted until late at night.

Arrival of the Finland Riders

………Werner doesn't care to get wet
Friday
After breakfast, we went for a first group ride to the Czocha Castle:
Almost everyone went riding on the first trip. Luckily, the weather was good.
The castle made a big impression. Very old and atmospheric……
The row of motorcycles was several kilometers long, you could not see the end from the start…..
Saturday
The trip to one of the most beautiful castles in Lower Silesia.
It was the main trip of the rally and we invited the police to protect the column of VRCC power cruisers:
Before leaving the castle, Kamil came up with the idea to take a photo from the highest castle tower.
The participants of the trip put together an inscription, 1 INZANE on the lawn in front of the main entrance.
Friday, Saturday – Attractions and fun until the morning. Two bands played during the event:

The "Blues Brothers" band was sensational
And that was not all…………………..Surprises at Friday's and Saturday's Party
A display of women's underwear
Words fall short…You had to see it! A true winner and great success.
The male part of the rally didn't want to end the show….. Some of them even took the part in it

Werner was irreplaceable
In the lobby we organized a rivalry contest:
Johnny Walker vs Jack Daniel's …… and guess who won?

Yep,
was the winner. Some people could not take their eyes off these red labeled walkers

                                                                             COHIBA rules!
Smoking cigars is not the healthiest thing, but as you can see from the pictures below, many Riders enjoyed a first class cigar and it sure was a great success …
You don't leave a COHIBA go to waste Some cigars even made it to the dancefloor…

We also had a performance of young "magicians" – Bartek and Szczygieł gave a nice show and up 'till this day many Riders still don't know how all that "magic" worked ….


.                                                                                                                                              Ooooo !!!! How are they doing that?

The fun lasted for 2 days and everyone regretted that it was time to go home

.                                                                                                                                       Einstein – as you can see he is in a good mood…

The Spanish temperament was irreplaceable . . . As usual – the Dutch showed good humor and their wooden shoes ….

We also had guests from Ukraine – their shining vests in the dark made quite an impression…

And this is how the Finnish-Austrian friendship is flourishing.
In the evening, a well-known Polish mime actor went on stage.
He did not need words to make everyone laugh…
On Saturday evening we had a great performance of a "Country/Line Dance" band and later, volunteers had the opportunity to copy the steps and join in ….
Official part: Photo of Inzane organizers and Presidents of EU Chapters….

Organizers: Beata, Luzik (Mirek), Tomo

Presidents of clubs – official photo and farewell toast.
On Saturday, we had a "parade" on the main street of Karpacz: below the preparation for the parade and the parade itself. Theme for the occasion was 'disguise' and some Riders took this very seriously
Video INZANE Karpacz Parade


1 INZANE Karpacz Parada1 and Inzane Poland by Maillé Patrick and Inzane3 by Maillé Patrick
Video Mechanics at Inzane 2007


Inzane Bonnus Méca by Maillé Patrick
Video by Michael Boeckmann
Polen 2007
News Article (translated from Polish)
1st European InZane 2007 – VALKYRIE motorcycle rally. Karpacz will host more than 320 participants of the first European Motorbike Festival of the Honda Valkyrie. The rally starts on Thursday, June 21st, and will run until midnight.
The Rally begins on Thursday 21 June and will last until Sunday 24 June. The Orbis Skalny hotel in Karpacz will be occupied by the participants of the meeting from Germany, Austria, Switzerland, France, Czech Republic, England, Finland, Portugal, Belgium, Ireland and of course Poland. These days the participants will visit the most interesting places in Karpacz and surroundings. Książ Castle and Czocha Castle. Organizers of the Valkyrie Riders Cruiser Club Poland Chapter and the Mayor of Karpacz prepared a '6 cylinders' festival on Saturday with participants of the rally and also for spectators and motorbike enthusiasts. The event will be held on the Relaxation Slope from 8 pm. The program will consist of rock bands, presentation of Honda Valkyrie motorcycles, games and contests and the possibility to purchase motorcycle gadgets. During the event there will be a party with star of the evening Stan Borys. Also, on this day at 16:30 a great Honda Valkyrie Motorcycle Parade will cross the main streets of the city from White Jaru to the Relaxation Slope.
Video by Patrick Maillé
Inzane 1

Steve B's blown custom Valk
Video by Czech Republic 
https://www.youtube.com/watch?v=Za8E4GfIb40
Kurt from Switzerland
The VRCC Chapter Poland has organized a successful event all along the line! The Poles have managed, from the first moment to create an atmosphere in which one felt comfortable. In addition to trips, a cozy get-together, food from the rich buffet, there was also enough time to marvel at the small town of Karpacz or the numerous Valks from various European countries, exchange one or the other shop talk, philosophize about the experiences or worries of a Valk driver, or easy to relax. A special highlight was the parade on Saturday through the town, where the roadsides were lined with enthusiastic spectators who waved enthusiastically to the Valk drivers and applauded. The weather did not fully convince, but the few raindrops that clouded the mood a bit during the day disappeared again and made the sun shine from time to time.
EU Inzane 2008 – Braunschweig, Germany
Website http://inzane2008.valkyrieriders.eu/
Dag Verpeide (Norway) Video
2nd European Inzane
Editor's Note
I took the liberty of translating the late Werner's experiences and impressions about Inzane Braunschweig because I figured it would be interesting from a background POV. Werner was a very active and social Rider, with 10W40 in his veins so to say, and with previous experience in organizing various VRCC Meetings in Germany. It is quite complete, almost like a diary.
Werner
Let me begin early on.
When we sat together with the representatives of all present countries at the 1st European InZane in Karpacz, nobody volunteered for the 2nd one in 2008. In the end the Poles agreed to do it once again.
Approximately 3 weeks after the meeting in Poland, Gerald called me and told me that he wanted to organize a Northern Germany meeting in 2008.
When I called Andy a few weeks later, I accidentally mentioned what Gerald had in mind.
Andy in the meantime, had talked to a few Chapter Leaders in Europe and they all were a bit unhappy that Inzane would take place at the same place again. Andy asked me if I could imagine myself organizing Inzane 2008 together with Ede and Gerald.
I told him I would have to think about it and first wanted to talk to Ede and Gerald.
When I hung up, I first informed Gudrun (my wife) of Andy's idea.
Her enthusiasm was not huge to say the least. This had also to do with her illness.
But then I convinced her (or better persuade her) that evening.
So the next day I called Ede.
The conversation went something like this.
Werner: Hi.
Ede: Hello.
Werner: Have phoned Andy, he says we should put Inzane 2008 on track.
Ede: We ?
Werner: Yo, together with Gerald. You know, Gerald wants to host a Northern Germany meeting in 2008 and Andy said well, then we can arrange an InZane with him as well
Ede after about 10 seconds: Yo, I'm in.
So then we just had to convince Gerald.
So we called him and informed of Andy's proposal.
He spontaneously went along with the idea but wanted to sleep it over.
The next day Gerald agreed and I called Andy to tell him we're on.
Andy then contacted the other European Chapter Leaders to get approval for InZane 2008 in Germany.
Everyone was in favor, and the Poles immediately agreed.
So we could (in the meantime it was in the middle of August) start the planning which at first took place secretly.
Since Gerald had already figured out where to host his meeting in 2008, we first looked at his location in the Tulip Inn and decided we would take this hotel.
Now an appointment could be made to see if the hotel was interested in our event.
Gerald made contact with Mr. Klug (manager of the hotel) and we discussed the possibilities with him.
The conversation was very positive so we claimed this location.
The date 22.05.-25.05.2008 looked right as well since there this coincided with a holiday in some Bundesländern.
Now we could start the detailed planning and Ede began to create the InZane page.
Naturally, the next question was which logo to use and Ede started working on it.
After some designs, which somehow did not satisfy Ede and me, Andy came into play once again.
During a phone call between Ede, Andy and me talking about the logo, Andy came up with the idea of talking to oZ from the United States. After all, he is a graphic designer and often makes the logo for the USA Inzane.
Andy then called oZ and he agreed. He asked for a particular design or specification and we told him we would like to have the Braunschweig Lion from the city coat of arms in the logo.
After probably 3 or 4 drafts that took some time, the final logo was produced.
You can certainly remember a draft that we had posted first with the announcement in the forum.
There were concerns from different directions of the country, but like I said, it was not the final draft yet. When it finally arrived, we were really satisfied and received approval from everyone.
Quote from a statement from the USA about our logo:
"Hey oZ, you designed such a great logo for Europe, it's better than the logos of the last Inzane meeting." Have you ever looked at the USA Inzane logo for this year?
Somehow similar to ours, at least as far as the colors are concerned.
At the beginning of September Ede had finished the Inzane Page and we decided to release the registration at 07.09.2007 which was done at 15.33.
On 11. 09. the first 100 participants were registered.
We received a tip to try and convince the Mayor. Gerd Hoffmann to accept the patronage of the meeting. That would open many doors, which proved to be true afterwards.
We have achieved this by promising a donation for handicapped children in Braunschweig.
Gerald had already started planning the rides and used Udo for this purpose. Udo then moved into our team and supported us in many ways.
He also contacted everyone in and around Braunschweig who had anything to do with the meeting like newspapers, radio, television, police, the ministry in Hannover, etc.
Oh yes, I forgot to mention that from 26.08.2008 an action list was made up by Gerald. It stated who was responsible for what and if an item was finished. You can imagine there were many action items by now.
On Sunday, October 7, 2007, we had a press conference with a representative of the Braunschweiger newspaper. I had suggested to Mr. Klug the hotel manager to do it over there on a Sunday, so we could test the breakfast buffet at the same time.
On 10.09. our first preliminary report appeared in the newspaper. Ede published it on our website. The same day, I got a call from Mr. Lehna from the Wolters Brewery asking me if they could get on board as an old Braunschweiger based brewery.
After about half an hour of conversation, I had a commitment by him to donate an amount of money and additional support.
Again, my thanks to the Hofbräuhaus Wolters who also printed the key fobs and contributed in the cost of the banners. Finally, they have supported us with their good "connections" elsewhere.
At the beginning of October, I called Ritschi to ask him if he would make his 2nd Valk available for the meeting if someone from the US would sign up.
Without thinking he immediately said yes, stating he could not drive with 2 bikes at the same time anyway.
Meanwhile, it was mid-October and we got the 200th participant sign-up, but we were still touching base with oZ to get the final logo. It arrived on October 20th.
Gerald then got the idea of the (Inzane Chairman) hammer and I said no problem, but for funding you need to find a few sponsors from your own area. A few days later he sent me an email with some names and the sums they wanted to donate.
Thus, Gerald was able to pursue his idea with the hammer.

In the meantime, Ede's InZane Page got bigger and bigger. The registration list was getting longer and had to be meticulously monitored.
A good thing I had nothing to do with that because Ede and Gunda had everything well under control.
We could get some sponsors who had to be put on the website.
In November it was relatively quiet except for registrations.
Although we were always in contact, Ede took care of the registrations.
A real important thing happened in November. On 21.11. we got a provisional OK from the Sachsen State Authority for road construction and traffic that our rides would probably be approved.
Another step that was very important for the meeting.
In December, the City Marketing Office in Braunschweig demanded a plan where we wanted to set up the two tents and the motorcycles on the Castle square. They required this information because we would have to be issued a construction permit ………….
Since Gerald had already roughly thought up the plan, he made a drawing in a little more detail and submitted it. Shortly thereafter, Gerald came up with the idea of a professional photographer who would take pictures at Inzane.
Ede and I thought it was a great idea and we agreed. Under the condition that we as organizers would have nothing to do with the details.
On December 4th, Gerald and Udo met the police chiefs from Braunschweig, Wolfenbüttel and Salzgitter as well as the head of the police-Kradstaffel to present our planned rides.
In the meantime, Ede had taken care of the T-shirts, patches and pins and on 11.12. a test print was done.
We had a written commitment from the State television (NDR) to report our event unless more important issues would prevail. This indeed happened in the week of the meeting when they found a dismembered corpse in Braunschweig so we did not make television.
Christmas arrived at the door and it was a bit quieter except for a few phone calls and mails.
On 04.01. we received a message that Mr. Kolan (head of the Kradstaffel Braunschweig) that he was POC for police matters and everything needed to be coordinated directly with him.
On 17.01. we had a meeting at the Wolters brewery with Ede, Gerald and I as well as Mr. Lehna and Mr. Bittner from Wolters, Mr. Gehre from the Tourist Office and Mr. Klug and the Mr. Hatzifiou and Lüdeking from the hotel.
In this meeting it turned out that the 3 gentlemen of the hotel were uneasy and we went home with a slightly queasy feeling.
That proved to be right because the hotel manager Mr. Klug, with whom we had discussed everything in detail told us that he would probably leave the hotel.
We were flabbergasted because if that would happen before the Inzane we would have to renegotiate everything again with somebody else.
But we told ourselves to wait and see how this situation would develop, we had no other choice anyway. During the conversation in Wolters we also expressed that we wanted to put the Mayor in a sidecar and have him ride a small distance with us.
It turned out that Mr. Bittner von Wolters knew the Managing Director of Schubert Helmets and gave us his phone no. That evening I asked Gerald to get in touch with this man for sponsoring.
It worked out fine.
Shortly after the conversation we received a message from Mr. Klug that we could not get the promised 177 rooms but only 160. In a telephone conversation with him, he said he was very sorry, but could not do anything because it was the Hotel top management's decision. But he also had a good message. He tried to book the Jägeretten for our event and received the confirmation from Jägermeister. They wanted to send 2 teams on Friday.
The remainder of January and beginning of February we had a quiet time until 11.02. when we received a message that Mr. Klug did not work any longer at the hotel as of the next day.
That was quite a blow of course. What about all our detailed planning we had verbally gone through with Mr. Klug? We had to make an appointment with Mr. Lüdeking and Mr. Hatzfotiou to do it all over again.
This conversation took place in March in the hotel. That evening we went well prepared and optimistic on our way to the hotel. Actually, I thought they must want something from us, our money in particular.
To report about our conversation in detail would take too long. We soon became very disappointed. Many of the agreed issues by Mr. Klug were rejected e.g. price fixing for drinks, Jägeretten, etc. I objected and told that we had mails from Mr. Klug confirming everything.
The response was: we are not interested, it's not possible, Mr. Klug had exceeded his competence, etc.
These guys were in a good position. They were aware by our InZane Page that we already had nearly 350 registrations. So, one week before the meeting I received the contract. I noticed the conditions and called Mr. Lüdeking and summarized in a 1-hour conversation several points that we would not sign for. He promised me to change some things and send me the revised contract again on the next day. Same deal, lengthy telephone conversation with Mr. Lüdeking because not everything was changed. 2 days later again a new contract. Unfortunately, not compliant with our discussion, so picked up the phone again. Then I talked to him. This time in plain language and all at once, he sent me a contract that was acceptable.
Except for the silly, stupid beverage coupons he insisted on and some other things (including cancellation of Jägeretten). So, Ede and I signed.
On 28.02. The next newspaper, the Peiner Nachrichten announced the meeting and Ede put it online. A day later, the same article appeared in the Salzgitter Nachrichten.
On 07.03. Gerald took a ski holiday with his family for a week.
What a rest. One week no mail or call from Gerald.
Sorry Gerald, I could not resist, maybe you have thought the same thing at 16.02. when I went riding a motorcycle in Florida. BTW, in Florida, I came across Tscharly and asked him doing his bodypainting for Inzane again.
He said he would have to rethink since they had done nothing for several years and besides, Wolfgang would have to be there as well.
Punctually on 16.03. (Gerald's holiday was over) 2 Mail's arrived from Gerald.
It was about city tours that we had already canceled and sponsors.
On 21.03. I got a mail from Canada in which a gentleman named Brant Bergstrome told me that he and his wife would like to come to our Inzane and he would like to get a tip on how best to get his Valk to Germany and which airport to fly to.
That would be something I said to myself, participants from Canada at the European InZane 2008. I asked for his phone number and got it 3 hours later.
I called him and told him that he could leave his Valk at home, he would get one from us (you remember my conversation with Ritschi) and he would have to fly to Hanover.
I would pick him up from the airport and he could live with us until the meeting.
The next morning his registration was received with an e-mail with his flight details.
April just flew away, there was plenty of work and coordination to do.
Then came the time for Maibaum planting in Wörth.
Wolfgang told us he wanted to come and we wanted to discuss details about the Bodypainting.
Tscharly had promised to come a long time ago and now only Wolfgang is there.
On top of that, Wolfgang had no time in the weekend so we still had to make a master decision.
The idea was not so wild and looked feasible, it's pretty easy to book 2 girls for it at short notice.
No matter, there was a great Maibaum meeting down in the South and many encouraged me to press on for our event.
Shortly afterwards Steffi came up to me. She would like to surprise Ernst and she and Anna would come to Inzane. Their Flight was booked for Friday.
Ok, I thought. Let's see who we get to volunteer to pick them up in Hanover.
A friend of Gerald helped us out.
The remaining preparation days we spent on a lot of little things that needed to be done or organized. But everything went smoothly because we have been an oiled team for a long time.
Some stress popped up when Tscharly called me and told me that it would work with Wolfgang. It took some phone calls and a few days until we had the girls.
On Whitsun Monday we drove to the final meeting with Mr. Kolan (head of the police motorcycle squadron) to Braunschweig. In a conversation lasting just under 2 hours, we thoroughly and completely went through the two rides and discussed each and every turn.
On my question how it might be with some loud exhaust pipes he said that during the Inzane weekend his colleagues are guaranteed to be a little hard of hearing.
With the topic of sirens he had more problems and we had to promise not to use the horns and sirens. Well, that's what we did, or not, I don't remember.
Afterwards we rode to Burgplatz to wait for the photographer of the Braunschweiger Zeitung.
They wanted current photos for their preliminary report.
After that was done, the guy from the radio wanted to make an appointment for an interview. That was set on the next day. BTW, there is a recording that we will publish shortly.
The rest of the week was relatively quiet. About 1 – 1.5 hours a day was enough to do what was needed.
On Saturday before the meeting we had to pick up the Canadians Brant & Leah from the airport and combined this with a breakfast at Vossi's place.
On Monday, Ede and I rode with the couple to Gitte and Ritschi in Kiel to pick up "Brant's" F6.
The grill was prepared and after the meal Ritschi and Gitte brought us on small roads with plenty of curves (all respect, how to avoid the federal roads so rigorously) to Lauenburg. Thanks again.
On Wednesday I went for a nice trip with Brant & Leah through Niedersachsen and Sachsen-Anhalt which ended up at the Tulip Inn in the evening. It was a bit later than planned but at 2.30 we were back home.
On Thursday we went to Braunschweig after a hearty breakfast and on Sunday, after I had brought the Canadians back to the airport, I was back home at 16.00 clock.
These 3 Inzane days just flew by and an were an unforgettable experience for all who were there as well as myself. There has been enough written about it already.
Finally, I would like to thank those who have supported us during the run-up in numerous phone calls and personal conversations, that was good.
A big thank you to those who have supported us financially.
An even bigger thank you goes to the approximately 360 participants from 18 nations.
You have made the 2nd European InZane in Germany an unforgettable event.
Finally, a thank you to Ede, Gerald and Udo.
We were already a great team, nice that I was allowed to be part of it.
I would like to thank Charly, Tscharly, Georg, Ritschi and Berni for accepting the ungrateful task of supporting the police at turns and exits.
Unfortunately, you could not leisurely ride along in the group and enjoy the beautiful landscape but had to concentrate again and again on the next obstacle.
Also, thanks again that you did not want to get reimbursed for the high fuel costs incurred by overtaking the group and driving fast. But they did that without complaining.
During the ride on Saturday I have asked everyone if they were still up to it. If not, I would have replaced them at once.
The answers were all kike this:
No Werner is still going or … I can do it or … I'll let you know if it does not work anymore.
Photo overview

Werner (RIP)


Andy and Sabine


Dieter and Nina


Body Painting, Mammut wanted to have one too……


Mammut

Christine/Steinchen

Video by Valkyriepoland
2 INZANE BRAUNSCHWEIG
EU Inzane 2009 – Kouvola, Finland
Website http://inzane2009.valkyrieriders.eu/
Videos
MakeeMp4 – 3rd European InZane 2009 Finland Kouvola
Part # 1 https://www.youtube.com/watch?v=vLaw5U09ASE
Part # 2 https://www.youtube.com/watch?v=KLctWGI8lkA
Part # 3 https://www.youtube.com/watch?v=xvYZVyGXKJE
TukeF6c – 3rd European InZane 2009.06.26 Finland Kouvola day trip
https://www.youtube.com/watch?v=hRcOnKTPDFw
Dag Verpeide – 3rd European Inzane
https://www.youtube.com/watch?v=wI-exESCZNI
Andy – 3rd European InZane Ride Out
https://www.youtube.com/watch?v=vD6EqtZ3YxE
Lasse
Participants came from 16 countries, 212 people on 144 bikes.
VRCC Finland put up a handsome organization for the arrangements: 22 people sacrificed their time and money to assure our guests got a good return for their money to participate in our meeting up North.
There were four things the members DIDN'T do themselves: wait tables, cook, clean the hotel rooms and preform as artists (not officially at least)
The preparations were massive for the meeting. I rode my Valk and drove my car approx. 25.000 km to find a suitable hotel and designed the road trips. We took our guests through Southern Finland's roads all together approx. 700 km.
We had big ride-outs on Friday and Saturday and a smaller ride-out still on Sunday for a smaller group that stayed until Monday at the location, Hotel Vaakuna, Kouvola.
The organizing team held five meetings to set up the practical issues, like select the menus, organize the reception matters, prepare the guidance during ride-outs, etc. etc….
I want to take this opportunity the express my deep appreciation to the Finnish team: a BIG THANK YOU to all!
Beer – Trip Report
In Kouvola, Finland the third EU Inzane was held between 25-28 June 2009. During this period, just after midsummer night the average Wx in Scandinavia is expected to be nice. More important, the mosquitos have not yet arrived in large numbers.
The distance from my home town to Finland was just over 1550 miles / 2500 km. Because I just wanted to participate in the Inzane event and not stay for a holiday or few days more, I joined Dieter Röder (from Fähre Langel/Germany), who came up with a brilliant idea to rent a lorry that could carry over 35 motorcycles to our destination airport in Helsinki.
This would save considerable travel time and costs. So, I booked a ticket with Air Berlin for a few bucks and went, I admit it, as a 'Sissy' to Helsinki.
My fellow Country and Chapter friends, Anthony, Robert, Rob & Harmke and Stuccie decided to travel on their Valks instead. When Cynthia and I arrived in Kouvola we were welcomed by Lasse & Saala, Tuomo and the Finnish team.

Hotel entrance  with rooms overlooking the parking place                                               I guess Finnish summers make you thirsty
A total of some 150 Valkyries and 250 Riders from all over Europe participated. It was nice to meet many folks from Scandinavia, Poland, Russia and Germany that I usually do not see.
In the evening during the opening ceremony, we were treated on a typical Finnish alcoholic beverage called Kuksa.
It was served in a sort of birch wood mini saucepan, the size of a shot glass and was supposed to be emptied in one shot. The highly flammable liquid kinda burned through your throat and esophagus on its way down.
I guess it was OK to keep you company in the Finnish winter. BTW, I learned later that you should not confuse the name with Kuksi, which is a 4-letter profanity word.
It was very nice weather indeed, 29 degrees Centigrade in the sun and the next day we rode with all bikes through the country of Santa to Verla. We stopped at a vintage wood mill that belonged to the UNESCO World Heritage.
On the way up, we've seen quite a few of the 18.000 (greater)  lakes that are spread out all over Finland. There is wood everywhere you look and all the roads are really wide, well maintained and there is hardly any traffic.
Needless to say, that we could ride our hearts out.

Brilliant idea to rest at a lake                                                                               … and not so hard to do in a country consisting of 187.888 lakes
.                                                                                                                                  (if you count over 500 square meters of standing water) !
Unfortunately, there was an accident by a 'safety rider' on the 235 km ride out. He had to evade a motorcycle that wasn't looking out behind and his front wheel blocked when he suddenly had to hit the brakes.
His bike toppled over and ended up in the ditch, resulting in a broken clavicle and damage to the Valkyrie. Broken mirrors, foot pegs and dent in the tank. Luckily it did not result in a pile up since the average speed was about 50-70 mph.
A MD happened to be riding along as well and the rider could be taken care of. After some delay we continued the ride out and, in the evening, there was a dance night with live music.
The day after it rained and the organization decided to alter the planned route for safety reasons.
We started off with a static display of all Valkyries in Kouvola Main Street where we were greeted and cheered with great enthusiasm by the local population. Next, we rode to Hamina, another very nice historic village at the Finnish Gulf for a salmon lunch. Just super and very delicious. On Sunday, it was sunshine all over again, Lasse and his team took us for a guided tour to Helsinki and Porvoo. This town at the coast is one of the six medieval towns in Finland, dating from the 14th century. The population speaks both Finnish and Swedish. The Old Town is a popular tourist destination, known for its well-preserved 18th and 19th century buildings and 15th century cathedral. Very well done and organized, Lasse and Orga Team. We enjoyed every moment of it.

Magnificent Helsinki neoclassical Cathedral, built 1830-1852                                           Phone booth, I only knew the red ones from the UK
Cynthia and I enjoyed this Inzane very much. The spirit and ambiance was great and the organization has done its utmost to make us feel happy. The participation of so many Polish Riders was a first for me and they turned out to be excellent Riders with a great sense of humor. I wouldn't want to have missed this Meeting for anything in the world and can recommend Finland to any Rider who likes a holiday in a true, untouched nature with friendly- and hospitable people.
I want to thank Lasse and his Orga Team for this great- and well organized meeting. Well done 🙂
Some random pics

I think this trailer was also used to carry alcoholic beverages, LOL

.                                                                                                                                                                                       Nice retro style color

Downtown Kouvola display                                                   Lunchbreak                                                              Downtown Helsinki

Helsinki Cathedral                                                                                                                                                                                  Porvoo

Valkyrie Russian style

Riders during the static display. Rob dressed up for the occasion. Why not promote your country, LOL

Another great evening with European friendship. Notice the Kuksa
More pics
https://www.flickr.com/photos/beer1952/sets/72157635067943338
Pics and video by VRCC Poland Northern Riders
https://www.youtube.com/watch?v=MnLdNWXy-Yo&feature=youtu.be This video may not open in some countries due to copyright issues)

Handing over the Inzane hammer to the French Rep


Poland presents a gift


Handing over the Inzane hammer to France


Russian dressed Rune.                                                                                                                                        Porvoo

EU Inzane 2010 – Bussang, France
Website   http://inzane2010.valkyrieriders.eu/
Inzane 2010 was organized by Association Inzane France (président FiFi Legnat – Trésorier L'Amiral CoCo – Secrétaire Yann)
Fifi (translated by Beer)
Inzane 2010 will take place at the Azureva Holiday Center of Bussang in the Vosges. – capacity is 400 beds.
It includes three dining rooms, a giant bar, four showrooms (for sponsors, an entertainment room (concert, show or other with integrated sound), a pool, a sauna etc. Finally, all what is necessary to welcome 400 bikers.
The rooms are mostly double, plus some dormitory rooms for singles (5 to 6 max).
The dates chosen are convenient for the French and the Germans since it's Ascension Day 2010 i.e. 13, 14, 15 and 16 May 2010.
To participate in this fourth European Inzane, you must be a member of the VRCC and / or be the owner of a Honda Valkyrie/Rune or an F6C or body-specific derivatives of these motorcycles (Trike , Side).
One of the two previous prerequisites is enough to validate an inscription.
To organize this Inzane, we created an association called INZANE France under the French 1901 Law .
The association is a non-profit organization and aims for F6C Riders to make demonstrations or discoveries of the regions of France . All members participating in Inzane will be temporary members of this association.
Permanent members are:
Guy74
Valky12
Alain
The Glode
Dragon
JJ52
Lepaps
Loucas
Yann
Adm Coco
FiFi
Photos and films of the event.
Photos and road traffic.
Route management.
Ambassador.
English and Italian translation.
Animations.
Computer and computer graphics.
Management of German, Austrian and German translation forums.
Secretary association and management of  European forums in English language.
Treasurer of the association, collections and payments.
President of the association, management of reservations and sponsors.
Even if they are not permanent members of the association, the Alsatians (area members) will be consulted regularly for the necessary information, thanks everyone for the work already accomplished: Tchoumes, Dany, Rocky and Anatole.
We will certainly need, as every year, experienced Riders to run the services on the grounds of the holiday center but also on the road carrying reflective vests.
Fourth Inzane will take place on May 13th,14th 15th and 16th, 2010 at Bussang, in one of the most beautiful areas of France : Alsace , close to the German border.
Program
Thursday :
– 2.00pm to 8.00 p.m.: Meeting of the VRCC members and registration at vacation centre AZUREVA, road of Larcenaire, 88540 BUSSANG – Access
– 8:00 pm diner
– 10:00 pm: welcome meeting and explanation of the program of the following days.
Friday :
– 7:00 am to 9:00am : Breakfast.
– 9:00 am to10:00 am : Departure for a trip , freely choosen among 5 courses selected for you. A cold meal for lunch will be delivered in the morning.
– 4:00 to 8:30 pm : the French hour of " Aperitif", the most difficult moment of the day, having to choose between to the swimming pool, the Sauna, the Bar, meeting members and visiting the sponsors.
– 8:00 pm : Alsatian typical dinner. –
– 10:00 pm : Spectacular evening!!!
Saturday :
– 7:00 am to 9:00am Breakfast.
– 9:30 : Starting the all together trip for a visit of the area of Bussang and Thann , passing by the " Ballon d' Alsace."
– 12:00 : Local lunch with " Flammekush".
– 2:00: pm : Restarting of the convoy of the Valkiries.
– 4:00 pm : Visit of Thann and reception by the Mayor.
– 5:00 pm : End of the trip towards the Azureva center.
– 6:00 pm to 8:00 pm : " Apéro"
– 8:00 : Dinner.
– 10:00 : Comic evening , prizes ceremony, ending speech….
Sunday :
– 7:00am to 9:30am : Breakfast
– 9:00 to 12:00 : the Valkyries go back to Valhalla !!!!!.
285 Riders attended Bussang with 178 bikes of which 149 were Valkyries.
Videos
Regisdom – Inzane 2010 Bussang
Video of the 2010 inzane in Bussang in the Vosges with people from all over Europe
https://www.youtube.com/watch?v=VCAkr4S8Po0
Valkyrie Riders Slovakia – Inzane IV 2010 – Bussang, France
VRCC Slovakia and VRCC Czech Republic to the 4th European InZane in Bussang, France 2010
https://www.youtube.com/watch?v=mXkOFVvndjE
Fifi Legnat – Inzane Ride
https://www.youtube.com/watch?v=fQ_OQaa_LmQ
Andy – 4th European InZane
https://www.youtube.com/watch?v=aldLlNzc7tg
Andy – Inzane 2010 – route des cretes
Bine and I on our way to the VRCC Meeting Inzane 2010 in Bussang France over the 'Route des Cretes'. Many thanks to the organizers for this Meeting!
https://www.dailymotion.com/video/xdeern
Cicik – Inzane IV 2010 Bussang
http://curvetube.com/_Inzane%20IV%202010%20-%20Bussang,%20France/mXkOFVvndjE.video
stasvb – the BEST looking Valkyrie


https://www.youtube.com/watch?v=r8QyZknTU3E&feature=youtu.be

Indoor show and spectacle                                                                                                       …by Fifi, Master of Ceremonies

.                                                                                      Best looking bike presentation

Saturday's Group Ride


Ceremony                                                                                                         Ronnie, always a pleasure to have around. Later at night, he snorts
.                                                                                                                          brandy through a straw in his nose. Don't try this at home;
.                                                                                                                         it hurts like hell

Power, distinction and elegance from Poland

Nice pics by Ddrak
EU Inzane 2011 – Lund, Sweden
VRCC-Sweden hosted Inzane at the Scandic Hotel in Lund.
Quote from the 2011 Annual VRCC Sweden Meeting
We have received a good and positive response from most who participated in both Swedish and foreign participants. Unfortunately, the CDs we hoped for were not.
The Chairman thanks everyone who participated throughout the entire process from planning to implementation.
Videos
Kjell Lindström – In June 2011 more than 250 Riders and over 150 bikes met in Lund in Sweden. The meeting was called Inzane V.
https://www.youtube.com/watch?v=e1h-_NQZEkw&feature=youtu.be
Inzane Hanksville 2011 Departure
https://www.youtube.com/watch?v=mHpeCGOaduU
Suvalk – Saturday's Ride and Evening Program
https://www.youtube.com/watch?v=TFdi6hQ5Lsw
VRCC Czech Republic – 5th InZane Sweden
Vyjižďka na 5th Inzane ve Švédsku 2011
https://www.youtube.com/watch?v=bcSsCUnt61E&feature=youtu.be
ride 1 –https://www.youtube.com/watch?v=pTq-6Gkh2hs
ride 2 –https://www.youtube.com/watch?v=N2qylMOy6P0
ride 3 –https://www.youtube.com/watch?v=bcSsCUnt61E
Valkyrie Riders Italia – INZANE Svezia 2011
part 1 –https://www.youtube.com/watch?v=rlnifBT3iDw
part 2 –https://www.youtube.com/watch?v=qs-_aXek-2M
Pictures
http://www.valkyrieriders.com/sweden/html/startsida.html
VRCC Czech Republic 5 th InZane Sweden – across the Storebaelt (Velký Belt)
https://www.youtube.com/watch?v=w8lB3GZYx9M
Trip Report from a Lowlands participant
From 3 to 5 June, the EU Inzane took place in Swedish Lund. In a beautiful area and hotel, about 170 bikes and riders assembled for this annual party.
On Monday Bobbievalk and I left for Lund. We took the secondary roads of course, otherwise it's no fun. We followed the Lingeroute and arrived in Oosterbeek where the Airborne Museum is located in the former Hotel Hartenstein.
Here, the story of operation 'Market Garden' is displayed in a very special and complete way. It truly reflected the atmosphere and circumstances of those WW2 days and made us feel quite emotional. I guess that's the best compliment you can give to a museum.
After this stop, we continued to ride to Münster near Hamburg, where we had booked an overnight stay. After a good night's sleep and having breakfast, we went to the Panthers Museum. An exhibition of armored vehicles used by the German Wehrmacht.
A very neat but rather clinical exhibition that could not give us the same feeling as Oosterbeek. On my way to Munster I had seen a sign about an exhibition in memory of the Nazi destruction camp Bergen-Belsen.
After a short consultation we decided to visit. What a huge impression that site made to both of us. The size and intensity of that place was unprecedented. A large exhibition showed pictures, videos and objects, all of which gave a good impression of what had happened. When we stood outside, I noticed that I had not taken any photo inside ……… it did not feel good to take any.
From here we rode to Neustadt in Holstein, a town at the Baltic Sea. Here, we had planned and booked a next stop, and we met Mike, a friend of Bob, who worked in Hamburg. Mike had owned several Valkyries, including an Interstate in the past, but had sold them all. Now that he saw our bikes again, he realized he had made a wrong decision. We did a ride out in Holstein on Wednesday with Mike on a Goldwing.
A beautiful route along the coast and the lakes on a nice day with a temperature of about 26 degrees…….tough luck, LOL
On Thursday morning we said goodbye to Mike and started the last part of our trip to Lund. Took the Ferry from Puttgarden to Brondby and then another 175 kilometers over the highway to Lund.
We have travelled through the tunnel and bridge below and across the Sont, an impressive engineering accomplishment.
At about 15:00 we arrived in Lund, where a number of Inzane participants were already waiting for us. After Bobbie had checked in I wanted to go to a camping site because the hotel was sold out months before. Here again, the spirit of the VRCC kicked in, because both Bob and his roommate Claudio suggested that I could sleep in their hotel room. I have probably been the only camper these days, who used a 4-star hotel room with air mattress and sleeping bag.
In the evening we were officially welcomed by Arne Rosenquist of the Swedish VRCC, who arrived on stage with a Flat Six. He told us about the program and some rules we had to obey. After that, the party started and I really mean started ………… almost. Accompanied by the tunes of a musician it soon became apparent that beer and alcohol prices were "slightly" higher than we were used to. We realized we were now in Scandinavia where € 7.50 ($10, -) is a normal price for a beer or a glass of wine. The following day on Friday a number of visits to historic sites were planned. The first was a Viking village, where men dressed as Vikings explained their conquests in Europe. One of them told about the conquests in England and Scotland and the burning of villages there. Knowing I came from the Netherlands, he explained that they had never burned the Netherlands because the beer tasted so good. When we left, he threatened to conquer England again……. And this time not giving it back.
Then it was the turn of the Swedish version of Stonehenge, a stone circle which meaning is not clear up to this day. The stones are placed in the shape of a boat, but the reason for this remains unclear.
After a snack in the nearby village, we continued to Glimmingehus, a kind of castle and then returned to the hotel. The parking lot showed that everyone had not forgotten the liquor prices of the night before and had taken precautionary measures. Everywhere in the parking lot, Valkyrie Riders were drinking their beer from the supermarkets and were having a great time.
This went on for a long time.
Saturday was the day of the joint ride-out. A very nice experience to see all the bikes together, except for Stuccie who had problems with his bike at first. Probably due to a failing alarm system, the bike did not want to start anymore. After a rigorous emergency fix, his F6 started, but now his blinkers did not work. Knowing that Stuccie wanted to ride with Anthony all the way to the North Cape, a nasty problem. Some fellow Valk Riders tried to solve the problem, but they could not get them to work either. Both Riders eventually went on their way to the Cape and had already made an appointment with a bike shop along the route.
Before we knew it, it was Sunday again, the day to say goodbye. That sounds a bit dramatic, but for the majority it's just packing, gas & go. Bob and I shook hands with old and new friends and then we also left for another 900 kilometers of travel. This time on the highway. It was about 30 degrees and there were many traffic jams along the route. The German car drivers are obviously not used to a bike riding in between cars so they did not give way and that did not help either. Bob had booked an overnight stay in Osnabruck, but due to my obligations at home, I had to ride on. Just after we said goodbye, I hit a huge shower and could not see the road anymore. So, I stopped under a viaduct to put on my raingear and slowly moved on. The shower was over quickly and the sun started shining again. Now it was way too hot for a rain suit, so I took it off. Guess what, it soon started to rain again. This time I kept my raingear on. After a 13-hour ride, I was home again. I felt tired but nevertheless satisfied and happy about this great experience. So, the dates of the next Inzane are already booked……………. The Czechs have promised us that the beer will be much cheaper!

Editor's Note…picture this, a millennium Valkyrie revival, LOL
Picture overview

Arne giving his presentation onstage…the biker way

French participants with Fifi and Alain


Fray, Italian Chapter Rep with partner


Farewell Ceremony and passing the Hammer to Czech Republic Rep for next year's Inzane
VRCC Sweden Pics
EU Inzane 2012 – Sumava, Czech Republic
Website http://inzane.tvorba-webu.net/
Moto Route Magazine article – Czech text
http://www.motoroute.cz/clanek/168-6th-european-inzane-2012.aspx
Videos
6th European Inzane 2012
Czech Republic – Frymburk 14.6.2012 – 17.6.2012


With a chopper overhead sightseeing service… great!
https://www.youtube.com/watch?v=bfyK7ZNz-gw&feature=youtu.be (This video may not open in some countries due to copyright issues)
Skorpi – Czech Republic – EU Inzane VI
Very nice resume


https://vimeo.com/44489183
f6cicik – Inzane 2012
https://www.youtube.com/watch?v=KtcQVDogVW0
VRCCRusMonk – 2012 InZane 6 VRCC Rus


https://www.youtube.com/watch?v=MQ-JH6wwV0A&feature=youtu.be
Over 1-hour complete coverage. Sit back and relax!
suvalk – Anreise zum 6. INZANE nach "CZ"
https://www.youtube.com/watch?v=uUNhoZaFlCA
Ceremony – Longest one way distance 3900 km
https://www.youtube.com/watch?v=MgNCHmDhXAI&feature=youtu.be
Beer – Trip Report
The 6th European Inzane was held in the largest wellness resort in South Bohemia close to the Lipno reservoir
The distance of 870 km was covered directly or in stages by the Benelux participants. I stayed overnight halfway and the next day, I joined Stefan, Robert, Gerard and Jenneke and Bobbievalk and proceeded on a beautiful route over secondary roads.
The forecast called for temperatures of almost 30 degrees Centigrade all weekend with a cloudless sky.
Lipno turned out to be a very nice location and when we got there the parking lot was already packed with Valkyries and a pleasant crowd. We met many friends between the 327 participants and it was a warm welcome and great reunion.


From left Yvonne, Vivian, Ingrid, Jenneke and Heike.                                   Local welcome refreshment – ehh..looks dangerous
Jos and Yvonne, Stuccie and Desiree, Yvonne and 'Crazy Mosquito' were already there. We were warmly welcomed by the ladies from the reception and received a glass with Slivovitz as an appetizer.
You could tell that Ddrak and his team had done their homework exceptionally well. Everything ran smoothly and everything was thought of. Although all the motorcycles could be parked in an enclosed space in front of the hotel, the place was also guarded with men in military uniforms. Besides Valkyrieparts (a German parts and accessory shop) there was Grocar, a Czech custom shop with six sensationally modified Valks. Including a trailer with a champagne bar.


Grocar customizes bikes to the ultimate. You can even get a cold beer from the fridge of this trailer for your Valk.
The bikes were dressed up with very nice, locally designed and produced bling. This created lots of new ideas for the chrome and accessory enthusiasts.
The Orga Team had even chartered a helicopter for the participants to have a God's eye view of the location.
Steve B was present with his 'blown' Valk and his bike did not stay unnoticed either. I think there are only 2 blown Valks in Europe. Our own Crazy Mosquito from Belgium and Steve B from the UK.
After the buffet dinner and a word of welcome by our hosts, we spent a nice evening with a disco. At the bar a pint of beer could be ordered for only € 1.80 and most people were taking their drinks to the parking lot admiring over 200 Valks. And let's face it, what could be more pleasant than a 'hands-on' discussion about various and different Valkyries.
The next morning everyone could admire the surroundings on his bike, individually or in groups. In the rolling terrain, forests and fields passed by with many lakes, rivers and fens. A single village consisted of a dozen houses and there was hardly any traffic. The winding roads were generally good and well maintained. We were able to ride at moderate speeds and enjoyed our ride.
There were four touristic sights in the region, most of them dating from the 13th century, such as Krumlov and Hluboka Castle
After riding about 300 km, we returned to the hotel and witnessed a spectacular motorcycle and quad show in the parking lot. These machines were operated by true acrobats, no doubt. A very nice and funny show which was highly appreciated by all participants.

After dinner we spent the evening with a live cover band, a BBQ with a real pig on the spit, fireworks and a performance by a number of ladies. In short, we had a lot of fun.
On Saturday we did the 'Elephant Walk' with more than 200 Valkyries about 80 km to Kratochvile
At this beautiful location, there was a buffet waiting for us with goulash, beer, soda and coffee. Folkloristic music was played by musicians in traditional costume with a kind of bagpipes. Of course, a number of VRCC members had to participate and joined the dances. There was also a falconer with a real eagle, a falcon of course and a very large owl.

After lunch a group photo was taken and we headed back to the hotel. When we arrived at the hotel we witnessed a bike wash by a lady in overall who quickly got very warm and had to get rid of her clothes, LOL.
After the, again very tasty dinner the ceremony started and prizes were awarded.  There was a nice disco again and inside as well as at the parking lot it remained very cozy for a long time.
The next morning, we said goodbye and rode home with nice and dry weather. Everyone gets greetings from Steve B and Glynis, Einstein and Christine and Les and Viv, Shunter and of course Colin and Ingrid.
For Einstein and Christine this was their last Meeting together far from home. He had a heart attack and doing well with a stent but the age is starting to play up.
The VRCC Czech Republic Inzane was characterized by fantastic weather, a good atmosphere and a great organization with many extras. Everything was arranged in detail and went very smoothly. If I were to give points for this Inzane from 1 to 10, I would give 11 points,  Incredible, the amount of extra's that resulted in a perfect bike weekend where we made a lot of new friends and we will cherish this memory. Thank you, Ddrak and your crew for such an outstanding experience.


Robert, Bobbievalk and Ulsterman                                                                                  Great riding in Bohemia

Ddrak with helicopter tickets Grocar stand

Nice custom paintjobs

.                                                                                       Visit to Kratochvile for a lunchbreak

Great Bikerwash Show                                                                                                                   Rep Meeting

Saturday's Ride

Riders from Czech Rep, Slovakia, Sweden, Germany and Finland visit Mauthausen, Austria

Fireworks As Grand Finale                                                                                                        More Grocar bikes

Friday Night with 'Las Vegas' Live Band & wild boar on the spit

.                                                                                                                                                             Care to dance, anyone?

Finland, Germany, Italy participants                                                                     ….and from France, Poland, Czech Rep, Slovakia, Germany

Zámek Kratochvíle                                                                                                                                          Zamek Hluboka

Ddrak gets the first dance

The entire 6th Inzane Family
Video Great Dancing
Beer
The 6th Inzane Meeting in Czech Republic brings back great memories. It consisted of a whirling sequence of events that were unequalled since. Well done, Ddrak; you folks are simply the best!
EU Inzane 2013 – Kudowa, Poland
Website http://inzane2013.valkyrieriders.pl/
This very spectacular Inzane counted 210 registered participants
Videos
suvalk – 7th Inzane PL 2013
https://i.ytimg.com/vi/e6qL6_JwJGM/maxresdefault.jpg
https://www.youtube.com/watch?v=e6qL6_JwJGM
Mick Manchester – valkyrie VRCC inzane VII
https://www.youtube.com/watch?v=OH-dGHGkb3s
f6cicik – Inzane 2013
https://www.youtube.com/watch?v=yT6cZCj2aJY&index=2&list=PLp3ylPAVXEBYXUY_uorB_-kMW2azlDk9q&fbclid=IwAR2LM2o-nM5KetB4WhHMVjacRsrs8NeALXnYaNw7R-zbPaq_Z0-ya3DqGUw (This video may not open in some countries due to copyright issues)
Andrea Karla Koenen – 7. InZane 2013 Kudowa Zdrój Polen
https://www.facebook.com/andrea.kolumna/videos/484517921629909/
Czech Republic Album
http://www.valkyrieriderscz.cz/galerie/category/107-inzane
We left on three machines to this year's InZane to Poland (Kudowa Zdrój) . Wallys, Zdenek + Lenka and Čičik + Čičina. On Saturday, Donatelo + Zlatka, Stanley + Martina and Milan + Ivča also arrived.
Jirka + Jana arrived with their trike. On Saturday, the Moravians joined us.
The InZane program, Wx and the rides were great, the party lasted almost until the morning, a good mood has taken place throughout the meeting.
Every evening, the language barriers began to fall around eight o'clock LOL. We talked so much German, Swedish, Finnish, Polish, Russian, Lithuanian, Polish and English that some of us had a problem to speak Czech again by the time we left 🙂 🙂
Some pics from Russia Riders http://www.vrcc-russia.ru/index.php/photo/category/7-inzane2?start=140


Yuri Ludan and partner – VRCC Moskow
VRCC Polska Album – Machuza and Erka72
https://machuza.rajce.idnes.cz/7._InZane_Kudowa_Zdroj_-_Polsko/
https://erka72.rajce.idnes.cz/Inzane_Polsko2013/

Welcome Norwegian Riders                                                                                                        Tumppi from Finland


.                                                                                                                                                          Pia and Lasse from Finland


Lez and Viv from Austria


Drinking upside down…a real challenge                                                                                        Ddrak's two beauties


Handing the hammer over to VRCC UK for next year


Čičina


.                                                                                                              Some French Riders were growing beards to impress the ladies, LOL


I think these two Riders had a great day


.                                                                                           Petra, Pia and Andrea Karla


.                                                                                                   Spectacular Fire Show

Video Light/Fire Show https://erka72.rajce.idnes.cz/Inzane_Polsko2013/#Inzane_Polsko2013_422.jpg
VRCCUK Inzane VIII 2014

Other nice designs that were considered but didn't make it
Website http://www.valkyrieridersuk.com/index.php?option=com_content&view=article&id=18&Itemid=23
Videos
Reggyontheroad Reggy 
VRCC inzane 2014           https://youtu.be/JRHK4TosFTo
VRCC 2014 inzane rain  https://youtu.be/mXVQ3g8VunM
Robert Gibbons
VRCCUK Inzane VIII 2014    https://youtu.be/euOvxPffPyU
VRCC UK Rides 2014              https://youtu.be/U4D97VTELeU
VRCC On Days Like These     https://youtu.be/MsuAly3ABnI
Mick Manchester – valkyrie VRCC inzane VII
https://youtu.be/OH-dGHGkb3s
VRCC France Cavelier Noir – Run in England
http://curvetube.com/003698_-%201997%20Honda%20Valkyrie%20-%20Used%20Mot/he6_jQvJ2dY.video
London Run
https://youtu.be/ZEg3rH9irYE
VRCCUK Inzane VIII 2014
https://youtu.be/euOvxPffPyU
In June it was the VRCC UK's turn to Host The 8th European Inzane, this Event was held at The Hinckley Island Hotel Leicestershire. We had Participants from all over Europe and 3 from USA. There were 2 Ride outs.
The 1st was on the Friday to Bruntingthorpe Airfield for a BBQ; our guests had the chance to have their Bikes photographed alongside Cold War Jets. The 2nd Ride out on the Saturday was to The Heritage Motor Museum at Gaydon.
The Friday Night Entertainment was The Great Pretender, a Freddie Mercury Tribute who had everyone on their feet singing and dancing.
Editor's Note
In 2014, VRCC Russia was supposed to hold a EU Inzane in St Petersburg. Political issues beyond everyone's control prevented this from happening and VRCC UK was so kind to pick up the glove and organized Inzane VIII on short notice.
Bobbie and his team had put a tremendous effort in this particular Meeting. The organisation and promotion began over 1.5 years in advance and kept going on and on.
He once told me that he was concerned that many Riders from the continent were hesitant to participate because of the Channel  crossing. This usually means an extra day of travel. Something the UK Chapter is all too familiar with
Beer – Trip Report
On Wednesday, June 4 we left with the Rotterdam-Hull ferry to Inzane XIII in Hinckley, UK.
It was warm in the Netherlands with occasional rain showers. And…. indeed, we were soaked by the time we arrived at the ferry. No matter because we were really looking forward to the Hinkley Meeting.
When we got on board we met a dozen Valkyrie Riders at the bar/lounge. Monique with her sleek Rune and Frank. As well as Andy and Bine from Berlin, Mammut and more German Riders from Hamburg, Celle and Cologne.
What a nice reunion already and we had a couple of beers and spent the evening telling jokes and talked bikes.
The sea was calm so after a quiet crossing Cynthia and I rode from Hull to Hinckley, a small distance of 200 km. Fortunately it was dry in the UK and the whole weekend would be sunny with the exception of a shower on Saturday.
When we arrived at the hotel around 16:00 hrs., about half of the 215 participants were already present. Of the Benelux gang, Ivo and Cella, Stefan, Richard, Collin and Ingrid, Dirk and Josette, Geert and Jeanique, Christophe and of course Harry Postema were also present. We received a warm welcome and met many friends, including Duffy from the US. It's kinda like a big family and soon we were having an animated evening with a welcome ceremony and a DJ.
The hotel turned out to be a favorite location for wedding parties; throughout the weekend wedding guests were coming and going, LOL. For the hotel this looked like routine and the staff could easily accommodate both the weddings and the VRCC at the same time in different areas. When I walked outside I saw some very special Valkyries, so I took some pictures of various accessories and paint jobs that were new to me. Steve B had surpassed himself in his last winter project with his Moose Valk. A beautiful pearl sprayed turbo Valk of which many chrome and aluminum parts were sprayed in a transparent, deep blue color.
The wheels were also treated and it had a huge, hand-made fuel tank, required for his turbo. The pipes had received retro shark fins. A pleasure to look at and real treat for the eye. Simple and yet very sophisticated and stylish.
Somewhere else a heavily customized French Valk was being repaired. It would not start.

On Friday we rode with 160 motorbikes to the nearby Bruntingthorpe airfield, where all kinds of military aircraft were displayed on a ramp. A very nice environment to take photos. A/C and MC go very well together.
I saw Vinnie and Laura with their F-104 'Starfighter'. Having flown the 'Zipper' myself, it was a great experience seeing this model again. Although it was in bad shape, LOL.


Jet Provost in front of Buccaneers Vinnie's Starfighter
A prototype bike of the nearby Triumph factory was doing test rides on the landing strip and taxiways. (Bummer…an Enduro derative). After a tasty BBQ lunch on the tarmac we left for the hotel in the afternoon.
In the evening there was a spectacular performance by a Freddy Mercury impersonator, the 'Great Pretender'. He had even undergone plastic surgery and really sounded like the great man himself.
A great performance indeed and it was impossible not to start moving at the sound of all the well-known hits. There were a few exceptions, but then Cella stepped up the floor and cheered them into action as well.
Needless to say, we had a wonderful time and enjoyed ourselves until the late hours.

When we started the Saturday ride out, it started to rain and somehow the group got split up in the beginning. In spite of all the precautions, Bobbie had briefed the trip in detail the night before, an unfortunate accident occurred soon thereafter.
In the rear a bike went down and was run over by the following bike. With Riders heavily injured. They were soon transported by helicopter to a nearby hospital.
In cases like this it's best to leave a party and move on with the group. So, after some delay, the group proceeded to the Heritage Motor Center in Gaydon
The Wx cleared up and we were offered an excellent buffet lunch in a huge conference room of the building that was built in art deco style amidst 65 acres of landscaped nature.
This center houses the largest collection of British cars from classic to Formula cars. What a spectacular sight and great to look at. I was so impressed that I exceeded my camera memory card capacity which has never happened before.

After a few hours we rode back to the hotel in nice sunny weather and decided to ride to Foxton Locks. A beautiful building dating from the industrial revolution.
In 1810 ten locks were built here in the Grand Union Canal. The locks were constructed straight after each other to overcome the slope of the landscape. The canal was and is still used by the well-known English 'narrowboats'.
We rested here and had an ice cream and a drink on a terrace.

On Saturday evening there was the farewell and the award ceremony, followed by a DJ. The next day we said goodbye and rode in the sun to Hull back home.
The Hinckley Inzane was very pleasant and well organized. Unfortunately, the meeting was overshadowed by a serious accident. Our sympathies and feelings go out to the injured Riders who will never be the same.
VRCC France méca in England by Cavalier noir

Trip Report by VRCC Czech Republic (translated)
At InZane 2014, this time organized by the VRCC UK Club, we participated with 3 members – Wallys, Zdenek and Čičik on 3 Valkyries. We were previously briefed by Roman to take the Calais route.
Zdenek was in charge of the accommodation during our travel (including the Calais-Dover ferry and back).
Everything was well prepared and provisions for accommodation were no problem at all. We just wondered how it could be so cheap to travel across Europe. On average, one night costed 350, – CZK! (15 $/Euro) Good work by Zdenka.
Itinerary, navigation and overall management was in the hands of Cicik. We got off track a few times, but all along I think the route went pretty fine and without any problems. We set out on CT 05.06. at about 6 am in the morning from our base at Borneo. The first day was 790km (Trutnov-Jelenia Góra-Görlitz-Dresden-Leipzig-Göttingen-Kassel-Dortmund-Gladbeck). Accommodation. The second day we set off on a slightly shorter route, 420km (Gladbeck-Duisburg-Venlo-Eindhoven-Gent-Dunkerque-Calais). Accommodation. We rode to Calais in heavy rain, but before we reached our night stop, the sky broke and the sun lit up until 22:00. In the afternoon we met Roman and Radka by coincidence. They stayed at the same hotel.
In the morning there was a storm and rain. But before we got dressed and had packed our things in the motorbike, the rain stopped and it did not rain at the harbor at all.
We had to wait for 1.5 hours for the ferry to the UK. (Calais-Dover). After boarding and securing the bikes, we made ourselves comfortable on board and were looking forward to the sun that was promised.
After disembarking we rode through the town of Dover without difficulty (Note – left hand driving), and we dashed along the highways to the meeting point. 360km (Dover-Ashford-Enfield-Luton-Northampton-Leicestershire-Hinckley).
The Inzane happening was as advertised and published on most VRCC websites. The visit of the Air Museum (PA) and the Automobile Museum (SO) was interesting. Several times we got wet (we were wearing the T-shirts) since it was quite warm most of the time.
On the day of the return, we left at 8 o'clock. We had about 400km inland in England, visiting Stonehenge. The pleasant, sunny roads of the English countryside were great and we enjoyed the countryside. Only for a visit to Stonehenge we should have reserved about 6 hours more. We continued south and to the harbor. (Hinckley-Coventry-Cirencester-Stonehenge-Salisbury-Southamton-Portsmouth-Brighton-Eastbourne-Dover).
After embarkation it started to rain again, so we arrived in France at Calais in mild rain. Fortunately, our destination for that day was about 3km from the dock, so we did not really get wet. Accommodation.
In the morning after the wakeup call we were travelling for about 850 km (more or less the same route as before). Accommodation.
During the night there was a thunderstorm. After sunrise however, the sun shined again and stayed that way for the remaining 420km. We were back home at around 1800 hours. Tired, thirsty, but full of experiences from a far and interesting journey.
The tachometer showed 3,670 km for the journey.
Glenn Bram Brammall
We've just had the European Inzane here in England. Knocking on 250 people on 160 bikes from 16 countries' [Russia couldn't make it]
We had no vendor's. We just got pissed, ate a load of food, talked bikes and rode our bikes [not necessarily in that order] It's all about bringing people with a common passion together
Pics from Beer's Album https://www.flickr.com/photos/beer1952/sets/72157644675172857
Some nice looking Valks


I like the rotating Gatling gun pipes

Vulcan, very nicely done                                                                                                         Another feast for the eye

Side by side Trainer and Valk

Fifi le Gnat, he would organize the next Inzane in the French Alps

Diana, we all love you… stay put                                                                                            Nice looking NOT couple

This is what you get when you've had many English beers…..                                         Another lovely NOT couple……

Pleasantly disturbed Chapter Reps are being aired from EU VRCC mental hospital

The Ulsterman, they don't come any better….                                        These 2 TV trainees trying to make some sense out of Inzane

Bison's Valk in front of a Jet Provost                                                            This is what happens before the Hammer hits you
]
Reception desk, a joint UK/US venture with Glynis, Naoko and Dianne   Thank you Bobbie. …you and your crew are simply the best

Jaroslav Málek – InZane 2014 UK – Hinckley Island Hotel
EU Inzane 2015 – Praz sur Arly, France
Website http://vrcc-france.com/inzane2015/index.html
Organisation : Alain + Association Inzane France: Président – FiFi Legnat – Trésorier Franck92 – Secrétaire Le Outard
Inzane IX was held in the French Alps with altitudes varying from 1000 – 4800 meters (3000 – 15.000′)
Videos
Dag Verpeide – Motorcycle ride to the VRCC INZANE event in Megeve, France.
https://www.youtube.com/watch?v=_OyYepvVFKA&feature=youtu.be
Gerard Byker – Dragons in the Alps
https://www.youtube.com/watch?time_continue=3&v=LiLjyRX3SUI
Arhur J Smith Vid
https://www.youtube.com/watch?v=h7O9sHOKBeA&feature=youtu.be
Very nice impression by Jiří Ondroušek, VRCC Czech Republic


https://www.youtube.com/watch?v=_bnDAsN2cnM (May not open in some countries due to copyright issues)
Chapter Moravia/ Lachtan
Prijezd
Vyi
Grimselpass
Belveder
Beer – Trip Report
In this particularly warm and sunny week of 5-7 June, it was over 30 degrees in the Netherlands, we went with 24 Riders from the Benelux to Praz sur Arly. The journey was more than 900 km to this village near the Mont Blanc.
Stefan our Roadmaster, had planned a great route and an overnight stay at Le Grande Cascade halfway the distance. We arrived at a very nice hotel with a sunny terrace and we had a few drinks and a delicious dinner. The next day we arrived in Praz.
We were warmly welcomed by our French hosts and it was great to see many friends and acquaintances again. We were amidst 280 participants on 223 bikes. After we had enjoyed a welcome drink, registered, checked in and had a hot meal, we were directed to a theaterlike room where a welcome show was presented in 4 languages with animations from a laptop. And some show it was. Fifi, the organizer was a natural born entertainer. He seemed in total control, spoke English like it was his native tongue and acted like it was his daily bread and butter. Very impressive. After the briefing we had a very nice and pleasant evening. The hotel setup was very nice. Everybody is together at the same place, at the bar, lounge or taking a stroll along the Valks, all parked right outside the entrance.


The hammer handed over to the Lowlands for next year's Inzane
The weather was excellent. It would be hot and sunny almost every day with a regular shower around 6 o'clock in the afternoon to cool things off. On Friday there were 4 different routes through the Alps prepared and after breakfast we received a lunch bag for underway. We rode around the entire Lake Annecy and after that to the Col de la Madeleine, well known from the Tour de France. At the top you had a sublime view of the lake and the mountains at an altitude of 2000 m (6000').
It was very nice and special, riding over the many (hairpin) curves that you encountered everywhere in large numbers. My cornering technique improved significantly after a while by riding on narrow roads through these mountains.
Especially for us, low- and flatlanders, riding through these mountains was a very special experience. Once in a while a local Frenchman was overtaking us at a much higher speed but they probably knew these roads inside out.


Eric on his way to the mountain top

Col de la Madeleine Hero pic – Lac d'Annecy                      had to do something about it… people were getting way too serious
In the evening there was a Rockabilly band and the dance floor was packed from the start until late that night.
On Saturday there was the joint ride of 90 km on winding mountain roads and passes with great views over the mountains. Every so often a stop was made to give the marshallers the opportunity to come in front again.
This worked out really well and was introduced to avoid having the marshallers overtake the group. The hot lunch was catered in a small theater in a mountain village and tasted very nice.
After some leisure time the procession went back together to Praz sur Arly, where we stopped at a terrace close to the hotel to enjoy some more sunshine.


Lunchbreak during the mass Ride out

At the VRCC Rep meeting we thanked Fifi and his crew for the good organization and an excellent weekend. Very well done!
I had the opportunity to promote 2016 Inzane X in Houffalize and in 2017 the annual Meeting would take place in Germany. Italy also promised to organize an Inzane.
In the evening the official farewell party started and the next day I took the Inzane Chairman's Hammer home.
This meeting was characterized by beautiful weather, a great environment and excellent organization. I had a great time they can't take away from me.

Adressing the French audience                                                  …..and English                                                  EU Inzane Hammer
More Pics (385) https://www.flickr.com/photos/beer1952/sets/72157653833358960
Geoff Farthing's Album https://www.flickr.com/photos/104751447@N03/albums/72157655029240870/with/18788676703/
VRCC Moravia Report and Pics
https://taxifara.rajce.idnes.cz/Inzane_2015_Francie/
https://lachtan2.rajce.idnes.cz/InZane_2015_-_Francie_2.6.-8.6.2015/
https://plus.google.com/photos/107980455312247266369/albums/6158399255380556721?banner=pwa&authkey=COC3yofmuanPgwE
As VRCC Czech Republic CHAPTER MORAVIA we have participated in this year's InZane 2015 in a large number. 9 people, of which 7 members of MORAVIA.
Taxi driver, Lizard, Fisherman, George, Paija, Veronika and Lachtan. And also Helca, who went with Stan.
Excellent action with lots of experiences and captured pictures in a total length of 3,000 kilometers in beautiful, sunny and warm weather all the way to home. And all without a single problem. Valkyrie, great machines.
Outbound via Mikulov, Wieden, Salzburg, Bad Ischl, Lake Wofgangsee, Innsbruck, Brenner, Bolzano, Lake Garda, Sirmione, Bergamo, Milano, Torino, Aosta, Montblanc tunnel, Chamonix-Mont-Blanc, Megève, Praz-sur-Arly, France.
A trip through the ski resorts again in beautiful warm weather to Lac de Roselend Lake. The next day is a common show.
Homebound via Switzerland, Martigny, Aigle, Les Mosses, Zweisimmen, Lake Räterichsbodensee, frozen lake Grimselsee and Oberaarsee, Grimsel Pass Lake Totensee, Gletsch, Furka Pass 2433m, Andermatt, Switzerland, Liechtenstein, Austria,
Germany, Rakosko, Czech Republic.


.                                                                                                                    Fifi's latest creation, he is into customizing now

A pic is worth more than 1000 words…what a great experience

Moravia Chapter members visit nearby Mont Blanc 4810 m/15.780′)

Switzerland                                                                                                                                                                  Lac d'Annecy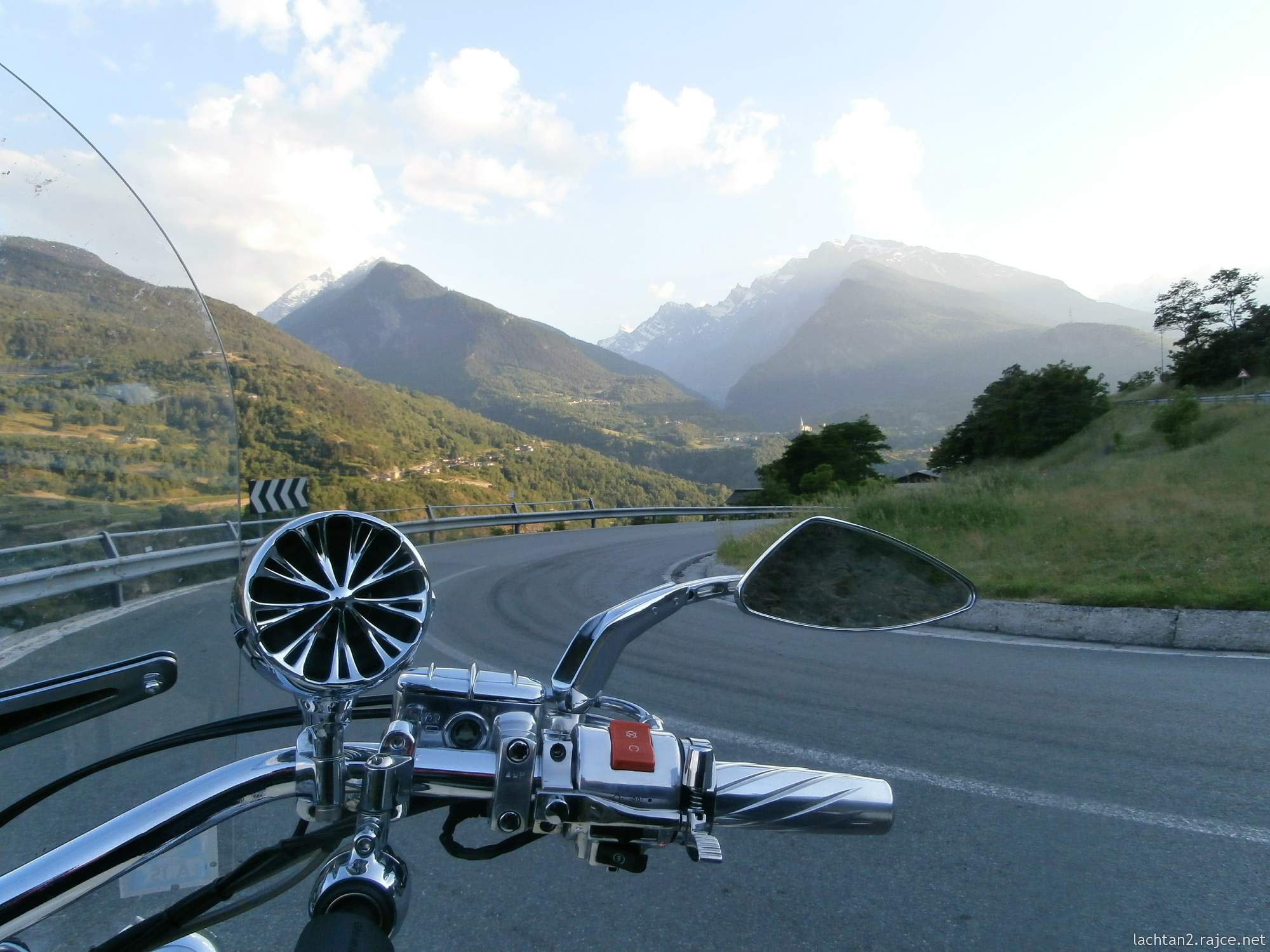 .                                                                                                                                                              Saying Hello to Customs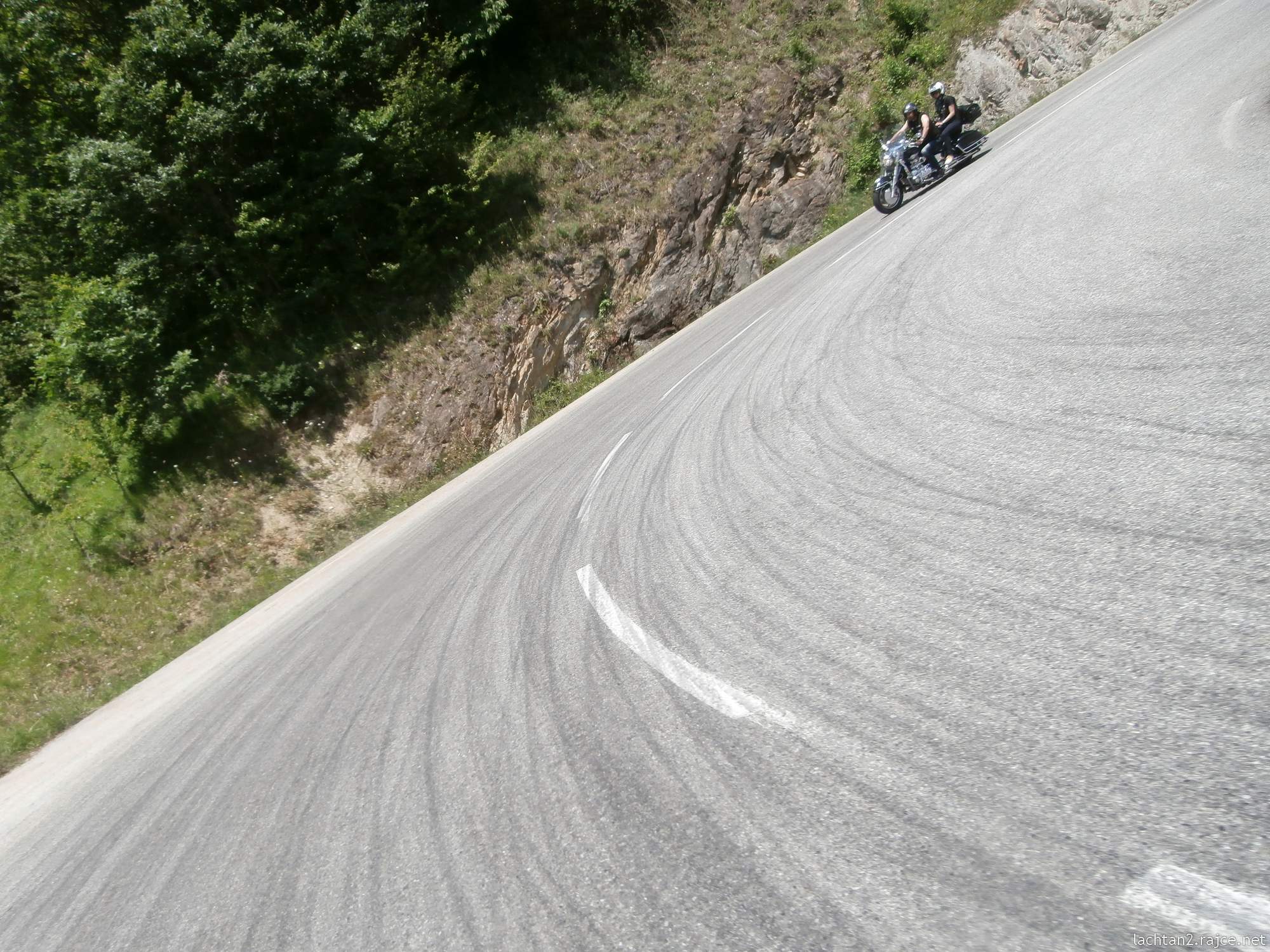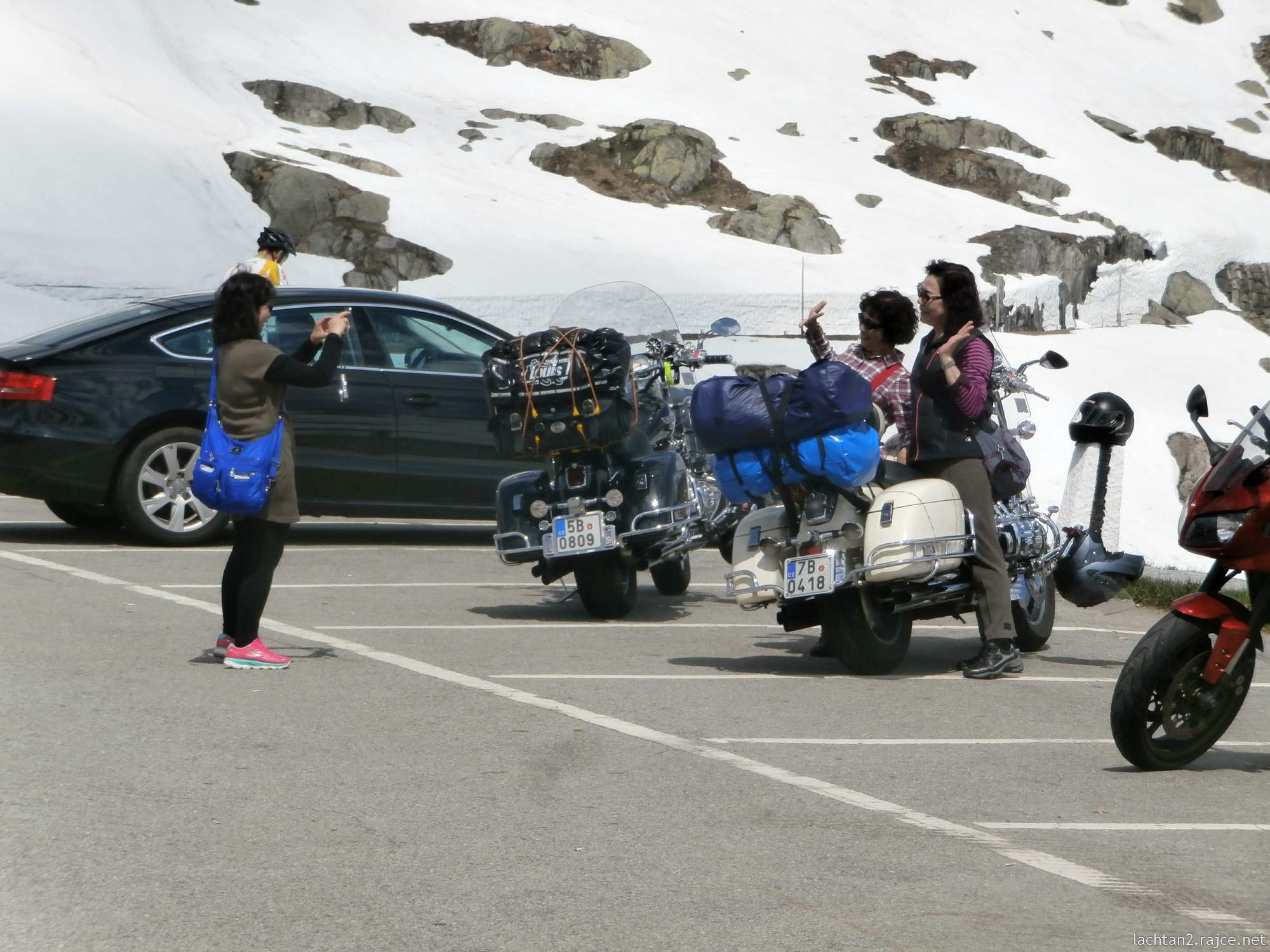 .                                                                                                                                                       Japanese tourists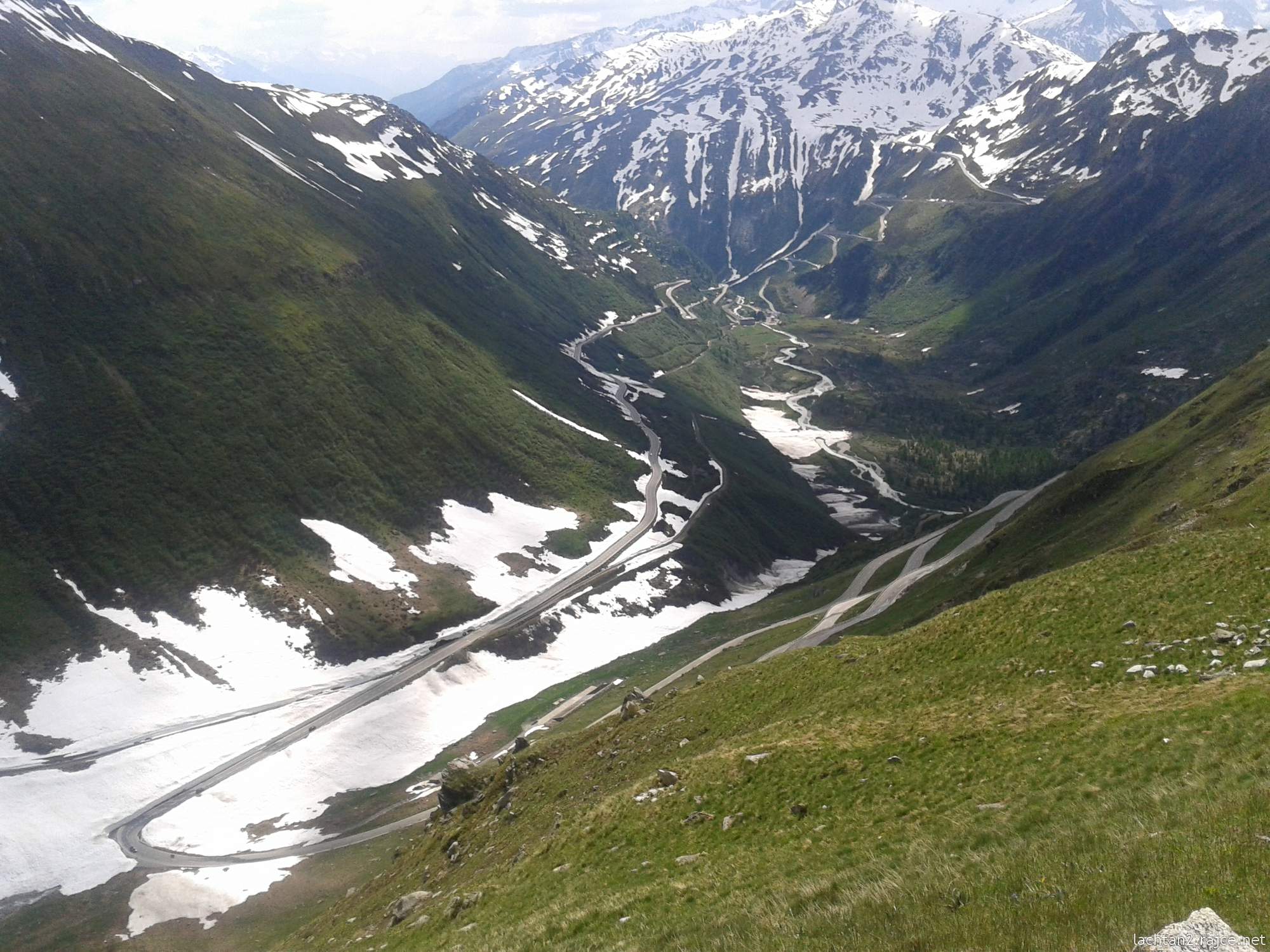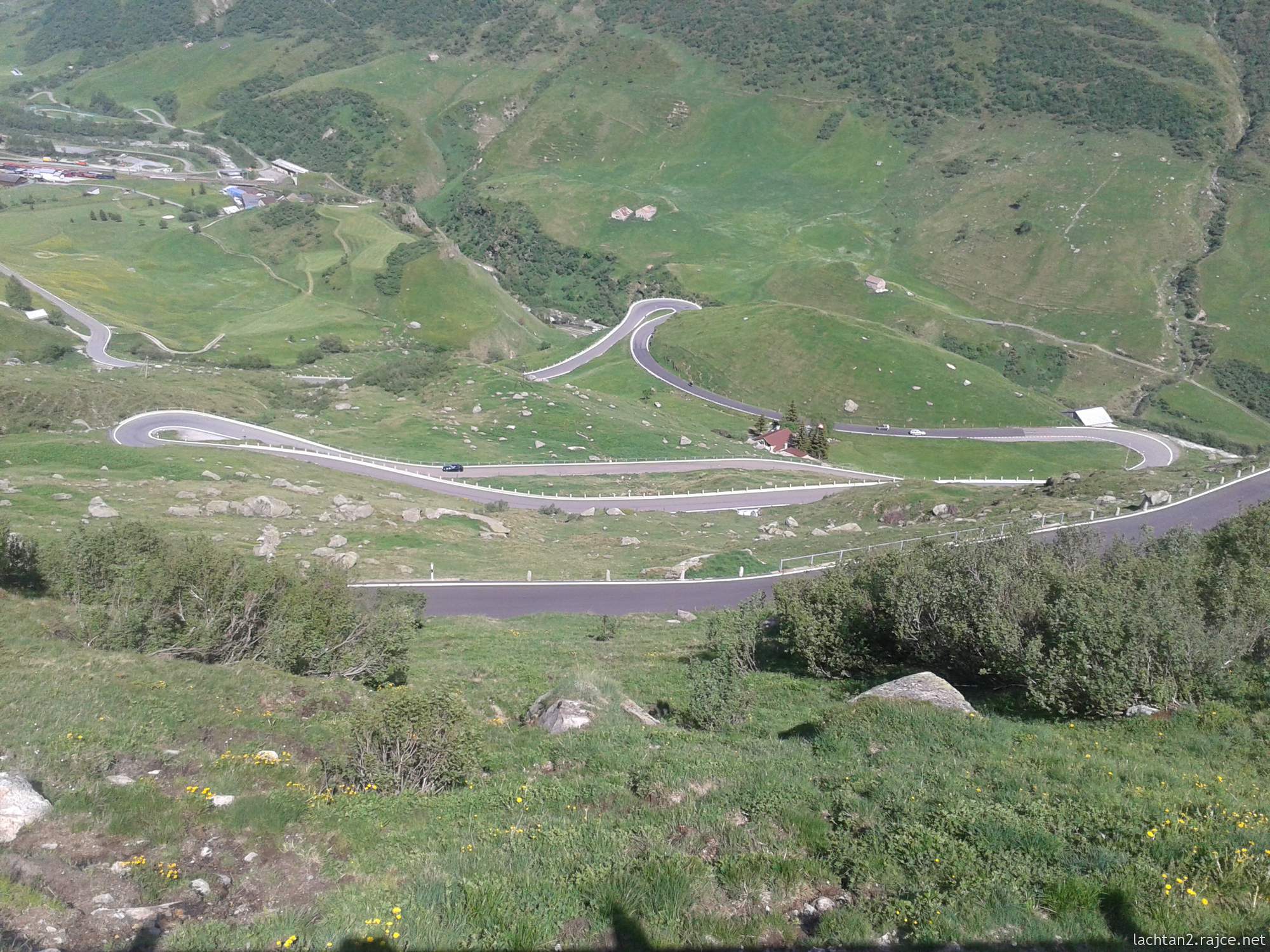 Great area to catch up on your curve technique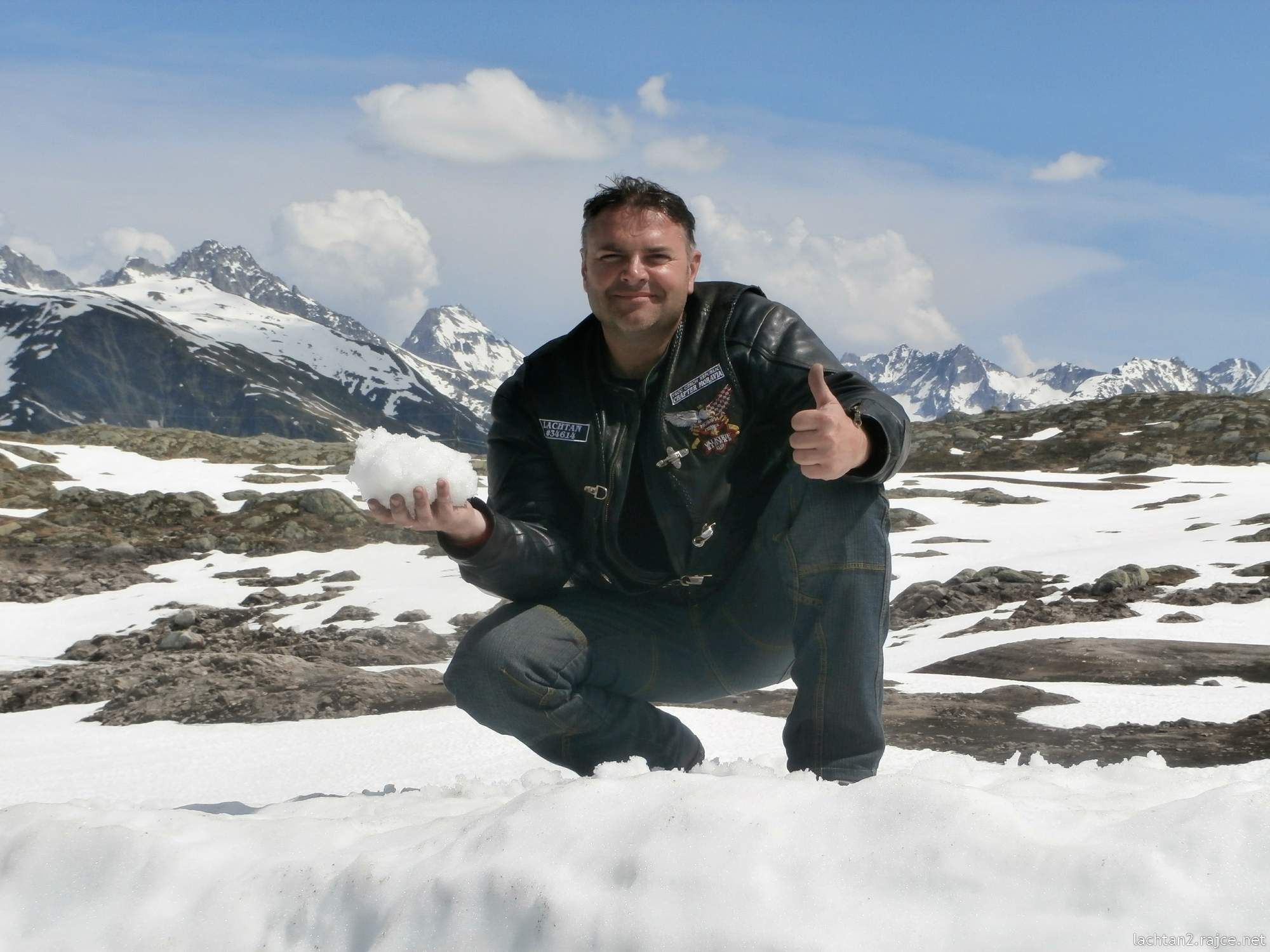 Lachtan                                                                                                                                 with Gerry (Irl Mooney)


Car Train                                                                                                                                       Arrival Briefing


Hotel entrance at early arrival


.                                                                                                                    On the way up to the Mont Blanc Billy and partner at the top


Waldhorn, typical Alp instruments


.                                                                                                                                                 Presentation of Country Reps


With Fray

Pics from the French Album


EU Inzane X 2016 – Houffalize, Belgium

Thank you,  Alain Letourneur for modifying Rembrandt's Nightwatch with a Valkyrie and Rune, dragon, banner,
VRCC logo, hammer, Flemish rooster, myself (Beer) and the Belgium and Netherlands Flag. Excellent job, Alain!

Additional poster designs by Chassevelt
Website http://www.vrcc.nl/inzane/
Picture Album (you are absolutely there) https://www.flickr.com/photos/141535082@N06
Videos
Talpostema Teaser


https://www.youtube.com/watch?v=jw8Tv8jGEpw&feature=youtu.be
Hans Valkyrie Rider – Inzane Houffalize
https://www.youtube.com/watch?v=iLTDGjaTOvY&feature=youtu.be
Harry Postema – Inzane X Houffalize


https://www.youtube.com/watch?v=-Tem0hlLYRM&feature=youtu.be
Dag Verpeide – INZANE X


https://www.youtube.com/watch?v=5KwzQbX8_Jg&feature=youtu.be
Fred Wagner – Leaving the hotel premeses


https://www.flickr.com/photos/beer1952/46141022382/
Beer – EU Inzane X final report
Inzane X in Houffalize has been a great success.
The second lustrum of this annual EU meeting and Valkyrie 20th birthday anniversary has broken all expectations and records. Not just by the large amount of participants, but most of all by the nice and spontaneous cooperation of everybody with a passion for the Valkyrie.
Outstanding support was provided during the prep phase by oZ, the entire VRCC US Staff, F6RiderStore, several EU Riders and worldwide friends. These great people really make the difference.
We arrived a day early to set up the reception, banners, signs, tents and get organized to handle over 350 participants. A road sign was erected on the arrival area where distances to the 18 various capitals of participating VRCC Nations were given.
When the meeting started, the weather also started to clear up and stayed pretty well dry with the exception of an occasional shower late in the afternoon.
All attendants received a warm welcome by the Organization Team and a free welcome drink at the bar. Everybody received a special goody bag with patches, pins, T-shirts, a tire pressure meter, folders and a special CMSNL motorcycle backpack containing more nice goodies.
Since this was also the Valkyrie 20th birthday anniversary, two sets of different shirts, pins and patches were issued, each with a separate design and logo.
The anniversary logo was designed by Alain Letourneur from VRCC France, modified by Gale Scalzi (oZ) and manufactured by Stefan 'Road Master' Martens from VRCC Lowlands in Belgium.


Original pin design                                                                                                    Original Patch design


.                                                                         Pin and Patch result
At the reception desk, discount 'Fat Lady Has Sung' banners were made available by F6RiderStore. We owe this all to Sarah, she has been so kind.
In addition, special US gold and silver plated anniversary coins, the size of a silver dollar were for sale for each Valkyrie/F6C Rider, designed by Damon 'Misfit' Kinter and shipped from the US. Well done Damon, you're simply the best.


If  somebody, anybody no matter where or when, challenges you by showing this coin  and you don't have it on you, you should pay him/her a drink
Without these 6 lovely  VRCC ladies, Inzane X would have been a mess.
Lonny and Josette from Belgium, Yvonne and Sien from Holland, Viv from the UK /Austria and Ingrid from Germany. They worked their ass off to get everybody checked in and settled. Well done, ladies!


.                         Lonny                 Ingrid                         Yvonne                                                                          Vivian                                   Sien

Dragon's Cave                             Cruisertown                      Special Anniversary                                                  Distance markers to each capital
.                                                                                                                                                                                          of participating nations

Nice setup of 2 Valkyries                                                                                                         ………..but all bikes are welcome


Over 250 bikes could be parked in Dragons Cave, an underground garage and washed at Colin's Corner, dedicated to Colin 'Ulsterman' Kirkpatrick, who is widely known to be pleasantly disturbed for his detailing tic.
It goes without saying that high pressure spray, compressed air and the whole nine yards of cleaning items were available in abundant numbers and extensively used.

After check-in, all Riders were having a drink and renewed their friendship on the sunny terrace overlooking the arrival area.
Needless to say, that the nice & cool Belgian beers contributed as well to the relaxed atmosphere. As you know, Belgium has the greatest variety of beers in the world.

In the meantime our tailor, personal friend and party animal Resi and her embroidery machine were making overtime all weekend to stitch all the patches to leather jackets, shirts and sweaters.

In the hall, the grand lottery price was displayed. Thanks to Consolidated Motor Spares and Honda Benelux, the organizers were able to put a Valkyrie on the stand for this special occasion.
The bike was technically completely overhauled by Hans Huijbers, our professional mechanic and VRCC lunatic as well. And brought back to brand new looks by, who else, Colin 'Ulsterman' Kirkpatrick's magic touch.
And all this could be yours for a $ 5, – ticket.

During dinnertime, a giant Valkyrie birthday cake of 5 ft long was carried into the hall, welcomed by a big applause. Even 350 hungry bikers were having a hard time to diminish this cake.
In the evening, a welcome speech was given and the organization team introduced.
Riders from all over Europe were having fun at the bar, terrace or parking area, accompanied by the cover band 'Old Friends' and, needless to say, the party went on until the small hours.


Photo Booth with funny masks
When you think of it, close to 200 Valkyries represent a small fortune. So, during the night, the entrance of the underground parking, 'Dragons Cave' was barricaded and our bikes were guarded. Better safe than sorry.
The next day, we had a professional photographer taking 'Hero Pictures' of the bikes and riders in front of a giant 20th anniversary banner. These were published on a public website afterwards for everyone to grab their own picture for free.

.        Highway Patrol Model                                                                                                                               Harry's Dragon Valkyrie
Friday was dedicated to small group rides. Everyone could choose and download 3 different routes.
A 70-mile coffee and cake route for the 'Old & Bold', a 140-mile castle route for the 'Scenery Rider' and a 180-mile sore butt route for the ones that like to ride like you stole it.

All routes were ending at the Mardissan monument near the War Museum in Bastogne. This giant monument represents a symbol for all US soldiers who gave their life during the Battle of the Ardennes in occupied Europe during WW2.
It was very impressive to see 251 Valkyries and their Riders lined up in front of the monument to pay their respect. I would like to thank our Roadmaster, Stefan Martens in particular.
He managed to open up this possibility for us on the same day that Memorial Day was celebrated by the authorities and Vets just before we arrived.
This was quite an achievement since the authorities were not very keen on having so many unknown bikers around this place with the recent terrorist attacks in Brussels still fresh in their minds.
People were still arriving on Friday. And not everyone without some bad luck. Jurgis and Natalja from Latvia stranded along the highway some 100 miles before Houffalize with a broken U joint.
After 1100 miles of travel, they felt something wrong in the final drive of their Valkyrie. So, they went to a shop in the nearby city, Liège to investigate. Since it was almost closing time, the shop owner refused to help and they continued their way.
Some 30 miles further down the road, the joint now got completely stuck and did not move any longer. Now here comes the good part and happy ending.
After standing along the highway in the pouring rain for several hours, they were picked up by a person in a trespassing car. They were brought to his home and this friendly guy returned with a trailer to pick up the bike.
Jurgis and Natalja had dinner at his house and could stay for the night. After we received his call the next day, we drove to this place with a new joint and the bike was fixed.
After the buffet dinner on Friday, everybody assembled in the bar to witness two ceremonies. First there was the presentation of the meeting prizes.
In contradiction to the past, where prizes were given to the nicest bike, furthest distance travelled, etc. we opted to give a lady from each of the 18 participating nations a prize.
Since they represented the true Valkyries of our club, their presence as prize winners was long overdue. After all, they had to pick up what's left of these tired and brave men after they rode their iron horses and, on some occasions, heavily intoxicated by alcohol during a VRCC meeting. They were each given a famous Belgian Chocolate Plaque with VRCC emblem

Inzane X Valkyries                                                                                   Beer                                                                          Chocolate presents
It goes without saying that some of these ladies ride Valkyries themselves. Each lady received a token of appreciation.

Next, we nominated 'VRCC Legends' who have contributed in an extraordinary way to the VRCC in their country.
Each of these riders were nominated in advance by intercession from their own members.
Germany
France
United Kingdom
Netherlands
Belgium
Norway
Poland
Czech Republic
Finland
Denmark
Italy
Austria
US
Rusland
Sweden
Ireland
Letland
Valentin 'Ochsy' Ochsenschlager
Patrick Maille
Steve B Morrish
Harry Postema
Stefan 'Roadmaster'Martens
Bjorn Ovnerud
Kamil 'Wolf' Capala
Jaroslav 'Cicik' Malek
Lasse Kaitasalo – Trumppi Multanen will stand in
Magnus "Der Alte" Nielsen
Paolo Lazzari
Peter 'Einstein' Prajczer
Duffy Elloitt
Yuri Ludan
Tommy Andersson
Gary 'Valkyrie Irl' Mooney
Jurgis Kreismanis
The Inzane X jury could not verify this from their own POV however.  So, they had to prove their worthiness once again.
This was done by eating dry biscuits, followed by inflating and exploding a balloon with a dry mouth and emptying a pint of Lager and a shot of Scotch afterwards.
The fastest time and winner beyond any doubt was Magnus "Der Alte" Nielsen from Denmark who accomplished all this in 49 seconds. Who else than someone with Viking blood still in his veins could accomplish this, well done Magnus!
Every 'Legend' received a framed VRCC certificate of recognition. Time to party and a very nice DJ got people on the dance floor until closing time in the early morning. A special thanks to Eric who did his great Joe Cocker impersonation again.

Eric 'Unchain my heart' Nacken
Saturday was the day of the joint ride with over 250 bikes. We called it the 90 miles 'Dragon Stampede'.
We received permission and police assistance from the Mayor to ride through the main street of Houffalize and block this road for about 20 minutes. Wow, what a sight and sound!
The drone, which we arranged to take a movie from the air, was cancelled unfortunately. Bastiaan, the operator got sick and had to stay in bed.
Our Roadmaster Stefan managed to lead the posse over 90 miles with only a few junctions that had to be blocked by marshallers. Now this is really exceptional in Western Europe, were you stumble over traffic lights, speed bumps and roundabouts everywhere.

We arrived at the European Space Center where everybody had a free lunch and a guided tour through the facility. It was fun to see folks rotating in gyros and doing moonwalks with reduced gravity, etc.
After getting back to the hotel, we had a BBQ for dinner, accompanied by our legendary Belgian rock singer Dave. After dinner everybody moved to the bar for the departure ceremony and lottery.

During the goodbye speech, all VRCC Country Reps received a nice plaque with the 20th anniversary logo. I would like to thank VRCC Italy in particular, who gave us a beautiful glass VRCC ornament in return. Mille grazie, bellisima.

The anniversary lottery prizes were divided in 'prizes' and 'grand' prizes.
Over 25 prizes were displayed in a separate room. To save time, the winning ticket numbers of these additional prizes were drawn in advance by impartial VRCC members from several countries.

A Hit Air Rep came over to give a presentation and demo
The grand prizes were displayed in the bar and consisted among other things of an inflatable jacket, offered by Kenji Takeuchi from Hit Air Japan and Anja van der Elst. Jacques Bronneberg generously gave away a set of Maidenhead tank emblems.
Gert van Riessen was so kind to donate a Gerbings heated jacket and set of gloves, Greg Olsen and Jos Ooms from Dimac was in there with a set of Kuryakyn Ergo LED Cruise Boards, VRCC Lowlands with Kuryakyn handlebar grips, John de Weerdt from Bikers Best gave us over $300, – worth of chrome pieces en an anti-theft lock system.
Des Hockley generously gave us a complete Big Boy Ultimate Seat for the raffle and Mike Buttinger from CMSNL and Chretien Berger from Honda Benelux provided the 'Jackpot', a completely restored STD Valkyrie.
These people really make the difference, remember that the next time you go shopping.
The bike would also be transported anywhere in Europe to the residence of the lucky winner for free by the VRCC Lowlands crew as not to cause any problem when winning the prize.
Yvonne and Josette had sold $ 5, – charity and raffle tickets during dinnertime for the past two evenings.
Needless to say, that the lottery got quite some attention by all participants. The drawing was accomplished by two pilots from the nearby Helicopter Medevac Team, a charity foundation who would receive a cheque with all profits and benefits from the lottery and meeting afterwards.
The Jackpot was won by Christine Berthet from St Alban Leysse, France who bought 4 tickets.
Congratulations Christine. She was flabbergasted, to say the least and gave a very emotional speech.
Video
Valkyrie draw https://www.flickr.com/photos/141535082@N06/27488282274/in/album-72157667833899864/
https://https://www.flickr.com/photos/141535082@N06/27822016150/in/album-72157667833899864/
There was yet another grand prize to be won.

Unmistakable highlight of the evening was Rainer asking Romy to marry him onstage and she said yes. Congratulations from the entire VRCC community.
After the raffle, Dave started playing nonstop for several hours, aided by pouring Whiskey in his beer.
Apparently, this didn't seem to bother him at all. On the contrary, his nonstop performance was so great, that he kept the majority of participants on the dance floor until 04:00 hrs. in the morning.
And I will tell you, this is quite an achievement in a community where members usually go to bed early the last evening because they have to travel the next day.
After breakfast on Sunday, we said goodbye to the 371 participants and started disassembling and packing up. Tired, but very satisfied we took off ourselves late in the afternoon.
We have had positive reactions throughout. The atmosphere and spirit was great and everything went very well.
Did we have challenges? Yes, from an organizational POV, we had three minor drawbacks. First, we wanted to promote the Valkyrie motorcycle and its 20th anniversary on the movie set of the 'Game of Thrones' film series. The studio in Ireland was not cooperative, however. Even a plea to one of the movie stars, the Dutch Carice van Houten resulted in a no go. Next, Miss Universe Belgium, Annelies Törös promised to attend as guest of honor. She had to cancel because she had other duties.
Finally, Honda had promised the participants test rides with several new GW F6C's. Unfortunately, the Honda plant in Japan was struck by an earthquake in April, causing the supply to stagnate. Without GW F6C's in stock, Honda was left with no other options than to cancel.
Apart from these minor distractions, it has been great and a real pleasure organizing this 10th EU Inzane in Belgium. The VRCC in Europe is more alive than ever and all members in good spirit. We even had Duffy with his wife and Thom over from the US. Let's continue where we left at next year's Inzane XI meeting in Suhl, Germany.

Passing along the 'Hammer' to Andy for Germany's next Inzane

Charity donation, almost 2000 Euro from lottery tickets could be donated to the heli rescue team
More Inzane X Pics

Cheers, Glynis                                                                     Dag and Mariana

Ivo, trying some Valhalla                         'Legend'                                                                   Another   'Legend'

Yvonne translating                                                         Stuccie and friends                                              Ain't she nice…

US WW2 Casualties Memorial at Bastogne
Editor's Note 1
After the Meeting, the Valkyrie was delivered by Stef to Christine in France.
As it turned out, the bike, although officially imported in the EU and had all the neccesary papers including German license plate and EU certificate of conformity, could not be imported into France.
The original bill of sale from the first owner and seller in the US, more than 15 years ago, had to be provided. We thought of everything, but not such a stupid rule in a Union based on the free movement of people, goods, services and capital within it's internal market.
All's well that ends well. The Valkyrie has been sold and is now riding in the Benelux
Editor's Note 2
We went too see Dave in advance.  He played brilliant. He is well known in Belgium and plays for large crowds during parties. Mostly rock covers but with a complete own dimension. He is the type that likes to party, pleasure before business.
We agreed to have a bottle of whiskey on stage, besides his beers. And most certainly, Dave ran on high octane, LOl
Amazingly, his act grew better and better as the bottle of whiskey became more empty. We, as organisation team could tell because we had to stay sober.  Anytime we were thinking that he would collapse, he started another set of 90 minutes nonstop.
This figure was absolutely brilliant and could turn a large crowd upside down all by himself.

Finally, I would like to thank the Inzane X Organistion Team for doing such an outstanding job. It hasn't been easy, but we pulled something off the ground the way we intended. Stef, Anthony and Lonny, Jos and Yvonne, Dirk and Josette, Hans and Sien, Colin and Ingrid, Viv and Hans Huijbers, it has been a pleasure having you all in the team. We, as a team hope you all had a pleasant stay with us and are looking forward to CU again in the future.
EU Inzane XI 2017 – Suhl, Germany
Website http://inzane2017.valkyrieriders.eu/

Schwere Maschinen zu Gast in Suhl
International und laut wird es am kommenden Wochenende in und um Suhl.
Knapp 500 Motorradfahrer der Marke Honda Valkyrie kommen zu ihrem Europatreffen ins Ringberghotel.

All time EU Inzane participant record.


Over 400 Riders from 17 Nations were welcomed by Suhl Mayor Dr. Jens Triebel.
It was ten years ago, in 2007 that the first EU Inzane took place.

Videos
ARD – European InZane 2017 in Suhl/Germany


https://www.youtube.com/watch?v=XGg1rNL89eE&feature=youtu.be
Hans Valkyrie Rider – 11 Europa Inzane Suhl


https://www.youtube.com/watch?v=pbup9ErPXq4
Harry Postema – Inzane XI
https://www.youtube.com/watch?v=NoRIxuOk_Us
Urban Schmitz
Cover Band https://www.youtube.com/watch?v=e47xuxkdTxg
Joint Ride</strong https://www.youtube.com/watch?v=Rmbc4kU1yTk
steinchen1 – All participants during ride departure
https://www.dailymotion.com/video/x5r003d
Inzane Suhl Pin

Beer – Trip Report
On June 15-18, 2017, Inzane XI was held in Suhl, Germany. This annual meeting of European Inzanes broke all EU participant records with over 400.
And for the first time more people and Valkyries showed up than the same event in the USA. Thanks to the German crew who managed to keep the registration costs exceptionally low and the large German turnout, who played a home game and registered in large numbers. This time the Benelux participated with more than 15 Riders.
At home, I had arranged a rendezvous with Meks and we rode to the farm of Hans and Monique at de Maas river, where we had a nice cup of coffee. Ludo & Remy were already present.
I got a chance to admire the guitar collection and studio of Monique. A whole collection of Fenders and Gibsons, WOW. No half work and we will probably hear more of her.
The weather was excellent and would remain nice during the whole weekend. Guided by Ludo, we traveled 500 clicks to a Burger King along the A4, about 50 km before Suhl to continue with other Benelux Riders.
Harry and Anita (we are looking forward to see another nice Postema / Talma film production), Ivo and Cella, Ronnie and Dita, Dirk and Josette, Frank and Monique, Gerwin, Anthony and Lonny, Dirk, Robert and Jeanette and Cedric and Hilde were there. Later Stefan and Gerard and Jenneke would arrive as well, they arrived via the Dolomites mountains. And of course, Colin and Ingrid.
We were warmly welcomed at the already pretty full parking space reserved for us. The hotel was nicely situated at the top of a hill and the rooms offered a nice view of the hundreds of Valks. It was already very busy.
Our German hosts had arranged a package of € 185, – per person for 3 nights including free drinks during meals. And the organization left us with no wishes, whatever.
It was of course very nice to see other Riders from all over Europe again and a pleasure to watch the motorcycles. You could have new V-belts and trigger wheels fitted for a reduced price.
In the evening we could enjoy an extensive buffet dinner, speeches and a DJ.
F6gal was there as well. She and her husband had flown over for the occasion and stayed with Andy.
The next day we left for individual rides, that is to say we participated in a group of about 10 bikes behind our Roadmaster Stef, who showed us the most beautiful places in the area.
The Thüringen Forest was a great area for motorbikes. There were many winding roads in these hilly and wooded surroundings of Germany. Most of them you could ride with a nice pace, passing though sleepy villages where you were not bothered by traffic lights, thresholds and other obstacles. We used the lunch in a biker hotel overlooking one of the reservoir lakes. After a nice ride and a good meal, a cover band performed that night.
Also, in between activities there was a Chapter meeting, announcing that the next Inzane would take place in Austria (Graz).

.                                                                                                                                                          On the spot bearing replacement…..

On Saturday over 350 Valkyries started a route together of approx. 150 km, interrupted by a lunch on a farm. That night there was a farewell ceremony with DJ and every Chapter got a memento.
On Sunday morning we said goodbye after breakfast and returned home. The eleventh EU Valkyrie meeting in Suhl was characterized by an exceptionally high turnout, a good atmosphere, an excellent hotel and a beautiful environment for riding. And that's what it's all about.
Pictures
donatelof6c's Pictures
https://donatelof6c.rajce.idnes.cz/Nemecko_InZane_2017_cerven/
Beer's Pictures
https://www.flickr.com/photos/beer1952/sets/72157682770246984

EU Inzane XII 2018 – Loipersdorf, Austria
Website http://inzane2018.valkyrieriders.eu/
Videos
Valkyrie Riders Italia – inzane Austria 2018


https://www.youtube.com/watch?v=fiyu4Ovp9Xc
Völkermarkt


https://www.youtube.com/watch?v=vHI6RvAG99A
Robert Gibbons

Bob goes to Austria Inzane 2018 part 1 https://www.youtube.com/watch?v=xqATFC7Qj4I
Bob goes to Austria Inzane 2018 part 2 https://www.youtube.com/watch?v=5apeLe925GE
Beer – Trip Report
https://www.flickr.com/photos/beer1952/albums/72157698809735844
From 21 to 24 June the EU Inzane Meeting was held in Loipersdorf, Austria. A beautiful location in the mountains near the border triangle of Austria, Hungary and Slovenia. On top of that, we had sunshine the whole period.
Three days of twisties through the mountains with a sidestep to Slovenia and in the evenings a party and bikertalk. What else can you wish for. That's what more than 250 participants thought as well.
Belgium and the Netherlands were also well represented with Stefan, Beer, Ivo and Cella, Ronnie and Dita, Stuccie and Debbie, Dirk and Josette, Eric and of course Jos and Yvonne, Hans, Gerard and Jenneke, Ludo and Romy, Anthony and Lonny, Colin and Ingrid, Cedric and Hilde and Harry with Anita, Kris and Hans and Sien. Excellent company.


.                                                      Lowlands Riders with Bobbievalk
I left five days earlier following our Roadmaster Stef together with Gerard and Jenneke and half a dozen close friends. These folks ride together for many years now and are completely used to each other's riding style.
And they ride much faster than I do, especially on the narrow, curved mountain roads. So, a nice learning curve for me. We started by making an 900 km jump to the south, only stopping for gas.
Since we left at 5 o'clock in the morning we avoided most of the usual traffic jams and arrived in Karlsruhe at 9 o'clock. From there on, we left the Autobahn and took the secondary roads to Austria.
With the Wx being that great, Stefan decided to take 5 of the most beautiful mountain passes in Austria, all in one day. I think we did 900 hairpin bends, LOL.
We continued via Bolzano through the southern edge of the Italian Alps and then North of Venice to Slovenia. This country is super for riding. Excellent and clean roads through the mountains with hardly any traffic .
During a few days we clocked a lot of pleasant miles and had a lot of fun in the evenings. Then we rode to Bavaria again to catch up with the other Inzane-goers from the Benelux. After a very nice evening we all went to Loipersdorf together.
We checked in and were warmly welcomed by Gunni and Petra.
The setup was very nice and we could park the bikes in a covered parking lot. I always take a walk along all the Valkyries, just to see if somebody has new bling and/or modifications that will be useful to me.
Amazing how most of these bikes still look like new. Old fashioned Honda quality.
That evening I went to bed early with some aspirin since I had a terrible toothache. So, no party for me.
On Friday we made a very nice ride together with a group of about 15 bikes and on Saturday there was of course the joint ride with all participants at the same time.
We used lunch in an establishment where the majority of Riders could only park at a slope. That caused quite some consternation, LOL.
Not that there wasn't enough parking place (around the back) but the front Riders decided to stop short of the intended parking.


Casual talk on the parking for lunch                                                            Josette and Debbie. Never a dull moment with these two
On Saturday evening there was the usual farewell and award ceremony and the next day we rode home with a large group and an overnight stay in Germany. I had a great motorcycle holiday through the mountains and very nice evenings with excellent company. Thank you, Gunni, Petra and crew for this great and well organized meeting.


Mario, back from long time not seen…                                                         Some of Eric's 'Hero Pictures' on the way up

Waiting for 200 bikes to get parked                                                                                   Nice buffet in front of the hotel

Outside the hotel entrance                                                                                                Not sure what happened to this picture

Nice gaggle on the way out                                          Einstein, key figure in welding EU Valkyrie Chapters together for more than 20 years

.                                                                                                                                            Nice Runes as part of the Valkyrie family

.                                                                                                        Parking lot

Thank you for this great meeting, VRCC Austria
VRCC Czech Republic – Galerie InZane 2018 Austria
http://www.valkyrieriderscz.cz/galerie/category/190-inzane-2018-austria
EU Inzane XIII 2019 – Cervia, Italy
Website http://www.valkyrieridersitalia.it/Inzane_2019/welcome.html
TBD