2001 – First Inzane
https://web.archive.org/web/20010628134345/http://www.valkyrieriders.com:80/inzane/
Website https://web.archive.org/web/20010203194900/http://www.f6rider.com:80/inzane/index.html
With over 8000 members to date, you know this is going to be a BIG one!
This page is being put together so that those who made it to the Inzanity can have a place to remember the good times that were had.
http://www.valkyrieriders.com/inzane/inzane2001.htm
Schedule of events
Thursday
Opening Ceremonies
At Noon Games
How-to Seminars
Local Twisties Run
Observation Run
Poker Walk
Ride to Honda
Custom Valk Show
Surprise Guest at 1700
Giveaways at 1900
Friday
Games
How-to Seminars
Tug o War Berths at 1300
AMA Museum Run
Observation Run
Poker Walk
Giveaways at 1900
State Rep Dinner at 2030
Saturday
Games
How-to Seminars
Poker Walk
Observation Run
AMA Museum Run at 0900
BOH Challenge
Giveaways at 1900
BBQ and Concert at 2000
Valk Raffle at 2200
Sunday
Bike Blessing
Non-Denominational
Service
Closing Ceremonies at Noon
DirectLine Lunch
Inzane Registration Form ~ Still very much alive


https://web.archive.org/web/20010602182201/http://www.stanardgroup.com:80/Registration/index.htm
Chili Pepper.
The first gathering in Inzane was absolutely the best… magical even. Everyone was so excited about meeting each other in person and the aftermarket for Valkyrie accessories was very hot at the time.
Spent a lot of time oohing and aahing at all the new things available, lots of bolting on of new CHROME! Going on in the parking lot and discussions about how to tweak the engine.
They had a dyno-drag in the back field so you could race in place, so to speak. Dragbars had the first or second blown Valk there and blew a cylinder on the dyno-drag…two weeks before heading to Bonneville to try to set a record.
The place was abuzz with excitement from day one. Plus, there were great roads everywhere.
This 59-page comprehensive guide by Barbarian the Mad Serb, with diagrams and links, showed how to fix common problems and do routine maintenance. Also includes answers to some questions asked by owners of the Valkyrie https://drive.google.com/file/d/0ByyPaxZD7mK-d0RpQXFpZ1FsUmM/view
The major sections in the manual are from Rattlebars and Carl Kulow
During the 2001 meeting, Barry Bosworth, Dragbars, Larry Heath, Mike Myrick, Crazy Al, Valkrocket, Big Al from MD, Mel van Ruyskensvelde, Dave Ritsema, Dave Wehner and Nape gave hands-on demonstrations of technical maintenance.

Left to right: Fuzzy (the original Fuzzy from Michigan), MaryMatic, Bagger John, Chili Pepper, Rdkll, Sir Lancelot
RDKLL


It was a great event

Worker Bee and Rdkll came in 2nd in the hotdog contest                Dragbars ex-girlfriend, Vicki, LaMont, RonBou, Barbarian the Mad Serb
…to Mosa and Dragbars on a Reflex scooter.
Note F6gal's bike on the right, LOL
Barbarian the Mad Serb remembers, he thinks, the second (or was it the first?) Inzane meet in Ohio. It was great and was good to match up real people to those I met on the VRCC site. Postings on this site were a riot back then.
Lots of funny stuff happened. Heck, we even had a Band of Hooligans who made lots of trouble for the rest of us on the VRCC web which ultimately led to a showdown of Lamonster vs. Baad Dude on the dyno.
It was claimed that Baad Dude cheated and therefore was disqualified and Lamonster won the match! Hahahh. The bottle of Geritol is still being carried after all of these years. Then there was something about sheep-don't remember that though. Hahahah.
Chili Pepper
Sir Lancelot came all the way from Birmingham, England. Ronbou (who has since passed on from brain cancer) couldn't come to Inzane because of work or something…met Sir Lancelot at the airport, took him home, and loaned him his Valk to ride from Connecticut to the rally. How many folks do you know who would do that for someone they had only talked to in a chat room? That was what this club was like back then. No politics, no nastiness…it was a very special place.
Don't get me wrong, I'm sure it's still a special place for some but it will never be like that again….
Dave Ritsema
My first VRCC memory was pulling up to the Hotel at InZane 1 all by myself after a 9-hour ride. I had never even been on more than a 4-hour trip before and didn't know a soul there except for some names from the message boards.
Sure wish I could remember the name of the first guy I met, really friendly older gentleman with a tie dye shirt and a maroon and cream standard like mine. Shortly thereafter I met Don B, who was the event coordinator and kinda followed him around trying to make myself useful. As the Valks kept pouring in I kept meeting more and more folks, and I left that place feeling like I made 800 new friends. Met Lamont, Hal, Dragbars, Mosa, Vicki, RJ, the list goes on and on.
Everyone I met was really nice and made me feel like part of the family. Promised myself I would come back each year and have been lucky enough to do it so far.
Solo 1
Riders coming from Inzane in Zanesville arriving at the Honda Homecoming in Maryville's Honda motorcycle plant.

PSUbag
The meet up at Walmart during InZane 1 was pretty dang impressive! It was just amazing to see so many Valks at 1 place. Famous ones even! And if it weren't for the VRCC, I'd of probably never met some REALLY great people who live fairly close to me, Shftr, Rocket, Yogi, Holmes, Mosa, Steve etc.
Lamont
The first InZane we got a new Valkyrie through Hal and Honda and we were able to raffle it off. I'll never forget the look on ValkRocket's face when he won that bike. It made Hal so happy that his eyes started to leak a little bit.
That was a very cool thing to be a part of.
Editor's Note
To my knowledge, there were two VRCC occasions where a Valkyrie motorcycle was given away during a raffle. First one was during Inzane 2001 by HAL and Honda.
The second one was during EU Inzane X in 2016 in Belgium, celebrating the 20th Valkyrie anniversary by Consolidated Motor Spares and Honda.
Valkyrie Riders Cruise over to the Motorcycle Hall of Fame Museum at AMA Headquarters
InZane Rally in Zanesville is in conjunction with the Honda Homecoming in Marysville by Bill Andrews
They call themselves "Valkoholics." And with good reason. Comprising a 5-mile long parade on the way to the Motorcycle Hall of Fame Museum, 200-plus members of the Valkyrie Riders Cruiser Club are as dedicated a bunch as you'll find anywhere.
The target of their obsession, of course, is the unique flat-six Honda Valkyrie motorcycle, the bike that arguably launched the power cruiser class.
The Honda Valkyrie-loving riders had converged in Zanesville, Ohio, for the InZane Ride-In. The rally features bike shows, raffles, games, and day rides – like the one to the Museum.
The riders had traveled from all points in the U.S., some from as far away as California, Florida, and Massachusetts.
Rick Dondero, from Costa Mesa, Calif., rode his Valkyrie Standard four days to get here. "The VRCC is a different kind of club," he said. "There's no pretentiousness with these riders."
Ron Conperchio rode his Valkyrie, dubbed the 2 Maidens, from Plymouth, Mass. The name is derived from the two horse back riding, most decidedly females, found on either side of the Valkyrie's gas tank.
Did he go "In Zane?" "Yeah, absolutely," he said, "and this museum is really neat."
The VRCC gathering was in conjunction with the Honda Homecoming in Marysville, Ohio, occurring over the same weekend.

Riding the Rail
Lamont first showed up with his blown Valkyrie at Inzane I
He had the kit for sale and at IZ II several others added blowers like Dragbars, Lamont, Mosa, TJ, and PIBIT

Dragbars from TN is the bike to the right of LaMont, not sure on the others even though I was there

Dennis from Blythe, not sure, Sue, not-quite-Murdoc…lol

Right pic – ValkRocket originally from New England, he won the raffle for the Valkyrie Standard at IZ-1 even though he already had one.
He borrowed a trailer from oZ to get it home
TinMan – Early days memories
If it wasn't for the VRCC I wouldn't know any of you now. The day after I joined, Steve Myers from Greeneville Tn. e-mailed me saying he was another Valkyrie rider and had seen my post on the VRCC. He invited me for a ride with a group that met each weekend. That's where I met my best friend to this day….RayO. Since that day, my list of friends kept growing because of the Valkyrie and the VRCC.
I first met WIA, Dragbars, and a few others on a very cold wintery ride in Knoxville. Remember the day Socrates went down? That ride has been etched in my brain all these years. How everybody stopped the ride and blasted to UT hospital to check on him. That's when I knew I was part of a special family. Vicki, TnIceman and Lamont came the next year in Daytona, then again when I hosted a dinner during the Hoot as the East Tn. Rep. A lot has changed since then, but two things remain the same…. our friendship and the love to ride.
RJ – Early days memories
I bought the Valk in late 1996, rode it 7,000 miles in 2 1/2 months and put it away for the winter.
Got it out in March and went to Daytona. Met up with Dragbars, Smilin Jack, Lamont, Earthdog, Warren in Atlanta, and a whole bunch of others……
Went back home, rode a bunch of miles that summer, like 48 to 50,000, which included Sturgis. Now this is where it is sticky. I don't remember if it was this year or the next one I met up with LaMont again in South Dakota, he was a doing Trigger Wheels in Custer. I tried to assist him on one but I was more in the way than helpful. He had it down to a short procedure.
It had to of been the 2nd year as I had 113,000 miles on the Valk and he was amazed. Told him I was retired and on the road about 3 1/2 weeks out of every month. Only came home to get more $$$ and stay for a couple of days before leaving again. That was the year I made 4 round trips from my house to the West Coast and 2 round trips to the East Coast on MGM. One of those trips was my 2nd time around on the 4 corners. Did the 1st 4 corners on a Wing when I retired in June 96. Wore out 2 sets of Bushtec Trailer tires during this summer bunch of runs.
Somewhere in there, Vicki (TNT) met me in Mississippi at the Casino when we stopped there on Hot Rod Power Tour. I had the Trike. She rode down from Memphis to meet me and JDubya showed up later. We all had a good feed, conversation and etc. Don't remember if I made any $$$ on the slots or not, I think I did.
I attended one of Vicki and Jim's BBQ's, met TJ, Danny, Little Jon and LeAnn, TN Iceman, Mosa, Mamasue, Inky and a bunch more I have forgotten. Old age and the forgetter isn't retaining stuff in memory any more like it used to.
Went to Hotglue's BBQ after I met him and Flamingo Babe up in Wisconsin at the VOAI Rally. I met JeffK, JoK and some others at Hotglue's.
Went to Bakersfield Bash and met Master Blaster, Physco, and renewed my acquaintance with f6gal. Met 2ftAGL and Katy when we hauled Psycho's bike to Phoenix after he wrecked it. Met Sonny in Lemoore, Rudd, Mark & Lynn, Dennis, Tammy and their girls, also. Saw Sue & George again, Met Sue on Hot Rod Power tour in Bakersfield the year before.
At InZane I met a bunch of hoodlums, LOL, and struck up some good friendships. Sarge out of Indianapolis, I met him after he gave me assistance on locating some trailer tires and a wheel…… Met Doc Moofsa, Hoosier Daddy, Shooter and some others at InZane. I sure hope I got all the first-time meeting places right. Nape came up to me an introduced himself at InZane at Denny's one morning. Met Hal and Chris that same year…. Also met that other Canuck with the Black/Silver flamed Tourer, Steve & Jen. Well to you I have failed to list, again my forgetter has forgotten more than most people have remembered. So, I'll apologize for it now. I know I have left out a bunch of people.
Inzane Thank You's
Rob and Daryl
Well, I am the first one back…although I am think I am still InZane. As Dennis said in an earlier post, it was a tremendous first meet and we will be doing it same place, same time next year. So mark your calendars! Pictures will be slow in coming but will be posted when Rob and Dennis get back. The biker of the New Millenium now carries a cell phone and a laptop instead of a buckknife. However, the days were so jampacked no one has had the time to get online.
We had a huge turnout, with 2 people coming all the way from Britain and a lot of Canadian members. The longest ride in was from British Columbia. We gave away a beautiful black standard to ValkRocket from Massachusetts in the raffle. You wouldn't believe the fantastic paint jobs and all the goodies on people's bikes. Hopefully, we got a lot in photos and they should be available next week.
Sounds like you guys had a great ride last weekend. Too bad we can't be in two places at once. Brice's photos look great.
Start planning for Zanesville next year. It is great fun and we would love to have more of the SoCal team there. We missed you all. Dennis from Blythe was a great hit and Michelle and Carolyn from Blythe had a good time giving hugs to all, helping to sell raffle tickets, and riding with Bobaloo to Marysville. Wait till you see the photos of all the Valks then. One of the Honda people said it made her "well up" and they called all the people in the offices to come and see us arrive.
…….We got home at 2:30 this morning and had to be at the office at 8AM. These are just some random thoughts as my brain starts to unclog.
This was the most unbelievable event we have ever been part of. Everything exceeded any expectations I had for a first-time event put on by a bunch of "novices".
……..Saturday was the day of days. Drag Dyno running wild all day. Weather was perfect. The awards ceremony which started to bring some tears to my eyes. The story of how Sir Lancelot from England was able to ride a Valk to Inzane. TJ getting a surprise award for the coolest Valk (and I spoke to him later and he was still pumped about the award).
Ron Comperchio winning the new Valk- – -that brought some real tears as he is a great guy who has been a great supporter of the VRCC from the early days.
The crowd that showed up at the West Virginia Penitentiary (the rain hurt the attendance) saw some neat stuff and everyone seemed glad that they came.
Gosh, it's gonna be hard to top this one but I have a feeling that the committee can do it next year.
And if you want to find out if your buddy really went to Inzane- – see if he can tell you how we got the Dyno trailer into the field at Inzane. You had to be there to see it- – words will never describe it. Better yet, can 40 guys push a 40-foot trailer or can a Dodge pickup pull a 40-foot trailer?? Only those that were there know the answer.
…………Finally, the biggest thing that made it a success was the people . . .. members who attended, volunteers who helped and people who just pitched in when something needed to be done. I won't name names because I don't want to forget anybody but we had many volunteers who worked the event the whole time and didn't get a chance to do any riding or any of the outside events. That's dedication and to everyone I say thanks for the best event ever.
Inzane II
http://www.valkyrieriders.com/inzane/home2002.htm
We were the first to start a worldwide Valkyrie Club with no membership fees or dues, and now we will be the first worldwide Valkyrie Club to try and pull off a FREE National Ride-In!
We are going on our third year as a FREE club with over 16,000 members to date, so we decided to see if we could pull off a FREE Ride-In to boot.
We have worked it out with Honda Direct Line to pick up the tab if we can't raise enough money with 50/50's or other voluntary ways to pay for this event.
We have decided to structure this event so that it is much easier on your pocket books and cuts down on the work we have to do with trying to register 1,000 to 2,000+ crazy bikers.
The event will still have lots of great things to do with lots of vendors, but instead of including a dinner and a ride pin in a registration packet, you will be able to purchase that on your own if you so desire when you get there.
What will this mean to you? Well if your a couple, you have an extra 80 bucks in your pocket when you get there. What does this mean to us? We will have a lot less work trying to keep track of everything that's going on and can spend more time having fun with you all. This will be more like what we do with our local chapter rides except with vendors, rides, bike shows, Drag Racing, Burnout Contest and whatever else we come up with, (all voluntary).
We would still like you to Register HERE so that we can get an idea of how many folks are showing up, and we would still like for you to be able to make a donation to help a needy child, and have provided a way for you to do so when you register if you so desire. Those of you who pre-register now will receive a lanyard and name tag when you show up at InZane. There is an option for purchasing a BBQ dinner too that will only be offered to those who register now. The dinner will be on Sat. the 27th.
As part of Honda Homecoming 2002, more than 700 Honda Valkyrie riders roared through the gates of Honda of America Mfg.'s Marysville Motorcycle Plant Friday morning with one goal in mind – a world record.
Other Honda motorcycle models joined the procession to push the total number to more than 800. Organized by Lamont Bryden, president of the Valkyrie Riders Cruiser Club, the parade of Valkyries left Marysville at 11 a.m. en route to a place in the Guinness Book of World Records. It is believed that the previous world record of 180 motorcycles for an organized model ride will be shattered by nearly four times that amount.
Bryden said the guidelines were received and everything was done to make it official. The Honda Home Coming event that started in 1989 as an open house to thank Honda motorcycle buyers has grown into a national rally that attracts 6,00 to 8,000 motorcyclists annually from across the country.
F6gal
The official bike count for the Valkyrie March was 328. Honda said they clicked thru over 800, but I honestly don't know how we could have missed counting 500 bikes.
Event registrations totaled 476 (riders and co-riders), which more closely correlates with our bike count.
Comment from Dave Ritsema
The 2 first years are a bit vague (we've learned some lessons along the way). At InZane 1 & 2, the Honda folks said they counted over 800 as we passed through the plant entrance. However, that is far more than we counted for our official Guinness record breaking paperwork, which was just under 350 (I don't have the exact number at hand, I think 346 at IZ1). Despite redoubling our efforts to get every bike counted at IZ2, we had less than the year before (330ish). The 800 count (meaning about 1200 attendees), simply doesn't make sense from the hotel room and Sat. dinner count. Based on our bike count, hotel bookings, and the number of people served at Sat. dinner, we've estimated the attendance IZ1 at about 475 and IZ2 at 445.
Jacks Trip Report with more pics https://web.archive.org/web/20030404041407/http://www.valkyrieriders.com:80/jacks6/Inzane.htm
Highlander
Like their namesake, true Valkyrie riders have it in their blood to ride. They ride because they can, they ride because the Valkyrie is pure riding pleasure, it is a form of therapy – if you will. I had to miss InZane I because of an accident aboard "The Quickening." It was one of the worst feelings in the world – not being at InZane I. This year I was determined to attend at any cost.
It was not just the "1,000 Valkyrie March to Marysville" that inspired this devotion, although I must admit, I broke into tears as the procession started to leave the Wal-Mart parking lot and I saw the people waving and clapping. One particular image is uppermost in my mind – one small boy, not more than five, who possessed that smile as he waved – you know the one – the one that says: "One of these days, I will be in that group." I smiled and waved back, as did every other rider. The returned wave was greeted with a cry of delight as he realized that we knew what it meant to be accepted. It made me very proud to be what I am, a Valkyrie rider.
As we rolled out onto the highway from the on ramp I could see the row after row of Valkyries still getting ready to join the procession from the parking lot. The pride and excitement was very powerful, although it seemed as if we were barely moving. I was about to settle down when I watched people waving and cameras flashing as we approached an overpass. The policemen guarding the on ramps, closing them to traffic as we passed, waved and smiled. Cars going the opposite direction were honking as they passed all admiring the sheer beauty of the event.
The only melancholy moment occurred when a group of Harleys' passed the procession, and we could not give chase. Not that I had any animosity toward the bikes or their riders but because both parties seem to enjoy the same spirit, and that chase is a valuable part of that spirit.
My friends that accompanied me to InZane said I was looking everywhere, squirming in my seat like a small child on their first ride. I finally settled down, but as we turned into the plant entrance, the tears returned. Along the road were workers in their white uniforms, pointing, clapping, smiling, and crying . . .did you ever see people so proud of the product they make on a daily basis that they cannot contain their joy. I mean, they see thousands of Valkyries as they proceed down that assembly line, but parade them past the workers with each rider's individual alterations, and it creates an overwhelming experience. It happened at the plant, and I found myself tearing up again. You see, they, of all people, appreciate the spirit of the Valkyrie. One heck of a lot of people were involved in this one event at InZane, and the planning must have seemed unattainable to this group one year ago, but they did it to perfection.
In all, every event at InZane was fun; the rides were awesome; the vendors went out of their way to please; the tech sessions were well done and well attended in the 90+ degree heat. Columbus bike night was made special that night because of the presence of so many flat six wonders. The Zanesville appreciation ride with the sheer beauty of the flashing lights adorning the many custom rides; the family atmosphere, where everyone is welcomed equally; but that is all as expected when the VRCC is involved – primarily because it is a family gathering.
My favorite part of InZane was watching two new Valkyholics encounter the Valkyrie family. Tony and Susan Beard of Herrin, Illinois are very devoted to each other. They are never apart – even at work. They have ridden many bikes and have experienced the joy of riding for some time. Tony rides a Black 2000 Valkyrie Interstate, while Susan rides a Gold Wing trike conversion (she wants a black Valkyrie trike, but Valks don't have reverse). They joined the Southern Illinois VRCC in May 2002.
They are among the growing number of members who do not have Internet so it was the first they had heard of InZanity.
They have made every ride of the Valks of Little Egypt, and they became caught up in the spirit, and decided to go InZane with me.
I don't think they ever stopped grinning. Even that night they were exhausted and lay back on the grass at Ground Zero waiting for Mountain Man to finish the lettering on "The Quickening." Susan, whose bike suffered some damage during our last ride, bought lots of chrome for Tony's Valkyrie, while saving some money for accessories to dress up the "Purpl 1″ when she gets it back. I must admit that their spirit touched me too. I spent more time cleaning my bike at InZane than any time prior – Susan is well known for having every inch of "Purpl 1″ spotless, and Tony is no slouch when it comes to the shiny bike either.
However, at InZane, this couple noticed something special right away. They noticed that the mood was very different from "The Honda Hoot," and other rallies they have attended where they met new riders and made friends. They discovered that here, in Zanesville, Ohio, they would meet Valkyrie riders from all walks of life, but nobody tried to be anything other than helpful and considerate. The people they met were not just friends, they discovered that they were accepted into the family without question. They were allowed to do as they pleased: ride if they wanted; or watch the Mountain Man work his magic; or vendors installing chrome, new exhaust pipes, swarming over the bikes so as not to delay the riders; the games, the fun, the atmosphere created by the founders and organizers.
They were with me when we witnessed some F6 gal pile asphalt and rubber on her beautiful, newly painted Valkyrie while learning to do a burnout. Her friends watched her, silently, and then pointed out that she really should park her bike somewhere else when doing burnouts. After a shared chuckle by all, everyone showed genuine concern for the bike trying to decide how to clean the particles from the paint without causing harm. This was all a part of good-natured ribbing among friends – never intended to offend anyone or belittle someone for a slight error in judgment.
This is the difference between the VRCC and other groups. Family and fun go hand in hand. Helping your fellow rider, making people feel a part of things, going out of their way to assist . . . those kinds of things. I think this is why some of those who dwell mostly on the boards believe that the Valkyrie riders have developed cliques, because they respond more quickly to those who have been to InZane than to others. The reason is not that we do not acknowledge your posts, it is that we have a special bond to those we have met on the road. We know them more personally than those we have only met on the boards. We have shared rides, tall tales, humor, tragedy – you name it. Once you meet people up close, there is a bond that cannot be broken, and you also know what each individual can accept as good-natured ribbing.
For example, while sitting the tent watching Dragbars, Lamont, Crash and others replace the clutch in that black and chrome, milk bottle enhanced world record holder, a man walked up to Lamont and said a wing rider's front brakes were locked up and the bike could not move. The bike was on the road, not in the parking lot. Immediately, and without hesitation, the group discussed possible causes and solutions, and some on them headed out to help. That is what I am talking about – that Valkyrie spirit.
I have been flamed repeatedly for my beliefs about this spirit. I have oftentimes said that one either has it, or you never will. Those who lack this spirit do not last long, or they flame and ridicule those that do. That which you do not understand, you must try to destroy. Those who possess the spirit are long lasting. They do not look for other bikes; they are content to own what I consider to be the best cruiser on the road.
I am not flaming those who move on to other bikes, I am just saying that they lack the spirit because if they had the spirit, and/or understood the spirit, they could never forsake the Valkyrie. They would also show up at InZane to support the 1,000 Valkyrie ride rather than make snide comments about those that choose to be there.
I see this spirit in Tony and Susan. I saw and felt that spirit at InZane. It was the spirit that caused the tears to roll down my cheeks as the procession started towards Marysville, Ohio. It is that spirit that makes me proud every time I climb aboard "The Quickening" and bring those six cylinders to life. It is that spirit that makes me proud when I see children and adults admiring the phat lady when I ride by, people on the streets who stop and turn to see the ultimate cruiser. You see it is all about the bike. Maybe that is why those who embody this spirit are so different – they realize that the Valkyrie is what this is all about – they leave their own egos at the door. And so it is at all VRCC events, local and national.
Hawk
My Greatest memory would have to be InZane II that was where I met the most of ya'll. First, I met Ragnar at the restaurant there on the corner of the intersection. I finally met Lamont and saw the Lamonster for the first time. Right then and there I had hoped to own a bike like that someday (I also remember saying if I had a bike like that I wouldn't touch it, HAHA, guess it is just in my blood) There was Mosa, Dragbars, RayO, RJ, TJ, TNT, I think I met Sarge there also, and the list goes on, every person I met that weekend was like running into long lost friends, it sold me on this group!!!!
I also I remember getting talked into the Burnout Contest, WOW that was a mistake HAHA. Talk about an addiction, that was GREAT!!!!
The second greatest memory which I will never forget was the summer I got to work for DirectLine on the rally circuit. I remember talking to Lamont on the phone telling him I was being "restructured" out of a job I had done for 18 yrs. He told me call Hal and shortly thereafter Hal offered me the summer job driving for DirectLine. Granted me and that Ford truck and 40′ trailer didn't always get along as a matter of fact I never in all my life had so much trouble with a vehicle and trailer.
Talk about a string of bad luck and misfortune but getting to meet more of the group and seeing old friends at all of the rallies was GREAT, I never had enough time to visit with ya'll but it was still good to see everyone. I will also never forget the trip home from Wing Ding on the 4th of July. I will also never forget Ragnar bringing over the 1300 VTX for me to ride while we were at the Homecoming, talk about a real friend. I agree with Lamont if I never make another friend, I already have more GREAT friends than a man deserves!
Mosa – Early days memories
I met many GREAT people along the route, and interestingly felt like each one of you guys was family from the moment we met (either on internet or first time meeting in person)…
The VOA ride-in to Montrose in '98 was the first time I met a lot of you guys – LaMont, Gale, Paint it Black in Toronto ( yes…that's PIBIT to you newbie's), Tim/Redvalk, Hotglue… a lot of great memories… rode from Virginia out there, flew in my ( then girlfriend, now wife) Sandy, we toured around, then she went back and I decided it was only another 900 miles to LA to see my folks so I scooted out to LA for a 2 day visit, then raced back to Virginia solo… That BTW was the beginning of the VRCC and by the time I got back to VA, the membership #s had grown so I only got #279….
The trip meeting up with LaMont that he mentions was almost surreal in how we clicked with all we met…. Hey Lamont, remember how those guys liked MY bike better'n yers at that Kentucky Hotel? LOL… ya ya, blower bike, wow LOOK at that BLACK one… hahahaahah… Hookin' up with Dragbars and then TNT on that trip (remember us picking up yer Valk for ya Vicki???)…I got pics of that trip somewhere…
The Yosemite cross country last minute trip… Rode from VA to Nashville to pick up Dragbars, that nite got a call from PIBIT, ,met him in St Louis next day… then the 3 of us ROCKETING cross country into Denver where I got that bald rear tire changed… left at 6pm next nite and rode… and rode and rode… 28 hours strait if I remember right.. from Denver to Yosemite NONSTOP (well PIBIT got some sleep waiting for us to catch up, and woke up in the sprinklers at that gas station…LOL)… riding thru the fires outside of Yosemite in that escort, no sleep, was real, real strange… fire burning at side of road as we went by… arrived in Yosemite at 10pm or something like that and I got VALKCABBIE's old room as he got MARRIED that day and got the honeymoon suite…LOL… REMEMBER THE 4-WAY burnout contest there in the parking lot? 4 blower bikes all nose to nose…. Aaron did the wheelie in the parking lot and almost went into the lobby… hahahaha…
I remember the Daytona trip with Ethan and George… MAN we TORE that stretch of I95 UP… from DC to Daytona in about 11 or so hours… I remember Ethan got the nickname BARBIE since at each stop he either put clothes on or took 'm off…LOL… and George… always taking up the rear, he got the nickname "Whar's George" … we seemed to find just the right openings between the pylons (I mean cars) and could get 2 bikes thru but not the 3rd… always George left behind…LOL.
VRCC in Rolling Thunder … Had several gatherings over the years at my townhouse south of DC … Saw Crazy Rick and WIA on their Hoss's…. had a rained out picnic in MD, but didn't phase most of us, went anyway… the Northeast riders were there (a little late but still there…LOL)… the Mid Atlantic guys were there… with that newly done up TRAILER QUEEN bike that yellow Dragon (what an AWESUM bike!)…
Rocket, Yogi and Big Earn visiting… again seeing them at TNT and JDubya's BBQ and helping pick up that downed Interstate…. racing back home on the Tennessee and Virginia interstates…. what a trip!
First INZANE! What a trip! Second INZANE! Just as fun!
EACH one of 'm a unique and full memory… I thank you LaMont for making me remember those trips and more…
All I can say is that on my motorcycle, and because of my motorcycle, I have met and feel I have my BEST friends anyone could have… I know I have been scarce round these boards recently, but in my mind, and my soul, I am still here!
We gotta do this more often! Create some NEW memories! I am planning a trip up into Canada late spring/early summer next year… will DEFINITELY look you northerners up on the way… no destination yet, just pointing north and going….
See ya on the road, Mosa!
Smilin' Jack – Early days memories
After many exceptional rides with Earthdog he mentioned that he road to Daytona with some crazy folks. He told me they actually left him in the dust…. Jeff had his Valkyrie at that time and thanks to Gary Williams showing off on Hwy 60 near Suschess I decided it was time to plunge and get a Valkyrie.
Nov 16, 2000. I purchased my Valkyrie in Southern Ill, drove all night to get it and returned to GA the following day. Joined the VRCC and soon was involved in many of the activities such as the fund to help fellow members who were hurt. It was Lamont and Sonny in California who really got me involved with the VRCC. Although I had not ever met either of them.
Then….I had a ride to Daytona with a lot of folks TNT. JW, Christian Earthdog and a host of others… What a blast…. I knew I found a great bunch of folks and met Lamont in Daytona also with Highlander whom I had posted with many times on the board. The rest is history…. Some of my dearest friends are right here. My daughter also joined us in Daytona and made a special friend with Christian….after a comment she'll never forget at dinner.
There are so many folks that ride Valkyries in GA because of Jeff and me letting them on our bikes. We have a great group here in GA and really feel great to belong to this group on the BBR. I have had the opportunity to see a lot of folks on the road while traveling such as RJ and others in Arizona. Folks like Ray Hall, Ray Oubre, Big Don and a host of others have made a life time of memories.
Yogi
Like many others. I wanted the Valk from the time Honda had the commercial of the guy riding across the salt flats in a power slide. I wheeled and dealed for 6 months before I got the Black Tourer. I had been a member of the V65 Owners group so I figured there had to be a Valk group. Happened upon the VRCC and joined immediately. Everyone then was great and it just seemed like a big extended family.
My first real rally was IZ2 where I met pretty much everybody. Since then I have solidified some real true friendships. There aren't many people I'll ride 600 miles for just to eat a hamburger with, but Lamont you have created a wonderful thing. The best part is that many have moved on to other bikes but we all still have the same bond. Like Warren, I had few close friends. But now because of the VRCC and the BBR, my circle has gotten MUCH larger.
My favorite get together has got to be Maggie Valley last year. The closeness and the conversation were great, Wheels through time and the ride through Deals Gap following Lamont dragging everything through the corners on the Boss and breaking the tire loose on every straight. I was laughing so hard for 11 miles my face hurt.
Another memory is at the Honda Homecoming when Lamont had the remote starter on his bike at Hal's tent. Seems there was a little guy checking the bike out and when Lamont hit that starter from about twenty feet away I thought the kid would jump over the bike.

Warren
For me the coolest thing was the fact that the Valk group changed my life. I have a bunch of great high-speed riding memories that I'll never forget but it's been the people that are my favorite story. I have never been a people person. I have had a few close friends in my life but not just a whole bunch of friends. I had wrenched on a few bikes before the Valk thing but never met so many folks that loved to tear their bikes apart and make them "better." I rode out to Montrose for the VOA rally all by myself. That was right after I got my first new Valk and wanted to see what this whole thing was about. The rest is history. On the way home, I was deep in thought about how a lot of my life had been wasted by not reaching out more to people and making new friends. Long story short…since that time I have made a bigger effort to meet new people and make new friends. Whoever woulda thunk that having a love for bikes would lead to having such a big love for other people that also love bikes (there's a lot of LOVE in that sentence ) I still have a long way to go in the area of people skills but this fine group of Valkyrie folks and BBR folks has made me a better person.
Inzane III
http://www.valkyrieriders.com/inzane/IZ3home.htm

http://www.valkyrieriders.com/inzane/IZ3WhosGoing.htm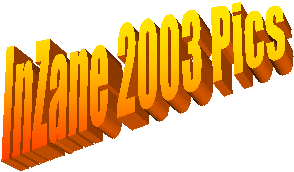 More IZ3 pictures at http://www.valkyrieriders.com/Just_Pics/IZ3Pics/home.htm
Press Release

The Valkyrie Riders Cruisers Club (VRCC) is proud to announce the 3rd Annual International InZane Valkyrie Rally. The event is to be held July 23 – 27, 2003 in Zanesville, Ohio. All motorcyclists are welcome.
One of the primary goals of this VRCC event is to raise funds for the Make-A-Wish Foundation. Together, we will make the heart-felt wish of a child, with a life-threatening illness, come true.
Also, the Red Cross will be at the event, accepting blood donations.
Scheduled activities include: Back to the 60's Rock and Roll Night, Poker Run with guaranteed $1000 first prize, People's Choice Bike Show, 1000 Valk March to the Honda Homecoming, Valkyrie Drag Races at National Trail Raceway, Dyno Runs, Bike Games, Raffles, 50/50's, Rides, Pizza Party, Tech Clinics, Burn-Out Contest, and of course, LOTS of vendors!
The "1000 Valk March" is intended to promote the presence and needs of motorcyclists everywhere.
The VRCC will attempt to break their previous record in the "Guinness Book of Records" for THE GREATEST NUMBER OF MOTORCYCLES, OF A SINGLE MODEL, ON THE ROAD AT ONE TIME.
1,000 Valkyries on the road this time? We hope so!
During each Inzane, participants hold the People's Choice Bike show.
Ever since the first Inzane there were four categories for the show: Wash'n Wax – Wild Custom – Mild Custom – Non Valkyrie.
Grand Prize – Wells Cargo, TC Trecker Enclosed Trailer         Second Prize: A Cool Scooter from PJ's Noveties

Third Prize: An Autographed 8X10 of Heidi Klum

Vendors, Vendors, Vendors!
60's Rock 'n Roll Night
Poker Run – $1000 First Prize
1000 Valk March, Drag Races
Dyno Runs, Tech Sessions
Bike Games, Raffles, 50/50s
Vendors, Vendors, Vendors!
Rides, Pizza Party,
$1000.00 Bike Show
And Plenty of Other Stuff!!
Did We Mention Vendors?
Valkyrie Motorcycle National Rally Custom Bikes by oZ
Custom Valkyries, Custom Valkyrie Motorcycle, Valkyrie Rally
Dave Ritsema – All that road footage was shot out of the back of my F150
F6Gal – Still can't believe they cut my burn-out short though (3:55)!
Video by Ozprez
https://www.youtube.com/watch?v=pMz_02r6Nxk&feature=youtu.be
VRCC's InZane 1000 Valkyrie March to the Honda Homecoming
http://www.valkyrieriders.com/1000Valk/home.htm
Inzane IV – Paducah, Kentucky
http://valkyrieriders.com/inzane/iz4home.htm
Since Honda stopped manufacturing Valkyries in 2003, it was decided to hold the nationwide VRCC meetings each time in different areas of the country.
By doing so, the 'burden' of having to take leave and spend money for riding all the way across the nation to a meeting would be shared. For an experienced long-distance rider, 800 miles or more per day was considered an attainable target.
For one who has not become accustomed to long distance riding, 500 miles per day is a very aggressive target. In either case, it was recommended to plan for more time than you think you'll need so you could enjoy the ride.
Video by oZ
1000 Valkyrie March from Paducah KY to Metropolis IL. Watch as 100's of Valkyries roll pass on the ride of 2004. With background music and commentary by the videographer this is a video that is going to give any Valkyrie fan goose-bumples!
Part 1 https://www.youtube.com/watch?v=nBO-2Y06VYw
Part 2 https://www.youtube.com/watch?v=zPt0HRXbs6Q

Pops
On the way to InZane IV this last year when I found myself in Sleepy town AR. On a Saturday Evening I was lucky enough to make it to the Hotel. I made it to the hotel with Steel wear bands popping out of my rear tire.
So here we are, Saturday Night in Mountain View AR. (Small Town) with a tire that is about to pop. On our way to Inzane. What to do? Well called a few towing companies, $300-500+ to get me and the bike to the next Large city.
Motorcycle shops weren't going to be open till Tuesday. I was a sitting duck. I called my friend in KY who I had met through the VRCC board, and he said let's post a help message. I thought what the heck it couldn't hurt.
I was about to have the bike towed to Memphis TN to wait till Tuesday for the Honda shop to open. Well sure enough I got a phone call Saturday night from a fella in FL but no help there.
So, we went out for supper and I tried to find a local who wanted to make a couple Hundred to trailer me and the Valk to either Memphis or Little Rock. No Luck. Sunday Morning comes and the phone rings again. It is a VRCC member named John.
He says he is about 1.5 hours north of us.
He then says I have an old spare Avon, A lift and all the tools to change the tire. And that he could be there in the next 2 hours. WOW now here it is Sunday morning and this fella who I have never talked to or met before is willing to but his Sunday plans on hold and come out of his way to help a complete stranger. I am blown away by this and accept his offer. So, I and my 2 ridding buddies waited for him to show up. We started taking apart what we could to get to the rear tire before he showed up.
Sure enough John, my new best friend in AR pulls up in his truck. Oh by the way thank God John also knew how to change the tire. I have changed dirt bike tires on the trail but nothing like this.
So here we are in the parking lot of the Best Western tearing it down. Well it took all 4 of us to monky that tire off the rim but lo and behold 2 hours later the tire was replaced and the bike was put back together.
Now this fella John has just saved my bacon. And I donated a nice cash reward to him for his troubles and the old Avon. So we were back on the road again only 4 hours behind schedule. Now I had never really been much of a group person before.
But let me say this really opened my eyes to the power of the group. We met up with John and his lovely wife @ Inzane a few days later. Awesome people associated with this group. I also met a bunch of other really nice people at the rally.
This by far is one story I will never forget. Out in the middle of no-where and SOL when the cavalry comes a callin'. Amazing I owe a favor back to someone in need at some point so if you ever find yourself SOL in Colorado, Pops will come a callin'.
Vendors, Vendors, Vendors!
1000 Valk March,
Poker Run, Casino Night
Friday Night Blow-out Party
Vendors, Vendors, Vendors!
GeoCache Expedition
Bike Rodeo, Tech Sessions
Burn-out Contest
Rides, Parade of Lights
Downtown Paducah Night,
Vendors, Vendors, Vendors!
Pizza Party, Raffles, 50/50s
People's Choice Bike Show
And Plenty of Other Stuff!!
Did We Mention Vendors?
Bob
A number of years ago, when we had our Valkyrie Interstate, we attended the annual Valkyrie Riders Cruiser Club (VRCC) Rally in Paducah, KY. The rally was called "INZANE IV".
The first rally was held in Zanesville, OH and this was the fourth iteration. We participated on a group ride and when I say group ride, I mean GROUP RIDE. Over 400 Valkyries rode from Paducah, KY to Metropolis, IL and stopped in the town square near the larger than life statue of Superman – Metropolis, you know. Before you say, wait the group shouldn't be larger than 5-7 motorcycles, we had police escort all the way. It was impressive!
We got there and took pictures near the Superman statue and then rode back to Paducah.

RTaz
Well a number of years ago Devl and I were at Inzane IV in Kentucky and my alternator on my Interstate went out on me, well we were in the middle of nowhere along the Ohio river and a couple of bikes came zooming by next thing you know they turn around and come back and asked if we were okay.
Well we had a wrecker coming but it was about an hour away. These two guys offered all kinds of help and sat with us for quite a while, the wrecker came and took us back ground zero we never even got their names but we were real grateful for their kindness. They were from the Great State of Texas and I really appreciated and enjoyed their company.

Thor's Hammer at Inzane IV Paducah
YouTube by Mongo1957
Photos of VRCC Valkyrie Riders – Music by Wagner – Ride of the Valkyries
https://www.youtube.com/watch?v=cSg1qXQJFDU
Grand Prize Raffle
http://www.valkyrieriders.com/inzane/IZ4GrandPrize.htm
Norman dog
That was a trip down memory lane. 1st year Inzane was in Paducah (and the only time I've pulled a trailer with the valk) we took 5 days gettin' there and a brief tour of Kentucky. Toured 2 distellerys. Makers Mark was the 2nd. I remember you could smell the mash workin' off about 31/2 miles before we got there. And we had a picnic lunch at old Abe's childhood home. Thanks Joe. Glad you and Don had a good weekend.
Inzane V – Paducah, Kentucky
https://web.archive.org/web/20050824153017/http://www.valkyrieriders.com:80/InZane/
It's that time again, time to get signed up for the Largest Valkyrie Ride-in on the planet! July 20-24, 2005, Valkyrie riders from all over the globe will be converging in Paducah, Kentucky for our 5th Annual VRCC 'InZane' Ride-In.
Many exciting events are planned, including a celebration of the arrival of the World-Famous Thor's Hammer. Thor's Hammer has spent the last 7 months traveling through Europe and will conclude its journey at InZane.
The program consists of a blow-out party, 1000 Valk March, tech sessions, demo runs, bike rodeo, raffles, bike show and guided rides. And, most important- best possible companion with good Valkyrie friends from all over the nation.
Introduction of the "Dragon's Lair!
Last year there were several comments that we lacked a converging point… somewhere to hang out, kick tires, swap lies, etc. So, in an effort to keep the InZane atmosphere alive and well, we proudly introduce the Dragon's Lair.
The Dragon's Lair will be a tent set up outside the convention center. We'll be hangin' there every evening, so park your bike nearby, wear your tire-kicking boots and bring your tall tales, 'cause this is going to be the place to be!

Community


Rodeo/Biker Games


…and of course, each time the bar is raised


Nice bikes, paintjobs, custom bikes, radical bikes, it's all there at the People's Choice Bike Show

Group Ride Out – 1000 Valk March
Take a look at the 425 participants list
https://web.archive.org/web/20050625074559/http://www.stanardgroup.com:80/inzane_reg/whos_going.php

BBQ and Awards Dinner – List of pleasantly disturbed Riders

The Valkyrie Neon light has always been a popular item
Temperatures
Black Dog
In Paducah, we were standing out side at 10:30 in the evening, kickin' some tires and having a cold one… I had sweat rolling down my face, back & legs, AT 10:30 at NIGHT!!!
I don't remember if it was the first or second InZane held in Paducah KY, but one of the nights I was hangin' with  a Rider, and he had some home made 'Stupid in a Jar'…
He gave me maybe 3 – 4 oz, and said that I'd be good for the evening, and I should just sip it…
I do know we had a great time that night, and I also know I woke up face first on my bed, still with all my clothes on, probably in the exact same position I fell in to…
I remember thinking, "this stuff ain't so bad"… That's the last thing I remember thinking
Michael K
I recall Paducah being on the,"boiling wet wool blanket" side of hot!!
Lyn-Del
My first Inzane … Paducah KY, temps were somewhere around 113 as I recall. The good news was that the vendor area was indoors.
Solo 1
By far the best public fireworks display that I saw was at Inzane in Paducah. I can't remember if it was IV or V. They set them off from a barge in the Ohio river and i had a great balcony seat outside of my room on the 3rd floor.
Hot with high humidity but no mosquitoes.
Some pics from our German visitors by Andy http://www.f6-valkyrie.de/inzane_v.htm

Dance & Tattoo Contest



http://www.valkyrieriders.com/Inzane/PokerRun.htm
Thursday


Bike Rodeo


BBQ and Awards Dinner

Nice Slideshow by Mongo1957
https://www.youtube.com/watch?v=cSg1qXQJFDU

http://www.valkyrieriders.com/Inzane/Maps/Memorial.htm
Lady Draco
Some of you might remember the ScooterDog cart from the 2nd Paducah Inzane 5 !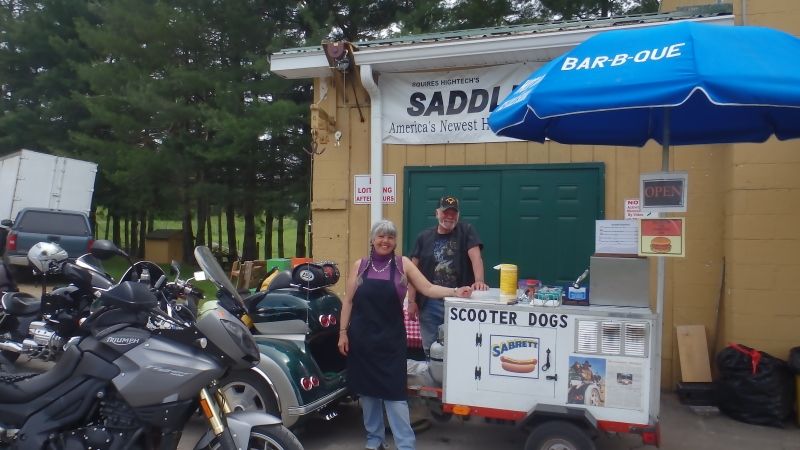 Carolyn Schmidt
How cool getting married at a motorcycle rally.
Patrick and I renewed our vows at InZane 5 in Paducah for our 25th. It was wonderful, we had a minister from the local CMA officiate, then we wrote our own vows to each other.
Best wishes to you both. Looking forward to seeing at a rally this year.
Inzane VI – Frisco, Colorado
https://web.archive.org/web/20060618145014/http://www.valkyrieriders.com:80/Inzane/
This Inzane has been the largest by far, with 526 participants. A huge turn-out that was held at what would become ground zero twice.
F6gal
The first 5 Inzanes were held in the East. In 2006 the VRCC went to Colorado for the 6th and broke all previous records for attendance. Despite heading East again, Colorado held the attendance record until 2010.
That year, (first) Michigan beat out Colorado by 3 attendees. Since then, the club has not broken 400… Although WV came very close. The worst year (attendance-wise) was 2005 in Kentucky that was the only time we did not break 300.
Attendance drops drastically if we repeat a location.
I have no clue as to the location of 'the center of the Valkyrie universe'. But it would probably be hot and humid and would get really boring after a couple of times there.
People want to see new places (evidenced by attendance drop at repeat locations). It doesn't matter where it is; some people aren't going to like it. The VRCC can't help that.
John Schmidt aka Stuffy
I recall in 2006 (believe that's the year), the first InZane in Frisco, CO took place. Then a short time later that summer we had DOTS (Dragons Over The Smokies) in Johnson City, TN.
That year I attended both and had a great time but left Colorado early due to family issues. I have no idea what the attendance was at either event, just know I had a good time.
The DOTS event had to have been a younger crowd that year, reason being…. I got the "Old Farts" (Oldest Rider) award at age 68. Good memories of both but doubt I'd be able to do it again.
I guess if I were to make the trip to SD (Inzane XV- Spearfish), I'd trailer the bike to a friend or relative's place in the Midwest, and then ride the rest of the way.
I figure from Florida I would need to consider at least one week for travel to/from, and then add a week on location. Not sure I can make that happen, but we'll have to see.
Thursday

Bill and BigMac                                                                  Justin from Viking                                                   Jim from Sophie's


Karen from F6 Store                                                                 F6Gal                                                                             oZ


Crash                                                                                             RJ                                                                     Dave Ritsema


Scott                                                                                        Des                                                                 Connie, Mike and Dave


People's Choice Bike Show


Poker Run


(What happened with this injured individual ?)                                                                              Bike Rodeo & Balloon Toss

Tattoo Contest

ValkMarch and Banquet
Willow – Glimpses of the Ride Thru Inzane 2006 video
https://www.youtube.com/watch?v=D-l3-LZJpBY
Gryphon Rider
At Inzane VI in Frisco, Colorado, I did a clinic on collision avoidance (swerving) and emergency braking. About eight riders participated, IIRC. I was an active instructor at the time.
One difficulty with doing this is the availability of clear pavement and the prevention of passers-through.
oZ
Reading the thread on our message board got me thinking about InZane 6 in Colorado: What I get from reading all those posts on our message boards is this is going to be an adventure!
Distance Traveling: In my adult years I did very little long-distance traveling, it really started when I got my first Valkyrie, went to the VOA National Rally in Montrose Colorado.
One of the best parts of that event for me was the ride, it truly was an adventure. From heavy monsoon rains, to crossing vast wide-open spaces, to experiencing the Navaho Nation. Gas Stations without corporate signs.
Having the opportunity to meet a seasoned Navaho gentleman and discuss my destination with him. He shared his land with me and gave suggestions as to what was ahead, what it meant to him and how he loved the land.
Then my five trips east for the InZane Events, I discovered it is America the Beautiful, from Arizona through New Mexico, truly awesome and enchanted lands. From peering up at unbelievable skies at night.
Crossing Texas, Oklahoma, Kansas, farming, small towns…
Watching the lay of the land change as I traveled east, from dry arid to lush woods, the further I went east the more wooded this great country became.
And how spectacularly different our America is. Man! Rivers, big astonishing rivers like I never saw before, and thunder storms, and weather, we don't have that in SoCal, now I know what they mean when they say, if you don't like the weather wait a minute or so.
New Experiences: Just as I never really appreciated or even knew how wooded the country side is east of the Mississippi, those coming west if for the first time or re-visiting will discover or rediscover some interesting differences.
Like weather! Where we're going they have weather too. The terrain is so massive, the mountains so great they effect the weather patterns. And if you never breathed the rarified air above 8,000 feet, the clearness, cleanliness, the inability of pollutants to reach those altitudes is a wonder.
And speaking of cool, just like me discovering that the east can actually be a very warm place in the summer, kind of a shock again for someone who comes from a place that's known as a warm destination, (Southern California) well fact is I didn't know warm and discovered the wonders of humidity. I panicked the first time my classes fogged up when I walked out of the air-conditioned hotel, an adventure right there.
Well just like the warm I discovered in the east during the summer, I believe some will be amazed at how cool the Rockies can be. And I believe the lack of humidity will be an adventure for some as when the sun sets and there being little humidity to hold whatever heat is accumulated at that altitude and how quickly the warmth dissipates.
But it is not always cool in the Rockies, being at those altitudes the sun can warm you as there is a lot less atmosphere between you and the sun. Taking a break and putting your head down to soak up some of that warmth is wonderful and surprising how fast the radiant warmth from a sun unfiltered can warm your body. You've all seen the pictures of folks skiing in short sleeves.
And yet you'll get up from your warm respite swing your leg over your Valkyrie and be surprised at how you can go from being comfortably warm to surprisingly chilly, remember it was the solar radiant that was warming you the thin air doesn't like to maintain a whole lot of heat.
Altitude, especially high altitudes is an adventure you may find interesting. You will discover your trusty Valkyrie behaving differently at altitude, especially high altitudes.
We have roads waiting for you that reach up and touch the face of God, where you peer down at cloud tops. You'll experience vistas and beauty reserved for folks you fly in open cockpit airplanes and you have arrive via you Valkyrie, who needs an airplane when mother nature has delivered up the means to get there on you motorcycle.
You will experience surprising changes in not only temperatures but at each elevation are different foliage, from broad leaf trees at the 4,000 to 5,000 feet elevations, to evergreen pines at higher elevations, even long living, almost bizarre trees the survive at the tree line, to crossing the tree line and again joining the few creatures and plants that seek out a living at such extreme elevations.
To stand at towering elevations and survey physical drops of thousands of feet, to look down on worlds just miles away that have completely different vegetation.
To experience waterfalls and streams fed from almost glacier like formations, to see snow in late July. These my friends are truly remarkable and memorable experiences and maybe even adventures only available infrequently.
And to do it on the finest motorcycle, to share it with old and new friends and brothers and sisters that share your love of the freedom provided by the two-wheel experience.
Don't be surprised by this remarkable place, try to take it in, take it home with you. And when you're in your cubicle, office, in the field doing what it is you do to pay the mortgage you will have a new view on life, Gods handy work, and your ability to look around you and appreciate the beauty of your surroundings.
Its food for the soul these adventures. And to be able to experience them not from a tour bus with some tourist guide leading you, but to have folks among you that live in these incredible mountains, who grew up here and are excited about sharing their corner of the earth with you is invaluable.
As my good friend Daniel Meyer would maybe say, Life is a Road; Get on it and Find the Adventure.
Spirit: These mountains, these altitudes will affect you, let's be upfront about that; they will not coddle you this is not this is a formidable environment that man worked hard to make accessible.
This is not a pleasure cruise with warm breezes and hotel or ship board waiters waiting on your hand and foot. This is rugged, wild, terrain, with altitudes and places were men and women worked very hard to make available to us.
We have picked a place that Six Flags and Disney don't have to build some amusement facility to improve on the experience is awesome, inspiriting, sometimes harsh, always astounding. But these mountains just may speak to you.
From the time you get up and open your door and glance out at magnificence, to exploring incredible altitudes and vistas that act as an introduction to God's handy work and Mother Nature's finest efforts.
You, your companions in the VRCC and your Valkyrie just may transport you to a place you never been before, not specifically a location, but maybe a state of mind. Maybe an adventure you couldn't image, maybe an emotion you've never felt before.
Welcome to High Country Cruising!
Your acquisition of the Valkyrie Motorcycle and your participation as a member of the VRCC has delivered a rare opportunity for you, carpe diem.
Maybe and truly a once in a lifetime adventure. From the discoveries on the route to the Rockies, to actually experiencing the magnificence of God's handiwork, the opportunity awaits you, and hundreds of other likeminded, two wheeled adventurers who will experience the exploration, the awe, the companionship of renewed friendships, opportunities to meet new brothers and sisters you didn't know you had, playing in the brilliance that are the Rocky Mountains: that may, just may hold a revelation for you.
InZane 6 winner of Belly Tank
The winner of the raffle was Rick but he graciously gave the ticket to Mike. Mike had been at our booth trying to get on the list for purchasing a tank & installation but we had run out of tanks until the drawing for the raffle.
Rick went to purchase a few raffle tickets since he knew Mike really wanted a tank. He walked back with some in his hand and told Mike "this looks like the only way you will get it so you better go buy tickets" which Mike did.
Rick won the drawing and Mike got the tank. Thank you all for participating in the raffle.

Winner Rick Wery (aka Valkstr) from Alaska Recipient Mike Glover from Michigan The winner and the owner with the installed tank
During the Tech Session, Roger from R&M left no less than 14 happy customers leaving with newly installed belly tanks.
Quite an achievement, considering a new bung had to be installed, even using inert gas.
Some more pics by Roger

Great pic by Swartzy
Inzane VII – Johnson City, Tennessee
https://web.archive.org/web/20070704212456/http://www.valkyrieriders.com:80/inzane/
Wednesday

Thursday

Bristol Motor Speedway

Bike Rodeo

Saturday

Pics from Dave Ritsema

Comments afterwards
http://www.valkyrieforum.com/bbs/index.php/topic,93703.0.html
bonniesherbals – riding with LD and Misfit and LilBit (ridin' to the ranch)
Oss
I was behind Misfit and Lil'Bit on this stretch of road and LD was on the beast taking pics and dancin like usual She passes at about 90 or so laughing all the way Yep I got passed by a girl
On the way back it poured ! Misfit was running a ToyoProxes T1 and I was so impressed with his bike in the rain I got one the next year.
https://www.youtube.com/watch?v=1YaNHTyb0gg
Mick Manchester (from UK)
Memories of 07 and Johnson City, leaving for the ride into town, great weekend, great company, great adventure, great year.
https://www.youtube.com/watch?v=OH-dGHGkb3s
Inzane VIII – Johnson City, Tennessee
Schedule of events
http://www.valkyrieriders.com/inzane/iz8scheduleofevents.htm
Smokinjoe-VRCCDS#0005
The North American Valhalla Voyage ended in Johnson City, Tn with Smokin'joe handing the Tankards back to the VRCC President, oZ at the Inzane opening cermonies!

Video by Odinvonzero
Inzane VIII National Rally – Block Party in Downtown Johnson City, July 30, 2008.
Valkyrie Motorcycle Rally


https://www.youtube.com/watch?v=W_c_d5yByfs&feature=youtu.be
Video by JoAnn Gibb
VRCC InZane 8 – Honda Valkyrie riding the second part of the Snake near Mountain City, Tennessee
Valkyrie On The Snake – Inzane 8 – 8/08
https://www.youtube.com/watch?v=0_v8UpF5Oqw
Oss
Don and Tracy led a ride up to their slice of heaven
I was behind Misfit and Lil'Bit on this stretch of road and LD was on the beast taking pics and dancin like usual
She passes at about 90 or so laughing all the way Yep I got passed by a girl 2funny
https://www.youtube.com/watch?v=1YaNHTyb0gg
On the way back it poured ! Misfit was running a ToyoProxes T1 and I was so impressed with his bike in the rain I got one the next year.
Tech Session Schedule Inzane 8
Wednesday
10:00am—Tank Removal, petcock service, air-filter change.
Scratching your head and saying, "My Valkyrie has an air filter?" We'll pull a tank and remove/replace the air filter. We'll also show you how to quickly test the petcock function (something you should do every time you pull the tank).
3:00pm— Inbound Valkyrie Clinic
Did you pick up a new rattle in Barceló? Did that whine that never bothered you at home seem to get louder the further away you got from your dealer? Bring your machine and your questions and we'll be happy to recommend a fix, earplugs, or perhaps a bus ticket. We'll have duct-tape!
Thursday
9:30am—Brake Pad replacement. (Tent)
Learn how to change your brake pads. Arrive on time or you'll miss this one, it really is that easy!
2:30pm— Older ladies just do it better!
High mileage Valkyries and how to get them there. The "weak points" and less common maintenance items on a Valkyrie. U-joint/driveline, fuel system, shifter seal, power shaft seal, steering head bearings, alternators. I'll have a bike for pointing out things and some aged parts and examples. Discussion session
Friday
4:00pm— Petcocks
No, we don't have any chickens, and please don't bring any. We're talking fuel valves here; how they work, why it's important that they do, what the insides look like, how to rebuild, and when to replace.
Saturday
2:00pm—Anatomy of a fat lady's rear end. (Tent)
IF there's a weak spot on the Valkyrie, this is it. Serviced improperly, this piece of tail will eventually cost you a lot of money or worse, leave you standing beside the road wondering at the fickle nature of these creatures.
Join us as we explore deep in the cracks and crevasses of the Valkyrie's nether regions. Want to know how to remove the rear wheel? Curious what all the "spine" fuss is about? Do you know about the * three * o-rings you need to replace? (Your average dealer doesn't and won't). What "4 bolts" and why the heck should you loosen them? (Your average dealer doesn't and won't). What about the drive shaft? You'll hear people talk about the u-joint but what's the other big "gotcha" hiding back there? Expect this one to run a bit long.
3:30pm— Open Forum Tech Talk
Got a question? Got a problem? Bring your Valkyrie maintenance questions. Moderated by experienced Valk wrenches, we'll do our best to answer your questions or help you out. No questions? Come anyway. These sessions are popular, Interesting things come up and everybody learns something
Pics from 3fan4life
My first two Inzanes were in Johnson City. Would love to do another one there sometime as well.
http://s194.photobucket.com/user/3fan4life/library/Inzane%20VIII?sort=3&page=1

GiG
I could write a book about the Pool Parties in Johnson City!
The Dick Tease, introduction to White Lightnin, the Jerry Springer incident, on and on, but the best one was at the very end.
A HUGE dude was smoking circus sized cee-gars and drinking some kind of funky jungle juice concoction all night. Seriously, the guy was 6'6″, 280#.
He couldn't seem to make it out of the parking lot at 4:30 am, so I went in the lobby and got the luggage cart, took it to the parking lot and loaded his ass on the cart.
Then I took him to the elevator and delivered him to his room.
Pics from ChromeDome
http://s242.photobucket.com/user/chromedome1951/library/InZane%20VIII?sort=3&page=1

TJ on left with Trick Rick on right
RJ – Pictures compliments of Rob & Terry
http://www.valkyrieforum.com/bbs/index.php/topic,57832.0.html
Solo1
I no longer can ride to these events but whenever I think of Inzanes I think of this video. Chris, my son (Psychotic Bovine) did this tape. Mark, my son (Mad6Gun) is in the lead with a mutual friend of ours in the middle.
I can relate to this video as I drove the Snake in my Miata at the second Johnson City Inzane and watched Mark do a low speed slide out (sick feeling on my part) in front of me. He was ok.
Although I'm not making Inzanes anymore, I can still relate to them through this video. In fact it's my favorite but don't tell Chris. His helmet barely fits his head now!
Looking back at all the Inzanes that I've been to, they all have been great.
PsychoticBovine – The Snake" near Johnson City (not Inzane related)
https://www.youtube.com/watch?v=rrI28tyNaqI
Valkyrie Motorcycle Newscast
Michael, Willow and Scott give some insight as to the Valkyrie Riders Cruiser Club's National rally and the charities we support. The news transmission shows Michael on his bike and Willow and F6Gal interviewed.
https://vimeo.com/9398770
Топ секрет 2013 – Inzane VIII National Rally – Block Party in Downtown Johnson City, July 30, 2008
https://youtu.be/W_c_d5yByfs
InZane IX – Frisco, Colorado
https://web.archive.org/web/20090428125823/http://www.valkyrieriders.com:80/InZane/
VRCCSharkey – Photos from my trip to Inzane 9 July 2009 in Frisco Colorado
https://www.youtube.com/watch?v=lfU4heGmmTY
oZ – Bike games video
https://vimeo.com/8590522

                                                                                                         Memorial Ride

                                                                                          Mt Evans – 14.130 ft.
F6Gal
There were 4 awards that either weren't printed or disappeared into a cosmic black hole. So far this is what we have:
Highest Mileage Bike                                               – Willow with 141,849
Most Miles Ridden to IZ9 – Meandering Route – Clint with 6250 (Waiting to hear from Lyn-Del or Wizard)
Newest Valkyrie Rider                                             – SMS (Cal) with a mere 10 weeks
Oldest Rider                                                               – I know MasterBlaster is 70… anyone older than that?
If you can beat any of these stats, speak now or… well, you know.
Rhonda and Cowbell won the F6 Neon light.
Motomama
Nickster did receive the award for the furthest distance ridden to Inzane. He and his father did have one heck of a ride to get there and home (Alaska). I do have to admire them for that. They are definitely great people!
Scott
The winner of the sign donated it back to be auctioned off for the Charity, which was the Starlight Childrens Foundation. Rhonda and Noah purchased the sign, for the staggering amount of $1000. The money went directly to Starlight in memory of Steve (OldSkool). There was not a dry eye in the building.
Willow's Inzane pics
http://www.far-riders.com/albums/thumbnails.php?album=133
Marismetz – InZane 2009
https://www.youtube.com/watch?v=eiZfg86Xm1U
RP
The poker run stop I was manning near the top of one of the mountains near Frisco
oZ
Workerbee and I our finally out.
It was our intention to discover more of Colorado – but never left the hotel, just to pooped to go exploring especial in an Exclusion vs. a Valkyrie.
Had dinner last night with the last remaining Valk people Darryl and Little D. Great time they are working very hard to get their bikes back to New York.
We plan to drive all the way through to SoCal, hence a 3:15am departure time.
The rally was fantastic, we had a blast. Great people, good times.
Sorry to be leaving would have stayed more but work rained on our parade and want me back or else we may have had a chance to see more.
This is the first time we stayed to actually see some of the terrain, again work put an end to that. If I could get medical insurance I would so be done with my job which sucks.
In these hard economic time I figure I'm blessed to have a job. I'd like to give kudos to all the members who were there to just help the staff but I'm afraid I might leave someone out.
Special thanks to F6Gal, Willow, Motomama and Scott from Oka.
Thank you all for a fantastic meeting. Looking forward to seeing you next year. If I do lose my job I will be attending other local rallies just for the fun of it.
Ride safe again thank all of you for supporting the VRCC
Motomama
Through all of the generous donations, the auctions, ticket sales, etc., the members of the VRCC at Inzane IX contributed a total of $5,874.00 to the Starlight Childrens Foundation! WooHoo! The generosity of our group sure does make me proud to be a member of the VRCC! You guys ROCK!
Inzane X – Bellaire, Michigan
https://web.archive.org/web/20100429054910/http://www.valkyrieriders.com:80/inzane/
2010 was the 10th Inzane anniversary. According to Connie, Zanesville was under discussion for a reunion of sorts, but the hotel had changed ownership and was not that cooperative… also, not really big enough for the attendance we anticipated.
Willow
Something will be handled a bit differently this year. The VRCC will be taking room reservations. We haven't done that before, but the resort offered us a block of rooms at a great price if we would do the filling and room assignments.
Check-in will still take place at the resort desk, and payment will be made through the resort, but the VRCC will be giving the resort personnel a list of room assignments and will be responsible for being certain they're all filled.
Can you feel the pressure? One of our staff had to provide a substantial deposit out of her own pocket to guarantee this block of rooms.
The block we've been provided consists of some forty-five King suites and some ninety double queen rooms. The King suites each include a kitchenette (seems almost wrong to add the "ette"), a fireplace and a single king-sized bed
Did I mention bike games and tech sessions?
Some thoughts by oZ
One thing I'm especially looking forward to is the possibility of more Canadians at the Michigan rally, heck isn't it a lot closer?
No wait closer doesn't really work. If there are Long Riders it's got to be Canadians. My first encounter with a Canadian was about 11 years ago when I met PIBIT (Paint It Black in Toronto). Where'd I meet him? Mariposa California right outside of Yosemite for reference. That was the first "Unofficial Valkyrie Riders Rally". I had run the idea past some who thought it wouldn't work. Wouldn't work? We raised over 6 thousand bucks for charity and had a bunch of people there; it was the spring board for InZane!
But for me the best and most surprising thing was people like Pibit. Now that I think about it I think there were two Canadians there, neither knowing each other before meeting there. We also had a slew of folks from the other side of the Mississippi. It was an eye opener for me and proved two things to me and one discovery.
1. Valkyrie riders are motorcyclists be it cross country or hitting the twisties. Their enthusiasts.
2. Also, I've found they're not about the fad, or trying to be cool or having the bike du jour. They based their ride on performance, like maybe I can ride this thing to anywhere!
And my discovery, the thing that attracted me to the Valkyrie, the speed, handling, sophistication and elegance of the big ol' machine also attracted others. Maybe having preference for excellence goes beyond motorcycles, maybe, just maybe that's why I've met so many excellent people on Valkyries.
If I don't see you sooner then I'll see you in Michigan.
The Village of Bellaire was awesome to us and except for under estimating how many people we would have there (the VRCC staff told them, think they didn't believe us) Shanty Creek was great.
So many people have told me what a great time they had this year it's almost overwhelming!
I would also like to thank everyone that worked to make InZane X great but it is a big list and fear I would leave someone out, a bad thing.
I threw a video if you are interested.
One more thing and I have to say it again: Michigan Rocks!
https://vimeo.com/13963656
Brief Outline of Inzane
The registration page will tell you what's included.
There will be a couple (or three) group rides and a selection of self-guided rides in the registration packets.
Tourist things to do will abound in the area as it's a vacation destination, albeit a small town in the woods.
The Saturday night banquet, a Joe Boyd memorial shirt, and an InZane X pin are included with early full registration.
Additionally, you'll want to purchase raffle tickets to take part in the excitement as we give away TONS of stuff each night and then MEGATONS of stuff on Saturday.
You'll want to do the Poker Run for our selected charity at $15.
Tech sessions and rides are on a show up basis.
She'll want to come. She'll make friends and have a great time.
10 years of VRCC – Open letter by oZ
I love my VRCC mates! I was blessed to be in the right place at the right time for the opportunity to start the VRCC and the blessing is folks like you, friends from the get go! I've been thinking about it and the VRCC seems to me to be more than just an interest group about Valkyrie Motorcycles. To me it seems to be a brotherhood, sisterhood since it is the ladies, girls (: that add so much to the caring aspect of our organization.
I can't even cover all the kindnesses I've seen, the outpouring of not only care but support our members have given, and not just to our own brothers and sisters but to anyone needing support be them riders or not.
We're a blessed group and I hope, no I almost know this organization of brothers and sisters is not a passing phenomenon. Thank goodness for the VRCC.
Again, three things. I'm blessed to have been in the right place at the right time to watch the VRCC come into existence, I'm blessed to have hundreds of friends who have my and each other's backs and I'm blessed to have a cornucopia of wise people, diverse in wisdom and with our numbers of individuals able to provide guidance not only in the love and feeding of the Valkyrie Motorcycle but in advise in all matters.
I guess were like a family.
oZ, your humble and inspired fearless and neurotic semi-leader
Timbrwolf
Wow….what a trip! . ….we were on the road for..oh..wait….we were only 45 minutes away…
. …..was a GREAT time…..lots n lots of Valks….and a TON of great people….folks just kept coming up and introducing themselves….and saying this was the best Inzane in years….and how much they were diggin on Northern Michigan……..and even though we didn't get rooms at Shanty Creek …we were jealous cuz Staff picked an excellent place to hold the Event and if I had to describe it in a single word I'd have to say…lush…..very fine resort…..lots of Valks and other bikes…and the folks attending were outstanding…good friends of ours, Dave and Fran came up to stay at our place for the weekend and we made day trips up to the ride in…saw good friends like Solo1…Blackdog…W3….met Big D…Robin from New Jersey…saw our good friends TP from Minnesota….Laser Pat and his wife from the Great State of Texas….got to take a great ride with Oss and his lovely wife Bonnie and show them the beautiful Rt 119…..saw Kaz from Wisconsin….our good friend Dave Pettit….and we can't forget our good friend…Daniel Myers from Texas…that Invitation stands Daniel….one day I need to fulfill…My Mission of creating a …BAB…and watching you enjoy it ! .. …and spent our evenings hanging out at our good friends …George and Pams camp site with a TON of great friends…Pam is a camp fire Gourmet and whipped up some fine vittles for everyone….and we got to dig on some sweeeeeeeet Northern Michigan wind….like our good friends Hot Glue and Strider are fond of saying….we had us a Verrrryyyyyy LARGE TIME !!!
A HUGE Thank You to ALL of the Staff….and everyone else who worked tirelessly to make this happen for the Masses of the VRCC…they did an EXCELLENT Job!!!!
laserpat
We had a blast!!! You Michiganders rock!! Great people made us feel so at home. A total stranger offered to take us out on their boat for a cruise, amazing roads, can't wait to come back. Will post pictures when we can.
F6Gal
Ok, we took a week to ride after InZane, I'm getting caught up with things at home, and I realize that I haven't made an appropriate post InZane post.
First, thanks to everyone that attended, it was an amazing success.
We had a final attendance count of 515 (falling short of the previous record by just 11). We donated $7001 (+ $20 Canadian) to Camp Quality.
As usual, the InZane staff went above and beyond. Year after year, there is a handful of people that donate an unbelievable amount of time to making InZane happen and making it an enjoyable experience for all of us. Please join me in thanking these fine folks:
oZ; Willow; Motomama; Scott & Joni; Psycho; Tim (RedValk) & Sherry; Misfit & Lil' Bit; Lyn-Del & Wizard; and Daniel Meyer… please take a bow.
In addition this year, we had the help of the phenomenal Michigan chapter: RTaz (State rep) & Devl; Pat & Carolyn; Stitch; John & Alane; Big Bill; Romeo; Scar; Big Bob; Skinhead; Bill Bunker; Ed Smalling; Greg Graves; Joe Errante; Jules; Mike & Kari; Norm Bacon; (sorry don't know all of your handles); and all the other MI members that chipped in… please take your bow, as well.
Youse guys are all the bomb. Thank you so much! Oh, and thanks Michael Terry for finding our awesome ground zero. thanks
RTAZ
I have been to many InZanes in the past but this was our first time to be involved with the National Staff from the planning stages on InZane X to the actual event….I must say the Staff have done this many times and they know what ground work needs to be done for such an event…I have seen them at the event work 24/7 to make sure all our brothers and sisters where taken care of…I saw Lori trying to eat a dinner but not being able too because she wouldn't turn off her phone…I've seen Connie limp around all day long on a sore foot because she needed to take care of business….I saw Scott standing out in the hot sun day after day making sure everything was going okay….I saw RedValk setting up his DJ equipment and spinning tunes along with Sherry…I saw Willow answering a questions all day long being pulled from one end of the resort to the other…I saw Pat and Carolyn working day in and day out to see that everything was running smoothly…I saw Misfit and Lil-bit working out under that canopy day in and day out…and helping us MiVRCC folks out setting up stuff and carrying boxes and stuff…I saw Lyn-Del and Wizard sitting out ALL day long in the hot sun being our security at the vendors gate….I saw Oz and Karen working at the F6 store talking making the members feel welcome and I saw the Michigan Chapter leaders step up and do a great job welcoming people Jewels and Big Bill ,John and Alane at the blood drive, Scar and Suzy Q for helping us when we needed you for your day in and day out work on our website and forums here in Michigan, Joe with the banners, Big Bob and Big Bill at the Bike show, Slyk Willy at the bike games, Romeo & Juliet, Mike B & Kari helping out where ever they could, Stitch for the great job he did with the poker run….Greg Graves for helping set up and running around helping members in need, Ed and Judy for all the hours in the Michigan welcome table area….all of the countless MIVRCC members for the behind the scenes help the contributed…Patrica and Paula at the Bellaire Chamber of Commerce was a major help for this event they truly made our event a great success in Bellaire …the Village of Bellaire should be proud of their efforts…the Traverse City CMA members for their services and prayers…. all the great folks from Michigan welcoming all of our brothers and sister from around the world…I can't say enough about how proud I am of our State…. I am truly sorry if I forgot anyone I am still in the rush of InZane excitement …I hope we have the opportunity to do this again I know we can make it even better.
Solo1
I was over to Mark's house last night and he brought me up to speed on this year's Inzane. As usual, it was a good event for him and all. The get offs that he and Chris had, brought out the fact that there are still good people out there. The Ski patrol, the couple in the Mercedes SUV, and others, all helped in making a bad experience not so bad. I can't say enough about Loth and his wife who was with them and rendered a steadying hand. Twila has a sore knee but it's getting better.
During Mark's talk, I was thinking back to the five Inzanes that I attended. I keep thinking of RJ who I had good conversations with at both Paducahs and Johnson City. I remember sitting on my balcony at Bellaire with John Schmidt, contemplating the foibles of life as we indulged in a scotch and soda.
I most certainly remember accepting the special award, at Bellaire, for the oldest member even though I didn't ride to Inzane That was totally unexpected and was worth just as much to me as my Sagamore of The Wabash Award given to me by the mayor of New Haven.
I also remember the Covered Bridge Rides undertaken by 'Doc" Morse of Crawfordville, Again, RJ stood out for me there as his birthday was celebrated during the CBR. RJ is still on my mind as we were both Korean War veterans, me in an Army medical support group, and he as a combat Marine.
I remember the CBR and Hollywood doing his wheelie on Doc's residential street.
Last year I drove the Miata to Corydon and met still more Valk members. I was welcomed, even though I came on four wheels instead of two or three. I would hope that Steve continue the DRU as it's similar to the CBR.
Overall, it is indeed memorable to me that all this good stuff was brought about by a common love of a motorcycle that was no longer made after 2003, a long 14 years ago!
It is amazing to me that one motorcycle has done so much to bring together such a great group of people.
Inzane XI – Bellaire, Michigan
https://web.archive.org/web/20110705114954/http://valkyrieriders.com/InZane/
https://web.archive.org/web/20110103213051/http://www.valkyrieriders.com:80/inzane/
Joe (ridingdragon) Errante
The Michigan VRCC will be represented with 80 members at Inzane XI this year. That's awesome!! The schedule of events has now been published and will prove to be a great time for everyone.
We are still looking for vendors…. motorcycle related or not. If you know someone who may be interested get me their name and number A.S.A.P. Also, we are looking for more volunteers to help out during the week's event.
Pam and I are looking forward to seeing everyone there.
YouTube by TravelersWords
From Valkyrie Rider's Cruiser Club's national rally InZane XI held in Bellaire, MI.
This is the poker run, 30 July 2011


https://www.youtube.com/watch?time_continue=11&v=8CQhKHHrgaI
Charles Schell
I had never seen so many Valkyries in one place or so many friendly people. Since I'd only owned my Valk a couple months when I went, it was a very special treat to be around so many like-minded riders. Being a newbie got me an award.

If You Are Going InZane, Joining In Is Half The Fun
After getting parked, I wandered over to the registration table to get signed in. Everybody there was real friendly and curious about me — they wanted to know where I was from and what my name was and things like that. I thought it was because they were interested in me as a person but I came to find out that they were just looking for my registration form.
Once I got my packet of stuff and name tag (which I never wore) I was sent down to the raffle ticket part of the registration table.


K-Dog's Rune
At the raffle ticket table I met Sparky51. We had actually conversed online earlier in the week when I volunteered to help sell raffle tickets. When in doubt or if you are ever going to an event you've never been to before and they're looking for volunteers – – do.
Usually the best thing you can volunteer to do is to tend bar. However, failing that — offer to help with anything to do with gambling. The reason is easy, if you don't know these people a quick way for them to come to you is to either give them a drink or sell them a chance to win something. Since the bars weren't open, gambling was my only choice.

I ended up staying longer than I was supposed to but I was promised time and half. Actually, I guess I was paid in blueberries. After making pies, there was a bowl of left over blueberry pie filling in the kitchen. Near the end of my shift, this bowl made its way to the table with a stack of spoons to be shared by all present. After some discussion, it was determined that whipped cream or ice cream would make this tasty snack even better. The bowl disappeared then reappeared a short while later with ice cream on top of the blueberries. The volunteers rejoiced and ate of the bowl. Thinking back, this was probably a bit riskier germ-wise than a double dipped chip, but volunteerism strengthens the immune system.

After I put in my volunteer time — I spent a little while wandering through the parking lot and looking at the various bikes. I was really stealing ideas for improvements on my own bike but I was also enjoying looking at what other people had done creatively to theirs. I'd never seen so many variations on a theme.
The next group participation thing that I took part in was the Poker Run. The only Poker Run I had ever been on before was done en mass with several hundred riders going from location to location to pick up cards. This one was a bit different in that everyone was riding the route in small groups. Right after I got mounted up there were four bikes getting ready to head out, so I just tagged along with them.

Membership of our group changed several times as the ride progressed; some people joined while others left. In the end we were a group of 7 and had a trike riding with us.
The ride was 102 miles through small towns and country roads around the area. Some places I had been to before, like Charlevoix, other places were brand-new. It was all pretty and a good site seeing ride.

I rode last in the group so that I could shoot video and get pictures of everybody else. Riding in this position also prevented me from being responsible for any of the navigation, that falling to the bike in the lead. So, now I can safely razz that person about the number of times we got lost. Actually, we only got lost twice and not that badly. But we did get lost.
The problem with joining a ride the way I did was that I never had a chance to find out who I was riding with. I do know that midway through we were joined by Valky Claus, who was from somewhere in Texas. Aside from that, I'm not sure of anyone's names or where they were from except for the bike directly in front of me that was from Canada — I know enough Canadian that I was able to read his plates. (Note: if it was you I was riding with, please let me know and I will add your name to this rather than leaving you anonymous – – unless you are leading and got us lost then you might want to remain unknown


My Valk among the other Dragons
My poker hands actually started out very well, I was going for a straight in one hand and a straight flush in the other. That ended when I picked up my fourth card, which shafted one hand completely and left me with a pair of 8s in the other. Not exactly the way I had planned on the whole thing ending up. However, I did have a great time on the ride and managed to come up with a nice video from it.
When I went to the awards dinner, I really didn't expect to win anything. My poker hands were lousy (but not lousy enough to win the worst hand contest), even though I bought raffle tickets, I usually don't win the good stuff, and even though I had planned to, I did not enter my bike in the beauty contest. So, I was really there for dinner and some socializing. For those keeping score, Jody was right, there was barbecue – – even though I was, also right because I said we were getting chicken.
There were many certificates given out. Person who rode the longest distance, oldest rider, youngest rider, some prices for the bike rodeo and a special award for the rider who was newest Valkyrie rider. Guess who won?
Well, I'd only been on the bike for 2 1/2 months even though I've put almost 4000 miles on it.
As a whole, our table was doing very well with raffle prizes. I won some bike wax, a sticker, some Seafoam and a doo rag. As the evening wore on, each of us at the table had won a couple of different things except for Jody, who went the entire evening without winning anything until the very last drawing – – which was for a prize valued at over $600. Any guesses as to who won that one?
In the end, the real winner was Camp Quality, a very worthy cause. Aside from individual donations that were made, a bucket was passed around that netted over thousand dollars… VRCC handed them a $7,500 check at the end. Valkyrie riders are very generous
I do wish to thank the people who shared the table with me: Momz (and his wife whose name I did not catch), Banker, Jody, JJ, Turtle Dove & Green Dragon. Thank you all for the good dinner conversation and for sharing a bottle of wine.
Then came the time to say goodbye. I packed up my doo rag, Seafoam, sticker, bike wax, event T-shirt, InZane pin and my framed Certificate of Achievement then got ready to head out. Prior to leaving, I was hoping to get my bike blessed since I had heard that was part of rally as well. Since I did not own the Valkyrie when the annual blessing happened in Baldwin earlier in the riding season, I wanted to be sure to get my bike blessed while I was here.
I noticed a fellow biker wandering through the parking lot and I knew he had been sitting at the biker ministry table. Therefore, I walked up, introduced myself, and met Loren who was a Chaplain. I asked him if he would please take a moment and bless my bike. He smiled and explained that it was more important to bless the rider than the bike but he would be more than willing to do both.
We went over to my bike and he said a brief prayer for the bike and or the rider. I have to admit, I've never heard a prayer that included good mileage and mechanics, but I was grateful for it. Which brings me to one failure that I made that day: I meant to hand Loren a donation for his group and forgot all about it because I was in such a hurry to be headed home. So, Loren, drop me an e-mail or someone drop me the ministries' address and I will be glad to send it on.
Overall, I had a great time. I wish I had been able to stay for the entire event and maybe next year I will be able to go to Arkansas and do just that. It may have been an advertising slogan back in the 70s, but good things do happen on a Honda — and even better things on a Valkyrie.
Shanty Creek Video – Very nice Wide Angle
Shanty Creek
Hoser
2 Brothers Power Sports were very good to me on the way to Bellaire. Blew up a rear wheel bearing. They sent a trailer to me, hauled it 24 miles to the shop, installed a new one, sent me down the road within three hours after correctly replacing the left side bearing for a measly $275.
Spurs
A big thanks to Willow, Motomomma, OZ, Scot, unmentioned spouses and Del Lynn, Wizard, Sister Bling and all others not mentioned for putting on a great show. Just another great event!!!!
F6gal
Another successful InZane is in the history books.
I hope everyone had a great time!!
We thought we raised $7500 for our charity, Camp Quality; but then realized that didn't include the money from the chair lift rides… so the final number will be a bit higher.
Thank you all for continuing to make InZane a successful event year after year.
Thanks to all that attended and to all that volunteered some of their time.
Please join me in thanking the IZXI crew, they did an awesome job!
VRCC staff (besides me): oZ, Scott from OK, Motomama & Willow
The rest of the crew: Pat & Carolyn, Psycho, Skeeter (Joni), Misfit, Lil' Bit, Doogie (Chase), Joe & Pam Errante, RTaz & Devl, Sister Bling, Lyn-Del & Wizard, Stitch, John & Alane Schaefer, and Daniel Meyer.
Hotglue and Timbrwolf did a great job cookin' up burgers & dogs for early bird dinner on Tuesday… and FlamingoBabe was helping with everything! And Dave Ritsema was back.
Inzane XII – Eureka Springs, Arkansas
Scott
We're trying something different this year. Having the weekends to travel, and the event during the week. It will also help avoid the busy weekend traffic in Eureka Springs
Schedule of events
http://valkyrieriders.com/inzane/inzane12/Schedule_of_Events.html
Very nice video by PropwashFilms covering several Inzane XII events
https://www.youtube.com/watch?v=garLNSP83xU
motomama
We have a block party scheduled for Tuesday night at Pine Mountain Village (which will be blocked off for us). The shops in that area are staying open late for us so that those who want to shop can do so.
Dinner will be set up there for us. (I would highly recommend checking out the ice cream parlor in the village after you get your fill of BBQ).
Following the BBQ and shopping, we will be attending the Pine Mountain Jamboree (tickets for this show ALONE are regularly $24).
The show is awesome! Several of us went to the show back in September and we loved it! A combination of BBQ dinner and the Pine Mountain Jamboree show will cost us $17.50 per person and the tickets will be available for purchase at the Registration Desk. This is an awesome deal they are providing us we, so let´s try to have a BIG turnout for this. Following the show, we will have the Parade of Lights, led by the mayor on his motorcycle, back to the hotel.
You really don't want to miss out on this evening activity!
hubcapsc's Trip Report
InZane started on Friday the 21st for me… My buddy Jim from work followed me up to the little gas station where 28 merges with 19/74 near Bryson City, NC..

… Then Wimp showed up…We headed out to see The Road To Nowhere…

Wimp had been before, but not me or Jim…
We ate at a sandwich shop in Bryson City, and then Jim headed back, he wasn't going to InZane… me and Wimp headed over the Dragon (what a traffic jam that place can be) and then to Joe's house on a non-direct route.
Wimp headed home and me and Joe and Charlie the Land Elephant went to eat at a steakhouse in Joe's Minivan.
You can see this bit of Fontana Lake along the way to the end of The Road To Nowhere…

As we started out on our Ride from Knoxville to Nashville, we only had a few riders…

Santa was there when we got to the meeting place in Nashville…
Mac was one of the next riders to show up, he saved us from riding I40 from Nashville to Memphis by showing us hiway 100… we had a bunch of riders by the time we burned up 100, I'm impressed with
West Tennessee, the drought burden seems minimal there, stuff is green, there a lot of nice farms, woods and rolling open land.

My forks seemed like there was a leak starting when I looked last week. I figured (hoped) it would slowly leak. It fastly leaked, all over stuff, the air wings, the motor (and then I could smell oil fumes as I rode)…
On the way to InZane the little camera mostly took pictures of fork oil

When we rode I40 from Knoxville to Nashville, it was overcast and even rained a little… it was a really nice ride… all the rest of the ride, there and back, and while we were there, was really hot.
The drought became obvious in Tennessee near Memphis, and Arkansas seems like a disaster area. We stopped to rest in the shade many places…

We rolled in on Sunday. On Monday I rested and visited tech talks and started asking around for fork seals and other stuff I might need in order to change my leaking left fork seal.
The rest of the folks I rode up with went out for an all-day ride and continued sautéing their bodies in the sweltering heat and sun.
By Tuesday noon, I had two bags of tools, a motorcycle lift, two sets of fork seals, fork oil, and a pan to drain the old oil in. If I tried to list everyone one who helped me, it would end up being most of the attendee list thanks again everyone.
I began to remove parts… I got the forks drained and wiped down enough to work on…

As I was on the road, I didn't have the special chairs and plumbing parts I use at home to rebuild forks:
So Joe (Stude31) jumped in with his Honda fork tools and zip-zap-zoop, as quick as that, he pulled the old seals out and expertly inserted the new seals, gathering lots of interest along the way.

The next day we rode off to the Joe Boyd picnic at the dam… there's a nice swimming area, some guys even went in with their jeans on, I wished I'd had shorts or something. It was hot .
Arkansas has lots to offer. But they need rain bad. A really good strong rain came right as the bike show started

After all the Inzanity, a bunch of us took off for Memphis. Near the end, on 64, a crop dusting plane gave us a wonderful show.
He was dusting crops right beside the road, swooping down over and over, perpendicular to the road, and only just a little over our heads when he crossed the road. He looked like he was swinging from a pendulum and did all these gymnastic twists and rolls at the top of each swing. After we thought it couldn't get any better, he started hitting a field parallel with the road. Several of us saw him coming in our rear-view mirrors (that would have been a money shot!) and then ZOOM, right past us.
In case he was spewing out too many harsh neuro-toxins or anything, I held my breath… Terry has some pictures while he was doing the perpendicular passes…
We were roasted as we approached Memphis, here's the final gas stop of the day…

We stayed at a small motel near where we stayed on the way there. They fetched us to a Memphis BBQ joint in a van. The next day some of us headed down 40 to Nashville, and me and Allen burned up hiway 78 to Tupelo Mississippi.
It is a divided hiway, not too much traffic, signs say that soon it will be I22. When we got near there, we rode down the Natchez Trace a mile or two and drank water in the shade…
This stuff was growing where we stopped, leaves kind of like dog wood, what is it?

We left there and wondered into the heart of Tupelo and ate good eggs and grits at a busy diner. Allen took off maybe down 45 and I headed out of town on 78.
Switched over to 74 right after I passed into Alabama… a real good road…Drought evidence lessened, and everything was growing and green again in North Alabama… Stopped at the Natural Bridge… it cooled down nicely after I passed through the gates and went down into the woods…

I continued on through here and there and passed into Georgia near Fort Payne…

I stopped for one more night in a motel as it started raining a little near Calhoun Georgia… it was glorious as I rolled home through the cool green North Georgia mountains this morning… after all that broiling heat.
It was hot by noon or so, but I left early. A fellow on a Harley at a gas stop told me he'd recently sold his Valkyrie, and he missed it…
Thanks to everyone who put up with me on the ride, everyone who helped me rebuild my forks, and everyone who made InZane possible
Paul Weber Shoots a Ride at InZane Arkansas 2012


This design was also available on T-shirts
https://vimeo.com/48177869
Motomama
This morning, we were able to present our Inzane XII charity, NW Arkansas Special Olympics, with a check for $6,800.00. They are thrilled and could not say enough about our group's generosity!
In addition, we spoke with the mayor and the police chief this morning at breakfast, and they said we were the best group they have ever had host a rally in Eureka Springs!
They had nothing but good things to say about our members! Kudos to all who attended! I, for one, am very, very proud to be a member of such a fine group of folks! VRCC members ROCK!
Once again, you all exceeded our expectations! Way to go!
Ride report by Gary (pics not accessible)
Took out at sunrise on Saturday. Was set on making it to Arkansas, taking into consideration the high temps.
Was somewhat geared up, had my new vest and bandana to help with the Hades-like ride ahead.
And of course…Great view heading down the hill
I'd whipped up some green chili, beef, egg, potato burros for down the road to minimize breakfast stop delays. They hit the spot.
I cracked out the vest and bandana near noon or so. It seemed to do quite well, covered by a new JR mesh jacket for about 90 minutes. It then began to feel a bit like weighted armor, which might do well in a fall, not so much though when nearing peak heat.
I did manage to get it recharged when I grabbed a late lunch at the Cherokee Restaurant. Temp there = 107.  Again, the recharged vest was good for 60-90 minutes. Eventually removed entirely along with the mesh jacket.
Took the turnpike from OKC and on into Arkansas. The stopping for toll booths and tossing out coins got old and costly. How does that saying go, "May the sun be always at your back" (or is it the wind)?
As I was passing through the Tulsa general area, the temp read 102 at 7:30 p.m…I did manage to catch the sunset behind me as I was heading toward Siloam Springs AR.
Alas, I hit AR, it's 9:00 pm, I fuel up and find a room at probably the nicest Super 8 I'd ever stayed at. Took a dip in the pool and called it a night.
I hit a few nice spots on a not-so-direct route to Eureka Springs. I thought this place was pretty neat. I immediately thought of Gordo for this place. Hwy 303N heading toward War Eagle Bridge/Mill.
I moved on to The War Eagle Bridge and Mill (they had fans going inside), another neat place.
I cruised past Beaver Lake and took in the sights. Stopped briefly, spewed out some more fluids from most pores, and decided to get back moving, into some wind at least. Note the dog (center screen) doing it right to beat the heat, as well as retrieving a stick.
I later met a couple of Valk riders from Kansas City at the Pea Ridge National Monument. We toured the facility, gathered some history and then rode on into Eureka Springs.
I apologize for my poor memory, one of the riders was HB but I can't recall the other (Tim, Terry?). We all 3 happened to be sporting Mark T pipes, and in a different put up. A nice tour into Eureka.
I hit my first couple night stay location, The Brackenridge Lodge, unpack and stroll over to the Rowdy Beaver to grab a bite to eat. Everybody should have a Rowdy Beaver… Angus Burger, good stuff.
I stop off at a scenic overlook located in town, cruise a few of the in town roads and then make my way back to the lodge.
Ground Zero is a mere .68 miles so I decide to stroll over, meet several old and new-to-me group members, chat for a spell, still full from my RB Burger, watch as others enjoy the BBQ and then head back to my room.
Monday, it's the Castle Rogues Manor lunch ride and tour.
Did I mention it was HOT
I picked up a hitcher, or two. There were plenty of these at the event. I decided to check out The Christ of the Ozarks site. I couldn't help but feel like I was being watched the whole time there…
That next day I took out on a very nice all day self-guided tour of some of the back roads to include sections of Scenic Hwy 7, Hwy 21 and The Pig Trail – Hwy 23 back into Eureka. Very nice cruising and only one deer sighting.
We had a spot of rain on Thursday, the day of the bike show and a nice dinner to follow.
I met up with on old riding partner from Oklahoma, Rumblebee and we got to catch up a bit before calling it a night.
My plan was to be on the road by 6 a.m. A nice morning ride back, catching glimpses of a colorful sunrise. It was comfortable t-shirt riding weather with a somewhat cool but foggy mist in the air.
I elected to make my way over to and down I-540S to I-40 to avoid the toll road. I-540 definitely is not your normal interstate travel.
I stop off in Salisaw, OK for fuel and an Oklahoma style ham and egg breakfast at the 18 Wheeler Restaurant.
I caught up with Ron in Elk City and he and his wife Carla put me up for the night. I had dinner with friends, meeting up with several I hadn't seen in about eight years.
A nice visit indeed! Ron, an old riding partner, and I got together with some of the old Breakfast Club crew and grabbed a bite at the Cherokee Restaurant.
We parted ways and I made my way back through the Texas Panhandle just in time to catch the hue emitting from the stockyards just west of Amarillo. It almost brings tears to your eyes.
I'd stopped off at a rest area and enjoyed some water, a peach and an apple. A nice view heading up Hwy 285 north of Clines Corner, the temps were tolerable.
A healthy ride, 2,115 miles round trip, out for 8 days, and met up with many old friends and several new.
Thanks again to all those that worked to make this event possible, you did a great job!
TxDeb
Well it's been a busy week but I've finally sorted through my 400 photos I took at InZane and hopefully I've captured the link properly here. I had the best time … seeing old friends and meeting new ones.
I can't remember when I've laughed so much, it was just what my heart needed. Thank you VRCC family! I hope you enjoy these fond memories we shared! Let's do it again REAL soon!
https://get.google.com/albumarchive/117242246423567105560/album/AF1QipMgzmzgEDUubPZV70egwQx0_eWf1qXDO2GHIFLU?source=pwa&authKey=CPL-3o6HwtyH9wE
Al in Arkansas took 400 very nice pics of everyone on Wednesday rodeo and ride to lunch
http://s520.photobucket.com/user/alfowler7/library/Inzane%202012?sort=3&page=1

Editor's Note
Al's album contains pictures of almost everyone who has been there. See yourself taking that curve
Inzane XIII – La Crosse, Wisconsin
https://web.archive.org/web/20130306051214/http://www.valkyrieriders.com/inzane/InZane13/index.html
Weekdays change
In years past, the rally used to be Thursday through Saturday. This created a problem for many riders. It took them a complete week, the beginning of the week just to get there, and when it was over Saturday it left many riders using part of the next week to get home. This really messed up travel and vacation times. So, by moving it to mid-week, most participants only need to use one week with a weekend on both ends to travel.
Daniel Meyer
Tech Sessions at La Crosse were demonstrated by International Motorcycle Book Author and Valkyrie Repair Guru, Daniel Meyer. 'Be there or you're not going to know what you need to know'.
Monday, July 15
10:00 am: Tech: Inbound Valkyrie Clinic
3:00 pm:   Tech: Tank Removal, Air Filter change
Tuesday, July 16
10:30 am; Tech: Anatomy of a petcock
2:30 pm   Tech: Older Ladies do it Better (High Mileage Valkyries)
Wednesday, July 17
2:00 pm: Tech: Brake pad Replacement
4:00 pm: Tech: Clutch/Master Cylinder Fluids
Thursday, July 18
2:00 pm: Tech: Anatomy of a fat ladies rear end
3:30 pm: Tech: Round Table Discussion
BobB
IMHO you cannot get a better education on your Valk than Daniel provides at these sessions.
gregk
I don't think you can find a finer guy than Dan who comes to these events every year and is willing to pull his bike apart and give us these demonstrations. His effort and time that he shares with us doing this on his own and without any charge deserves a standing ovation. Hats off to you Dan!
bfn
had a great time in La Crosse…ground zero hotel staff were superb (excluding the food shortage on banquet night of course)….room was great….Valk staff was superb as usual (however, the Thursday banquet draws/awards took more time than it should have)…hot 'n humid weather was a bit of a surprise-but hey…..locals were all very friendly….glad to attend – looking forward to next year!.
Inzane locations 2001-2013
Bungholio
Did the 1,000-mile Iron Butt from Michigan to Rapid City, SD (19 hours) and then spent two days enjoying the Black Hills area. You guys have hit a home run with this location choice.
I won the longest "ride in" for the LaCrosse InZane XIIV coming from Palm Springs, CA.
Editor's Note
Some WI Riders went thru great lengths to promote this Inzane, LOL
Besides Cheese Curds and beer, graphs were presented to stimulate Riders to attend.
WamegoRob
Wiggydotcom explaining Inzane to Newbie
Schedule of Events doesn't appear ready yet, but it'll come.
In the meantime…in no particular order.
There is usually a ride to honor Joe Boyd, the father of the Valkyrie. It was he who had to
pull a lot of strings to get the powers that be at Honda to give him the ok to produce the Valk.
There is a poker run.
There are usually daily rides…both sanctioned and individual.
There are daily Tech sessions, led by Daniel Meyer with opportunities to ask questions.
There are daily 50/50s, raffles. etc.
There is a bike rodeo that members can sign up for.
There are bike contests…customized, cleanest, etc.
Vendors will be present.
BigBF will be there to perform work on your bike if needed.
There is a "little" bit of BS thrown around.
There is a Parade of Lights night ride where LEDs are allowed to be turned on.
There is a Dinner on the last evening in which the local charity is given their check from us.
Lots of raffles, prizes and laughs at the dinner.
There might be a party or three at the swimming pool.
And that's about it…
Daniel Meyer
So, y'all may recall my father-in-law (Henry) visiting Inzane 12 in Eureka Springs. He rode a Shadow at the time but came in his cage just to drop by and visit my better half.
He had a ball meeting folks and checking out Valks. He apparently liked what he saw.
By fall he had a 2001 low-mileage standard.
He rode his new-to-him Valk to Inzane 13 this year (LaCrosse) from his North Carolina home. That was something over 1200 miles each way for him. He's had motorcycles on and off over the years, but this was really his first long trip.
He won the oldest Valk rider present award (he's 77) and again, had an absolute blast meeting a bunch of fine folks and learning a lot about his motorcycle. (his words, and high praise from him).
I chatted with him on the phone last night…
So what's a 77 year old first-time-long-tripper say about his over 2400-mile excursion?
"I like this machine more every time I ride it. That is one fine motorcycle."
and "Headed out tomorrow for a couple-hundred mile ride to the coast."
Hooked him.
Hubcap's InZane ride report and pictures...
I left from SC on Friday morning… I wonder what she cut up after I left?

Met up with Joe and Gordon and Wimp near Fontana Dam… We rode over the Cherohala skyway, and a bunch of other good roads I'd never been on, spent Friday night in Cleveland TN where we met up with Allan and Terry, and hit the road for real on Saturday morning

We got to Gary and Rosie's house, in Shipman Illinois, Saturday. They rolled out the red carpet at their awesome home.

Valkyrie riders continued to arrive, and we had a feast…

Off we went the next two days up The River Road… not really a particular road, really, just roads that follow the river system.
While we were at this place, Joe surprised me with his infinite knowledge of the Fugawi Indians local to the area…

We went over the Illinois River on this cool ferry… it was made of two boats connected with a big hinge.
One boat held the ferry traffic and the other boat had the motor. The motor boat swung back and forth
on the hinge to go back and forth in the river…

We stopped at River overlooks, it is really cool to see the effects of the river having been dug out over time..
Here are some images,  on the (expanded) bottom one you can see the train going through the valley…

Mike
We got to Ground Zero in the afternoon on Monday and kinda split up. I went straight to a pub on the marina and got a steak, salad and lots of iced tea…
Tuesday I led a ride down highway 33, I picked it out of the Red Book, it had a good curvy section… and lots of farms and places with giant windmills… I flubbed the gopro, and only got one picture – me stopping the "take a picture every 5 seconds" sequence…
The next day Me and Allan went on the Joe Boyd ride… in Motomama and Willow's air conditioned car…
On Thursday, we followed Pete on a ride up 108 (a road I independently picked out of the Red Book for its curves) that started with breakfast at a local place Pete and his wife (JoJo?) knew about.
Later in the ride, after the curvy part was over, I did something I'm ashamed of…another rider's hat flew off, and two bikes (including me) stopped to get it. We took off from there on the short route to the motel,
and the others didn't know it and it messed up their ride.
Four of us rolled towards home on Friday morning, Allan split off first, Joe split off at Effingham, and me and Terry kept on South… Joe made it all the way home in one day, me and Terry took two days.
We stayed at this joint in Paducah Kentucky… we didn't get there till about dark, but they left the light on for us…
Joe rode in one day and went through at least three big cities we missed.
We went through Nashville and it was pure hell. I've been through there before but not from the North… it's like the gnarly part where all the Interstates come together lasts 20 miles… traffic was intense, and it was hot.
Right at the end of the hecticness, sunblock got in Terry's eyes and blinded him, he was able to pull over five lanes to the side and clear his eyes… it would not have done at all for this to have happened earlier…
While we were all still together, we came upon a big truck carrying a large John Deere tractor… running in the fast lane.
Allan and Joe whipped around him, and then traffic prevented me and Terry from getting around him… he stayed in the fast lane for miles… traffic started backing up behind us and me and Terry had trouble with one car that passed each of us on the right to snipe a place in front of us with inches to spare… I asserted my place but didn't give my life for it. Right before the log jamb cleared, a giant dump truck spewing gravel became part of the mix… yehaw!
Me and Terry jumped off the Interstate not long after Nashville and rode over the blessed green mountains toward Chattanooga on hiway 41, what a relief! My rear brakes started making a noise right around then…
if we have a wear indicator squeak tab on our pads, I think that is what it is… I always use the front brakes, but you have to be extra aware when you're using just the front brakes…
After I split off from Terry, I took 64 to 76 and home. In the last couple of hours, I was in Tennessee and North Carolina and Georgia and South Carolina.
Last year, my left fork seal blew and I rebuilt the fork in the parking lot. This year my right fork seal blew and Troute Dude and Mitch took my fender off and ran the Seal Mate fork tool on my seal… it's not like a new seal with fresh fluid, but it sure did stop leaking!
Thanks everyone for everything… what an adventure…
Inzane XIV – Asheville, North Carolina
Whooray
I can tell you that Inzane is a fantastic event that been going on for some time. For the most part it is held at a different place every year giving all an opportunity to see places they may not have seen before and to meet other Valkyrie enthusiast just to share the love of the mighty Valkyrie.
I have met so many folks that I now call friends and I add many more each time I go. For me it just keeps getting better with each Inzane and I have always left Inzane looking forward to the next one.
I love the VRCC and for me it's just being part of a close-knit family unit.
Pics by Tekman88
Dave Ritsema
VRCC is alive and well, just attended InZane last month in Asheville NC with my new F6B and had a great time. They even have a new tech page for GL1800 that I am helping add content too as several members have new Valkyrie's and the F6B and Goldwing are close relatives from a tech standpoint.
Inzane 14 Memorial Ride video by Stanley Beasley
https://www.youtube.com/watch?v=Q-8A868kEI0
Britman – When you see a group of Valkyries like that it gives me goose bumps. Very cool.
Zappo
Had a great time in Asheville, never laughed so much in my life
The rides in the mountains were great, I think my riding skills bumped up one notice on this trip.
Thanks to all you guys for accepting Fran and I into the club and making us feel welcome.
Woton and Biker Girl
Many folks have already posted in their own way about their Inzane memories, but the wife and I wanted to take the time and personally thank our officers (especially the local arrangement folks) and the volunteers who made Inzane XIV such a great experience.
Back in our working day we both were involved in local arrangements to pull together events like this. It is an incredible amount of work, and while we were on salary we must remember these folks are not compensated for their time!
We did not stay at Ground Zero – opting instead to let one of our out of state visitors have our room, but it appears the Clarion was a good choice for the event and cooperated nicely with our motley crew throughout.
Other than getting lost on the first day's lunch ride, the memorial ride to Fletcher Park, AND on the poker run (and we're from NC!!) the food, friends, and fellowship made it a great week.
There were some darned nice bikes in that parking lot as well. Thanks to all who came up to us, kicked the tires on our bikes, and became our friends. Thanks again to our leaders for a great Inzane XIV. Your efforts were truly appreciated.
Inzane XV – Spearfish, South Dakota
https://web.archive.org/web/20150324014045/http://valkyrieriders.com:80/InZane/
Video by Visit Spearfish
In the summer of 2015 Spearfish was proud to host the Valkyrie Riders Cruisers Club Inzane XV! Here are a few highlights.
Inzane 2015, Spearfish, SD – Valkyrie Riders Cruisers Club


https://www.youtube.com/watch?v=Z2348KNGILo
F6gal
As it turned out, Spearfish attendance was about the same as Asheville. In terms of sightseeing, Spearfish to Deadwood is 17 miles, Sturgis 21 miles, Devils Tower 69 miles, Rapid City 49 miles, Mount Rushmore 65 miles, Crazy Horse memorial 70 miles, Custer State Park 73 miles just to name a few.
Video by Cicik – Wide angle
http://curvetube.com/_Inzane%202015,%20Spearfish,%20SD%20-%20Valkyrie%20Riders%20Cruisers%20Club/Z2348KNGILo.video
During Inzane XV, a VRCC challenge coin was introduced by Damon 'Misfit' Kinter
The coins were made of 98% brass and plated in silver.
The VRCC ordered the coins and sold them at Inzane to raise money to support the VRCC web site.
The people that bought them are using them as challenge coins.
Fragments of Striders excellent report http://www.valkyrieforum.com/bbs/index.php/topic,78888.0.html
…….Finally got up to I-90 that would take me into Spearfish. Met a group of Valks at the gas station and got an invite to roll in with them, but I had to check in with the house and get gas, so I told them I would catch up.
Got rain for a few miles and sat out for a minute to let a HUGE storm cross the interstate before I got to it….great thing about that area of SD is you can see for MILES.
Finally got into Spearfish and Donna and Hard6 was waiting with a cup of coffee for me. Got registered and the bike cleaned at the Valkwash Station. The hugging got started and eventually it was time to go to the park for the BBQ.

The free BBQ was AWESOME. I had not had a real meal except for the pizza since I had left the house, so this sure was a welcome sight!
Then it was back to the Hotel for some MAJOR tire kicking and lie telling and let's just say that a lie or two was told. Sure was good to see old brothers and sisters again! It was parking lot party just like old times………

The next morning, a group of us met up at Ground Zero and rode the north loop over to Devils Tower in Wyoming.

Hard6 and I had seen Devil's Tower before, so we split off from the group and he and Donna and I rode the south loop (dodging deer) back to 90 and back to South Dakota and rode over to Deadwood.
Rode around town and went back to the museum to check it out. Downstairs they had over 50 wagons of different kinds.

When we got out, we were hungry, so we rode through Deadwood looking for a place to eat and didnt see anything.
Rode through the construction downtown and didnt want to go back through the mud, so we went on to Lead and found a hippy coffee house there that turned us on to a burger joint going out of town and man, it was worth the wait………Lewie's – about a mile out of town going towards Spearfish Canyon – in a corner.

After lunch, it was time to ride out towards Spearfish Canyon. What a GREAT RIDE. We had the road to ourselves – no traffic at all except 2 bikes.
We were able to really RIDE the road and it was a HOOT! Lots of sweet curves and nothing tightened up – very sweet ride and we were able to ride it at speed. Most sweet ride. Great scenery….

Then that night, my brother from another mother, Dana the VALKHOUND came rolling in from Kansas.
Since he does Sturgis all the time and knew the roads, Hard6 and I asked him if he would lead us the next day – "sure" says he – smile says we!!!! So, there was another night of lie telling and the air was filled with LOVE!

So, the next morning we met up and rode over to Belle Fourche for breakfast at a place that Valkhound knew.
It may not have looked like much from the outside, but let me tell you, this was NOT a hole in the wall kind of place – this was pure HIGH CLASS, let me tell ya..

Since I had two pieces of pie the night before (with ice cream to wash it down), I passed on desert for breakfast – time for that later.
So, we rode out with Valkhound leading and Donna, Hard6 and I smiling behind and went and saw the house he use to rent for Sturgis and then blasted down Spearfish Canyon again…..stopped at the waterfall and worked on Hard6's addiction – we have him down to 2 cigarettes at a time now. Great ride…then Dana led us over to Lead and the mine there.

…wound up over at Crazyhorse Monument – as you can imagine, looks the same as it did 5 years ago or so…..Took a shot and lo and behold, there was Hotglue and Flamingobabe coming down…….A wave and a honk and the took off another direction than we were going.

Then we went over and took the Iron Mountain road. Saw some buffalo on it as well…….
At an overlook, got to see Mount Rushmore………

Got a call from Misfit to see if I could run over to do the auction for Motomama's pies. You betcha. So there was a raffle and karaoke singing (Man, whoever that was that did Bad Company did a GREAT JOB).
There was also beautiful woman doing some strange dancing……..

That night stood/sat out in the parking lot with old friends and told lies until like 2:00 am. GREAT DAY! Thanks Dana for the day brother.
Next morning was cool with a good chance of rain. Went over and caught up with old friends again. Bike games were going on. Asked Little Bit if she wanted to ride on the back and do the water balloon game.
Well, let's just say I needed a bath anyway. Motomama was looking for some people to road block for the ride over to lunch, so Early Bird and I took off and blocked when the folks got off the interstate. Good number of folks!

So the folks fed us at the university there in town. Very cool.

After Pastor Dean said a prayer for safety, TP, Nancy and I went out to the parking lot. I had wanted to go back to Deadwood and see Wild Bill's grave and they were going as well, so off we shot.
Wild Bill's final resting place……….And (Calamity) Jane's……

TP and Nancy were going to hang around, so I shot back to ground zero and told some lies with old friends…….Here are three legends (DDT, Early Bird and Hotglue). Proud to be able to call them friends and brothers.

Then we rode down to the block party.

Very, very cool. Well, I had to roll out the next morning. I HAD to be back for Saturday and in case the weather just closed in on me, I decided to roll a day early.
When I got up Thursday morning, things were not looking good for a dry blastoff.

Oh well, not going to get much better any time soon, so chaps and jacket liner on and blastoff back towards the south. Wet, cold and foggy ride. Thanks Dana for telling me about the slick roads around Rapid City.

Party Time video
http://vid563.photobucket.com/albums/ss77/strider1520/Inzane%20Spearfish%202015/DSCN0445_zpsfj6lcwfp.mp4
Article by the Black Hills Pioneer
May not show up in some countries for legal reasons
http://www.bhpioneer.com/local_news/inzane-bike-rally-brings-riders-to-hills/image_406e901a-114f-11e5-a545-77e1522b96c0.html
Every once in a while a discussion pops up which State is most eligible for an Inzane Meeting.
Having the Staff going through all kinds of demographic and geographic data, LOL.
BTW, the geographic center of the country is Lebanon, KS and the population center of the country is Laclede County, MO
Guest
Damn, I guess the west end of the country just gets to pound sand while everything is held back east, huh ?
Oh well, we will just keep all our beautiful scenery here where it belongs. but I cannot help to notice that not too many folks take a trip back east on a bike, but everyone on this board seems to have ridden through Colorado, or across hwy 50 or up the west coast.
Don't know what you have missed till you have ridden the million-dollar hwy. or through northern Colo. /southern Wyoming.
Remember that true grit was filmed in the wilds of Idaho and Oregon. And a plus, we actually have motels and places to eat in this country. We even have paved roads and modern plumbing.
Participant POV
It was great to see everybody, see old friends and meet new people.
I left Blythe Saturday morning around 7 AM headed for Provo, UT. I ran into heavy rain about 30 miles before Provo, I located a hotel for the night. It was about an 8-hour day.
Back on the road about 7 AM and arrived in Spearfish about 5 PM, about 10-hour day. Total miles to Spearfish from Blythe, CA. Was around 1225 miles.
I did not go to the Early Bird Night BBQ Sunday. Monday, I stayed at ground zero and helped set stuff up, and help getting registration packets out to the new arrivals.
Tuesday, it was raining most of the morning, but after it stopped, Dave (BigMac), John and I rode to Sturgis and Deadwood to have a look around.
We took a tour bus around Deadwood; the tour guide told us about the town history and took us up to the MT. Moriah Cemetery, and to the grave site of Wild Bill.
Wednesday, there was the Bike rodeo, and the Joe Boyd Memorial Ride. Joe Boyd was one of the top guys in the American Honda, and he got the Valkyrie project approved.
It was about 2 years later that Joe was killed in a track incident for those who don't know who Joe Boyd was, I didn't.
Thursday, there was a scheduled poker run but it was cancelled due to the rain. John, Dave and I, again rode thought the Spearfish Canyon Scenic Byway, and took some photos.
We returned back to ground zero just in time to see the People's Choice Bike Show. Then was the Dinner and Awards.
Connie (F6Gal), Michael (Psycho), Willow, Motomama, Scott in OK and the rest of InZane staff sure did a great job putting all this together.
Friday morning, 6 AM, Wayne (One Way) Dave (BigMac) and I headed out of Spearfish, SD and had an overnight stay in Coalville, UT. at the Best Western.
Coalville is a really small town, maybe smaller than Blythe, hahahahah.
The hotel person was very nice. Wayne asked the lady that checked us in, if she had any rags we could use to wash off our bikes, they were trashed with bugs. Which she was kind enough to give us.
Saturday morning, Wayne, Dave and I were back on the rode around 7 AM, just after the complimentary breakfast. We stopped every 100 miles or so for a rest, water and munchies. We also topped off our tanks.
My new F6B took less fuel to top off, then Dave's Interstate and Wayne's Tourer, by a little better than 1 gallon of gas. Our last stop together at just over 100 miles, my tank took 2 gallons of gas, truly amazing gas mileage.
We said good bye at that stop.
There was still a 100 plus miles to Wayne's house where Dave stopped for the evening. I continued my way back to Blythe.
When I got to Needles, CA. right at the Interstate 40 and the Hwy 95, where I needed to go. I run right up to a rainy lightning storm, it was moving over the mountains toward me from the Lake Havasu area.
I was on the 95 and was headed eastward right into this storm, before the road headed back south. Big rain drops started hitting my windscreen,
I could hear the rain moving right at me, the lightning was very close, so I twisted the throttle hit triple digits to escape this electrical storm. What a rush, hahahaha. 2funny
I was home by 5:30 PM.
DirtyDan had fun

LTD
Just got to sitting here thinking of the next Inzane at Spearfish and realized the VRCC Committee has outdone themselves this time I believe this will be the best Inzane in history.
I know I will probably get slammed for that statement but so be it. Listen to these distances from Spearfish, Deadwood 17 miles, Sturgis 21 miles, Devils Tower 69 miles, Rapid City 49 miles, Mount Rushmore 65 miles,
Crazy Horse memorial 70 miles, Custer State Park 73 miles just to name a few all of this an hour or less! Deadwood really looks awesome they still have the saloon where Old Hickok got his head blown off table chair spot everything, gambling blackjack, slots, poker, $1000-dollar limit get hot at blackjack and pay cash for a new Valkyrie. Alright be careful on that one. Museums, old mining caves so many attractions even if you didn't ride you couldn't do it all in four days.
The helicopter tour over the badlands looked like a lot of fun too. Plus, riding either up there or back I'll be hitting Amarillo Palo Duro Canyon native Texan never been! The state is so damn big excited about that too.
If you never have been to an Inzane don't miss this one come see what it's all about you won't regret it. Hey I admit I'm excited as hell can't wait till June see you there!!
Greg Cremer -INZANE XV (The Movie)
This video is about INZANE XV held in Spearfish, SD. June 2015. A gathering of nearly 300 Valkyrie motorcycle enthusiasts.
This video highlights the trip of 5 riders trekking from Washington, through Idaho, Montana, Wyoming and South Dakota. Featuring such places as Yellowstone Nat'l Park, Beartooth Highway 212, Devils Tower, WY, Mount Rushmore, Deadwood, Custer, and of course, famous eating
https://www.youtube.com/watch?v=ypI4kgSLEYM – First video may not play in some countries due to copyright issues (AC/DC music)
https://www.youtube.com/watch?v=qfJTqHvA9Nk

Rik
Just got back from Spearfish SD for Inzane 15. Thought I'd jot down a few notes and share some photos with anyone who couldn't make the trip. Attendance was good with 340 plus people!
http://motowing.com/motorcycle-trips/spearfish-trip
Misfit
I want to thank the supporters of Inzane XV.
Big BF – http://www.bigbf.com/  – Great website with lotsa nice pics and info


BonS – thedigisync.com – 800-725-6903
Clint Peters Leather Art – clintsdivco@aol.com
Daniel Meyer – Daniel.meyer@lifeisaroad.com http://www.lifeisaroad.com/
F6rider Store –https://f6rider.com/
Guard Dog Moly Lubricants – http://guarddogmoly.com/
Madco rider (motorcycle accessory design) – http://www.madcorider.com/
MarkT – Horseapple.com – 720-851-8455
Motorcyclegear.com
Moto Wings – motowing.com – 480-969-7032
Ultimate Seats https://ultimateseats.ca/
If ever you need parts or services that these fine folks provide, please look them up and show your support to those that support us.
Also, a very heart felt thank you to individual club members who stepped up to help to support our club and the charity.
Da Prez
Denver Dave and Robin
Ed and Christy Hatter
Carl (Willow) Holmes
Jack Gunther
Jimmy (Hayhauler) Turner
JP (Hard6) Sonier
Kevin and Jody Smith
Michael (Psycho) Bradford
(Big) Mike Terry
Randy (Buzzkill) and Elizabeth (Hollyday) Anderson
Ron Polkinghorn
Scott Oaks
TP and Nancy
I truly hope that I have not forgotten anyone.
With so few Valkyrie vendors these days it has become increasingly harder to obtain prizes for our raffle drawings.
Since we don't charge dues to belong to this club Inzane is our only real source for revenue to keep this site and club afloat. It amazes me every year as the event gets closer and I am scrambling to come up with decent prizes.
I get nervous that there won't be anything to raffle off and that we will have to cancel the drawings all together and then folks like these step up at the last minute to save the day. Amazing.
I really do care about this club, it's future and it's members. Without this support it would all go away.
If you appreciate what these vendors do for our club, please show your support by buying from them or if you don't need anything at this time maybe just post your appreciation in this thread.
As far as our member donations maybe shake their hand the next time you see them or thank them here on the board.
To all that donated prizes and or time at the event as volunteers I can't thank you enough. I am proud to call you friends.
Inzane XVI – Morgantown, West Virginia
https://web.archive.org/web/20160323225247/http://valkyrieriders.com/inzane/
INZANE XVI short 2last time by James Thompson


https://www.youtube.com/watch?v=sfG7sPVkWjk
Misfit
Is there anyone that is not going to InZane that would like to have one or more of these? We sold challenge coins at InZane last year although we did not promote them very well.
They seem to have taken off, at least around the circle that I run in and also in Europe. I will be sending a couple hundred of them to our European friends for their InZane.
The plan is to get as many of these into the hands of the VRCC members as possible without causing a huge headache. These will be available for sale at Inzane XVI for $10.00 each. My buddy Deadpan drilled a hole in one to put on his key ring.
Those that are planning to attend shouldn't have any issue obtaining one. The problem is for those that would like to have one and are not planing on attending. It would be great to have one of your friends that is going to pick one up for you.
At some point I may be willing to ship these, but I doubt that will happen before InZane. I am not sure what the shipping cost would be at this point in time. I only have a few of last years design left. I can certainly have more of them made if there is enough interest in them.
I would personally think that most would like to collect both styles. I carry one always. According to the official challenge coins rules, that you can read here http://www.coinforce.com/challenge-coin-rules.htm you don't want to be caught without one!
Either last years silver coin, or this years anniversary coin are acceptable in any challenge. These challenge coins are not only meant for the drinkers, the non drinkers could challenge for ice cream, pie, soda, etc. They are heavy weight, heirloom quality coins and not a cheap trinket.
For any of you that are not going to be attending InZane but are going to be attending Gatherin' of the Fools, reply to this thread and I will bring you one for the same $10.00.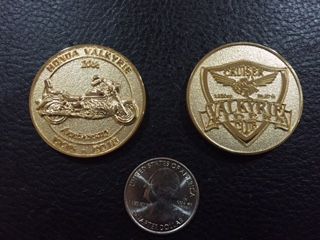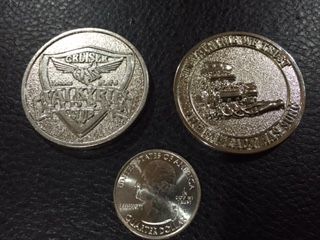 Nice Trip Reports
Pappy – Central Florida to Inzane (Morgantown, WV) and back
http://v4musclebike.com/forums/showthread.php?p=290048
Alien
https://www.travelblog.org/North-America/United-States/West-Virginia/Morgantown/blog-937511.html
……..It's beautiful here, up in the WV hill country. The weather is awesome, warm but with a constant cool breeze coming off the lake. Upon arriving this morning, I tried to check in but was told that it was too early, so I went out and talked to some of the other folks who have ridden in for this event. About four hours later, I checked with the front desk again. Still no rooms available. By this time I was exhausted, hungry and badly in need of a shower as I didn't take one at the crack hotel, due to my fear of scabies. Instead of going back outside, I plopped myself down on a leather couch directly across the lobby from the front desk and went to sleep. It worked. About 30 minutes into my nap, the manager was so disturbed by my snoring that she went outside and got another biker, mistakenly assuming that we all know each other, to wake me up. Good news, my room was ready. Funny how that works!
Upon arriving in my room, I wanted a shower immediately. I turned the water on and watched sadly as it dribbled out in a drought friendly trickle. Sigh. This simply will not do. I am a man after all, am I not? I want a shower that can peel the hide off of a coconut. I rummaged around in the Mothership's tool kit until I found what I needed. I disassembled the showerhead, removed the weenie restrictor and reassembled it. The de-neutered shower head now puts out a pressure worthy of my time.
After a much needed shower and some clean clothes, I went downstairs and volunteered to assist with registration. It was nice to be able to put faces to the names I've been communicating with on the internet for all of these years. These are truly nice people, who have ridden in from all over the country for this event. Even more surprising was a large contingent of German bikers who flew themselves and their bikes to the U.S.A. just to be here. Another guy rode all the way from northwestern Canada.
….Today was the official kickoff with lots of folks still arriving. Everyone that I've met has been extremely welcoming and most are very different from the way that I pictured them on the VRCC board. I'm sure they feel the same way about me. The main difference that I see here versus other motorcycle events that I have attended is a complete lack of posturing and strutting. No one has anything to prove and everyone is happy to talk about themselves, their bikes and the ride here. These people are not afraid to laugh at themselves.
I also met riders from Germany and Poland today. Great folks!
No riding for me today as my backside needed a break after the mad dash from L.A. It actually felt weird to wake up this morning and not load up the bike and hit the road before first light.
Hello again from Morgantown! Wow, three days in the same place. Pretty soon, I'll have to pay taxes here. I'm really enjoying myself but today, I felt the first stirrings of itchy feet. Soon it will be time to ride again. I'm not even half way through this trip as I still have 3000 miles to go.
Today I attended two Tech Sessions given by one of the VRCC members who has written several books about his journeys aboard his Valkyrie. Many of you who know me personally may find it strange that I would willingly listen to someone tell me how best to work on/care for a machine, as I tend to have a pretty good grasp of those types of things. In this particular case, I am more than happy to learn from someone who has successfully ridden the same bike I have for well over 200,000 miles with mostly original parts. That seems like the kind of guy worth listening to.
Later was the group ride (video and pictures below) to the Block Party. This was a ride to a shopping center here in Morgantown in which many of the establishments had agreed to give club members a discount as well as donating a portion of the proceeds to a charity.
At the Block Party

This year's charity is the Make-A-Wish Foundation. They are helping a young man with Cystic Fibrosis achieve his dream of taking a Disney Cruise with his family. A worthy cause to be sure.
Two things stand out from the ride and block party:
First is how much I absolutely detest riding in a group. Hate it.
Always have, always will. It eliminates any of the sense of freedom that comes with motorcycling. Today, (as frequently happens in group rides), the group broke up into several smaller groups, following no clear leader and going every which way. In the video you can clearly see us pull up to an intersection where bikes are turning every possible direction.
Cluster. I ride alone and I like it that way. I'm not being anti-social, I just feel that in a group, I give up all control and a good bit of safety as I am not familiar with the other riders' riding styles or skill levels. For me, ride your ride, let me ride mine and I'll see you when we get there

Second was a totally unexpected encounter with a woman front Kuwait. Yeah. In a West Virginia strip mall, who would have guessed? Another member and I were wandering around the parking lot looking for a BBQ place when she approached us. She asked us very politely what the occasion was that brought a couple of hundred motorcycles to the mall.
We explained that we were all owners of a very special type of motorcycle that was only made from 1997-2003 and that most of us communicate fairly regularly through the club's message board but that many of us had never met face to face. This event serves as a yearly gathering for us. She asked several other questions and then filmed us for a snap chat. After learning that some of the proceeds from tonight's block party would be going to charity, she offered to make us all a special kind of sweet from her country. When we told her that she shouldn't do that due to the cost of making them for 350 of us, she seemed sad. She said that she wanted to do something for us, as a way of giving back. Wow. I told her that what she could do is tell people that she met a large group of bikers tonight and that they were really nice folks who care about their community. She brightened at this and said that she would do that .

Perhaps one person's perception of motorcyclists was changed tonight and perhaps she will, in turn, help to change other people's perceptions of us. Maybe somewhere down the line this will result is someone paying a little more attention to us on the road or having a little less unease when we walk into a store or restaurant.
Anything that gets rid of the stupid Sons of Anarchy image is always good. She was a very nice woman, genuinely interested and it was a pleasure to talk to her.
Following this exchange, I found the BBQ joint and has some truly succulent smoked brisket. Good stuff!
Big Mac – 18 States in 22 days
Here is my ride report for my InZane 2016 trip. Joining me on this great adventure is John Gera, Dennis Laitinen (Dennis from Blythe), George Ostan (Nautibrit).
http://www.valkyrieriders.com/socal/Ride%20report%20for%20InZane%202016/InZane%202016%20ride%20report.htm
Kep – Lost My Virginity in Morgantown, WV
I suppose that headline raised some eyebrows. It was my (and Mrs. Keps) first Inzane and it was great. Met a lot of great people, saw some nice bikes, got a little riding in and a free bike wash (4 minutes from the resort when we got hit by hail, sleet, wind and rain), Won a handlebar clock in one of the raffles, but since I already have one I gave it to Jim and Carole (from PA) who were sitting at our table, and found out afterwards he is an avid clock collector. Only drawback at the event was the A/C fan in our room was so loud Mrs. Kep couldn't sleep 2 of the 3 nights. Told them about it the first day and they said they would send someone but never did. The manager did end up giving us back one night's stay. Had a neat experience on the way home…we spent the night at H.I. Express in Marysville, OH and after we ate dinner we stopped at Walmart for a few things and (as usual) some guy in the parking lot commented about the paint job on my Valk. He knew it was a Valkyrie because he said he worked at the Honda bike plant from 1997 to 2003 installing the fork/font wheel assemblies on them…WOW…he may have even helped build mine, I thought that was pretty cool. Looking forward the Indiana Dragon Round-up and the next Inzane… A great Big thanx to all those that help put this together, I know it's a lot of work but it makes for a great time for all.
Willow
We have held InZane thrice west of the Mississippi, twice in Colorado and once in Spearfish, South Dakota. People from the west travel many miles to attend InZane in the east. This year we had a handful that rode about 2400 miles to InZane and our friends from Texas were some 1300 miles away. Next year's location will likely cause people from Virginia to require a 2,000-mile ride and the folks from Texas up to 1600 miles while only reducing our California friends to a little under a thousand miles.
Romeo
Had a great turnout in Morgantown. The Rogues enjoyed the festivities, as they always do.
Here's a picture of the crew from the mitten. We missed Gig and Lulu in the picture

Bill from Philly
I wish to thank the staff, volunteers and most of all the great people I met at InZane. I headed down from Philadelphia solo, not sure what to expect. I have been to Americade twice, a great event to see the latest in motorcycle equipment and spend money. After a few days at InZane I realized this event was about an amazing bike and the people who own them. I liked the wheeling and dealing at the swap meet, I picked up some new items for my 2003. I met the Attic rat himself, after discussing his performance work on Valkyries I looked him up, on line. What a great Reputation he has, could not find any negative comments about his work and his fees were more than fair. I believe I'll be calling him soon. I was impressed by the group's spirit of giving, the blood drive and the $7500 donation to the Brain Trauma Rehab Center. I have been a member of this group for 8 years, this was my first InZane, hopefully not my last.
motomama – Inzane XVI Charity thank you letter
When I checked the VRCC post office box today, there was a letter from Make a Wish and I wanted to share it with all of you. I am still overwhelmed by the outpouring of support and generous giving from our members for this charity. Thank you all!!!!!
Dear Lori and Members of the Valkyrie Riders Cruiser Club:
On behalf of Make-a-Wish Greater Pennsylvania and West Virginia, I want to thank you for your generous donation of $8,050.00 from the proceeds of your many fundraising events. We're thrilled to recognize Valkyrie Riders Cruiser Club as a Wishmaker in our annual report, newsletter and on our website donor list. We are delighted to let you know that your donation will be used for the wish-granting expenses of two local children!
Drew is a 10 year old boy from Fairmont, WV, who is living with Cystic Fibrosis. Drew, like many young boys, loves playing basketball, anything pertaining to Star Wars and Adam Sandler films. He truly is the outdoorsy type and he loves to go camping with his family. When wish-granting volunteers met with Drew, he knew the perfect wish would combine his two favorite things — adventure and time with his family. Drew told his volunteers of his dream trip, which involves cruising on the open ocean with his mother, father and sister. This summer, Drew will embark on a dream cruise to the Caribbean. He is eagerly counting down the days until he can soak up the sun on the vast decks of the ship!
Aidan is a 6 year old boy from Morgantown, WV, who has received multiple organ transplants. Aidan is a friendly little boy who enjoys playing with his brother and sister at the playground. Being Mickey Mouse's biggest fan, it was no surprise when he expressed his dream of visiting Walt Disney World Resort in Orlando. Aidan was thrilled to see this wish come true, as well as visiting the beautiful Sea World, Universal Studios and Islands of Adventure theme parks. While at Disney, he was able to meet some of his very favorite Toy Story characters, Buzz Lightyear and Woody. This vacation was an experience Aidan and his family will never forget!
Our goal is to make this time in our wish kids' lives just a little bit better, a little less scary. We offer them a chance to dream and a time to forget all about doctors and hospitals – even if just for a little while. Thanks to our very generous donors, these children will experience their wishes come true and are on their way to a brighter, more positive future.
Thank you for making wishes like these possible.
Sincerely
Leandra Clovis
Northern WV Regional Manager
Make-a-Wish Greater Pennsylvania and West Virginia"
hubcab – Inzane 2016 Pictures
http://www.valkyrieforum.com/bbs/index.php/topic,87901.0.html
….We made Ground Zero and ate hamburgers and hot dogs at the pool.
I rode with Roger (RDAbull) on Monday, we figured out a route from Ground Zero back to 219. We found this place while we were on route 50… Ron has led a group of us by here before… route 50 is twisty, uphill and bumpy…

On Monday I had the closest encounter with a deer ever… it beat Sunday, hands down…
I was in a twisty uphill section, I think 50, maybe not… forest, I think it was downhill to the right and uphill to the left… guardrails… you can imagine the guardrails are four or five feet beside you as you are going along. All I saw of the deer was as she leapt over the guardrail to my right… she must have done this right beside me, if she had done it in front of me, I would have hit her, if behind, I wouldn't have seen her.
Roger had the luxury of braking when he saw her, but he was still moving when he got to her and she was dancing around in the road then. We got on by…
Monday morning me and Stanley Steamer went over to a near-by Mom and Pop restaurant for breakfast. Good food and quick service. Roger and I went there
Monday night when we got back (we only got lost for a little while), there were a few other Valkyrie riders there. There were numerous Valkyries already there when we showed up for breakfast the next morning. We had them slammed the rest of the week. They were happy because it was good
business, but I bet they were worn out by the time we left. The food was always good. I got a slice (about 1/4 of a pie) of blueberry pie with ice cream one night.
It's a good thing I got that pie, Lori's pies went out of sight! Judy and Robin's table got a banana cream pie, and they brought a slice of it to our table, and all of us who had not yet "jumped ship" got some of it, delish
A lot of money was raised for a good cause. And there was plenty of food that was all good at the VRCC dinner this year …
Wednesday a group of us headed to the breakfast joint and then on to this giant insane asylum nearby…

We split up after the tour, the early eaters going our own way – after we figured out how to get our bikes to run again… to a nearby restaurant that Stanley had seen. And then to Stonewall Jackson's boyhood home..

After Jackson's Mill I had the bright idea of us going back on 119, which we had seen nearby. I forget how Sinkhead got stuck leading when it was my idea, but he led confidently. Not really the way I was thinking, but hey – he has a GPS.
After a while he decided 219 just wasn't cutting it, since we wanted to be on 119. We decided to back track a few miles and pick up one end of 90, and that led us most of the way back to Morgantown. 90 turned out to be way better than the bumpy roads I'd picked out to travel between Morgantown and 215, and so I used it again on the way home.

Pics from Jaroslaw Jarek AKA 'Cicik' who came over from the Czech Republic with Krak Les and Celia Dealmeida
James Taylor
……and a nice video on Facebook
https://www.facebook.com/groups/109339477726/permalink/10153628355252727/
Susan Smith Catoe
Inzane XVII – Billings, Montana
Hayhauler
We don't care how you get there…. just that you get there safely. Hope to meet you. I will be the short fat guy selling raffle tickets in the evenings.
Misfit
We started doing Monday through Thursday with the Early Bird Supper on Sunday evening a few years ago. This allows for travel on the weekends before and after.
You use less vacation time this way and hotel rates are generally cheaper on the weekdays.
F6gal
Last year, based on complaints from the previous year, I decided to post dates as soon as we knew them and locations that we were considering (rather than waiting until everything was set).
Last year, you said you appreciated that; this year it appears that's not good enough. This is by far the earliest we have ever announced the dates and general area. I kind feel like we're damned if we do, damned if we don't.
If you make plans based on Yellowstone for now, you will be in the ballpark; with only minor refinements needed once we know the exact location.

Misfit
Thank you Mr. McCain. Its comments like yours that make things worthwhile. There are some folks that need to go back and review their general board post history and compare positive post's to negative ones.
I think some would have to dig pretty deep to find a positive post, about anything. Thank you to all that have made it a point to put InZane, the volunteers of this great club, and the VRCC staff in a positive light.
Sometimes it really is a thankless job no matter how hard we try. I look forward to sharing Inzane 17 with you. No doubt some of us Easterners are going to be disappointed at next year's Inzane location.
BikerGirl and I typically ride between 450-500 miles per day on our road trips. It would be a four to five-day trip each way for us to ride the 2200 odd miles to reach a Ground Zero somewhere in Southern Idaho or Northern Utah, and that is if we stopped to see nothing along the way. Add the five days for the actual event and we're over a two-week commitment of time and expenses to attend Inzane XVII.
Brian Ecton – Inzane 2017 Joe Boyd Memorial Ride
The bikes departing for the 2017 Joe Boyd Memorial charity ride at Inzane 2017, Billings Montana


https://www.youtube.com/watch?v=d8NBLitr7OI
BINOVC – VRCC Inzane 2017, Joe Boyd Memorial Ride to charity luncheon, June 28.


https://www.youtube.com/watch?v=0Ia7FwKgBD8
BINOVC – VRCC Inzane 2017 Ride to Downtown Billings
June 27, 2017. VRCC Inzane Valkyrie Rally. Police escorted ride into downtown Billings from ground zero (Red Lion Motel) for an evening block party.


https://www.youtube.com/watch?v=awTEj4_6VIQ
SerkDFW – Inzane 2017 Billings Montana
Some of the footage I shot with my drone (Mavic Pro) at the VRCC Inzane Valkyrie Motorcycle rally 2017 in Billings Montana.


https://www.youtube.com/watch?v=R428nUPGdrI
Alien – Riding in the Rain
https://www.youtube.com/watch?v=SiLSeOdyQEU
Inzane 17 Texas Deb Video and Pictures
https://www.youtube.com/watch?v=IcJNygkTUF0
BigMac – Ride Report for our trip to InZane 2017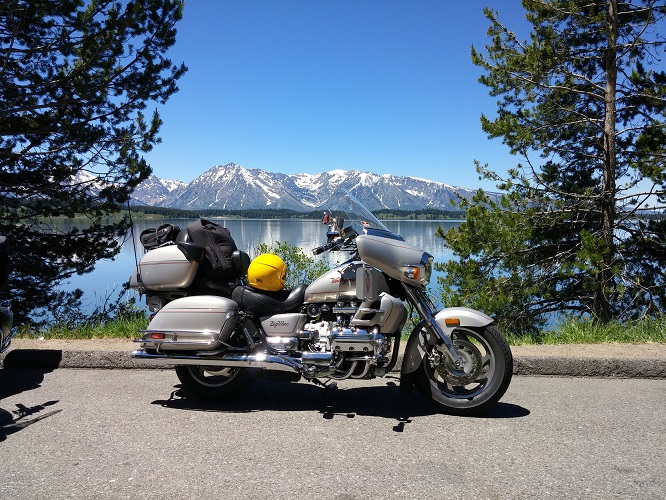 Tetons as usual are just beautiful.
Some very nice pics by John G.
http://s350.photobucket.com/user/ke6aza/library/?sort=2&page=0

Travel blog by the Alien
….Valkyrie folks are some of the greatest, most down to earth people you'd ever want to meet.
These are family folks who want to get together to celebrate the finest motorcycle ever made, share some wind and stories, all while raising money to give to charity. Great Great People!!!
So much so, that solitary nature or not, I've ridden across country twice to hang out with them.
https://www.travelblog.org/Bloggers/The-Alien/
Valkyrie Slalom contest at InZane 2017 by Scott Sapers


https://www.youtube.com/watch?v=vnRZKEdkKFw
Serks Pics

Beartooth Pass Summit

Pretty Valk Contest

Willow shining up ATADude's Valk Daniel in his natural environment
Daniel: I don't recognize myself in this picture… :-\ (also, stolen! 🙂 

Devil's Tower Mt Rushmore

Crazy horse Monument… The Memorial was started almost 70 years ago…. It is impressive, but they've still got a LONG way to go.

JimC – Beartooth Pass adventure
I will leave the actual message and firsthand experience to 98T, Mad6gun, and Psychotic Bovine, as they are the ones that actually went through this adventure.
The pictures were taken from one of their spouses as a good Samaritan picked them up and gave them a ride down the mountain in a car after seeing their dilemma.

Going up to the Top of the World

30 mins later, heading down

That ride had to be the ULTIMATE PUCKER FACTOR!
Jim & Linda
These pictures are of Lothair from Wisconsin, and Mark and Chris Dunges of Indiana. They went up the beartooth pass and on the way down 20 minutes later hit a snow storm.
All three had their wives on back, and a passer by picked up the woman, pictures from the passenger seat while following behind them. (Talk about the ultimate pucker factor)

Solo1
Chris told me that it WAS the ultimate pucker factor! No brakes, no sudden changes in throttle, just get offs with no warning.
Serk
It was snowy, cold and miserable when I did it I think 2 days before this in the cage with the family.
I've suddenly got NO regrets about doing that road in the cage, the weather can change on ya' so quickly there! Glad the get off wasn't any worse, with the drop offs on that road…. *Shudder*
98T
So… we had a VERY enjoyable ride to the top… a little drizzle but nothing serious. Great views on the way up. We stopped at the scenic overlook – took pics… and headed up.
We crossed over the summit and there were people skiing up there and some people stopped to watch. The plan was to go just over the top and see a little of the other side.
We went to the Top Of the World store there and spent a little while there. Then we headed back up and over.
About 2 miles up we hit a little sleet but the road seemed fine. In just a couple turns later it was slushy but seemed ok. Then in just under 1/4 of a mile, it turned really ugly!!!
Plowing a couple inches of snow with our tires. Couldn't turn back… couldn't go forward.
I'll let Mad6Gun (Mark) and Psychotic Bovine (Chris) fill you in on their take as they were behind me.
We had a "delay" at the top for a while and I was seriously worried about getting snowed in up there. No cell signal… no tow trucks… nothing!! Then the pavement looked like it was melting a little better so we started out.
My wife and Mark (Mad6Gun)'s wife got a ride in an SUV behind us 3 and we started out. The first 2 miles were ok… riding in wet car tracks… but then it got WAY worse a little farther down and the last 2 miles back to the scenic look out point were very scary… the "pucker factor" was at 100+%.
We stopped there for a while and talked to people who said just a "few turns back" the weather was better.
So, after a long wait there, we found another nice couple in a small RV who were going to turn back and head down to Red Lodge and they offered to take our wives in their camper back down.
Here's a pic while we were holding up at the scenic view parking lot.

We headed out and sure enough – about 1000 feet lower in altitude, we were blessed with only wet pavement. Another 1000 feet lower and it wasn't even wet!!! What a difference!!
So glad to be back on dry pavement and not in snow/sleet/ice!!!
At the scenic lookout, I advised a group of adventure riders NOT to press on… but they had knobby tires and were sure they could make it through. I wonder how they made out??
A couple other Harleys rode by while we were there… I wonder how they did?
For all I know, it was warm and sunny at the top 45 minutes later!!! Man did the weather change fast up there!!
I live in Wisconsin and am very used to driving in snow…. but I've NEVER done this on a bike and don't ever plan to again.
Our guardian angels (and sheer adrenaline) kept us warm and kept us pressing on hoping to find better road conditions farther down the slope.
Mark or Chris…you have anything to add???
The whole ordeal seems like a bad dream now and I probably left some stuff out…
Cross "riding in snow on a Valk" off my bucket list.
Psychotic Bovine
Ok, here is my story, well, the parts that Loth didn't mention.
I ended up dropping pretty far behind Mark and Loth. The conditions were getting worse by then, and I could barely see between my glasses fogging up and my face shield icing over.
I was taking it slow to say the least. I felt the Valk trying to slide, it also felt like my steering inputs were doing nothing. It was like the front wheel wasn't even connected to anything.
I was keeping a very delicate touch on the throttle. Then, just like someone kicked the rear end, I was down and watching the Valk slide away and do a 180 ending up in the opposite lane facing the way we came.
Someone in an SUV stopped and helped me pick it up, there was no chance I could lift it on my own without any traction. He also picked up my broken left highway peg.
I got on the bike again and got it turned around (barely). I rode at less than a walking pace around the next curve and saw the turnout of the ski lift about 200 yards ahead.
I was barely moving and keeping my feet down but ended up dropping it again (no damage). Two blokes from Britain stopped and helped me get it upright again, but the road crown was so bad I couldn't get off of it to set up the side stand.
One of them walked the 200 yards to the turnout and brought back a few people including two women from the ski patrol.
With 5 people pushing and me in the saddle steering it, we got it up to the turnout where I finally got off of it and put the stand down. One of the guys while pushing it mentioned what a nice bike it was!
I guess Mark's wife, Twila was talking to someone that said I was down a ways back (this was before I got the bike picked up the second time). She couldn't see where I was (visibility was about 100 feet most of the time), but the woman she was talking to told her I was down and "It didn't look good." People are so dramatic. I was fine, just wounded pride. As Loth said, the roads got a bit warmer and we were able to make it down to the next turnout that had restrooms and such.
After that, enough cars had gone by, and the temp was above 35, that we made it down the mountain. I never thought I would be happy to see rain and 40 degrees
MAD6Gun
OK here is my story. We had lite rain when we left Billings. Not enough for rain gear. Continued off and on all the way to Red Lodge. We put our rain suites on in Red Lodge. We left Red Lodge and headed up the pass.
Was beautiful scenery all the way up. A little light rain and sleet but nothing was sticking. Went over the top to the Top of the World store. Bought a couple of things. We were there maybe 45 minutes.
We left and headed back up. Like Loth stated it started out with a little sleet then slush they a full-blown snow storm. Too late to turn back we trudged on. Neither Loth or myself knew Chris went down until someone told us after I went down.
We were slowing down when the bike came out from under us. My wife hit her knee on the bike and I got a bruise on my left leg from the handle bar.
After I got up and checked on Twila Loth helped me get the bike back up but when I tried to move it off the crown the tire spun and put me in the gutter next to the road. I just laid it back down gently.
By then ski patrol made it to us and they were tending to Twila. Four guys help me pull my bike back on to the road. Loth had moved his bike down the hill to another overlook. I rode mine down to Loths.
We both left our bikes there and went back up to check on our wives and Chris. By then Chris had his bike upright and at the overlook. We decided to ride our bikes off of the mountain.
So off we went with the wives in a car behind us. I will tell you riding down that mountain in the snow sucked bigtime. After a short stay in another overlook waiting for cars to get rid of some of the snow we took off again this time our wives were in a nice couples RV. After another 1000 feet down the snow turned into rain and the roads cleared. I was never so glad to see rain and 40 degrees in my life. We were reunited with Dawn and Twila in Red Lodge.
We got back on the bikes and headed for Billings. I Never want to do that again. Minor damage to both bikes, broken highway pegs. Nothing I can't fix. Except for Twila's hurt knee we all came out of unscathed
chtwhite – 2017 INZANE Billings, Montana Tour
https://imgur.com/gallery/Bg9HW

My 2001 Honda Valkyrie GL1500C Touring Bike Other Guys with Valkyrie's I met on the Pass leaving Wyoming heading into Montana

Leaving Chief Joseph's Pass headed up to Bear Tooth Pass.

In Chief Joseph's Highway Pass A Mountain Lake at about 2 miles or higher at the top of Bear Teeth Pass. This was June 2017.
I couldn't believe the ice on the Lake.

Just a beautiful high mountain lake. Black and White.                 A picture of the INZANE Bikers. We drove into Billings for Supper.
Nice town. Nice people.
Alien Travelblog – Billings, MT InZane
https://www.travelblog.org/North-America/United-States/Montana/Billings/blog-983844.html
ke6aza's Bucket / Inzane 2017
I wanted to do the tour at Little Big Horn but there wasn't enough time. Donna and I have been there before and I stopped there on the way home from Spearfish 2 years ago.
The whole area has a lot of great ridding. I still need to do the Badlands. We were going to try to go over Going To The Sun Road but it still wasn't clear of snow.
Two Valkyries were rumored to have gone down on the Beartooth Hwy and couple of days after we did it, due to fresh snow. I heard both riders were ok and were at the awards dinner.
http://s350.photobucket.com/user/ke6aza/library/Inzane%202017?sort=2&page=1
Inzane XVIII – Roanoke, Virginia
Roanoke was held in June 11-15-2018 and listed 319 pleasantly disturbed participants
Carter Johnston
InZane 2018 map showing where everyone is coming from (as of 2 June).
2fan4life
Published over 30 self-guided rides. Now that's really exceptional, well done
http://www.valkyrieforum.com/bbs/index.php/topic,101104.0.html
Dan Page's Facebook video of mass gaggle departure
https://www.facebook.com/groups/109339477726/permalink/10155529722307727/
Big Bopper
Been home for 1 week and ready to go again. 8,000 miles since leaving May 16th with Run For The Wall. Roanoke was great seeing, and making so many friends.
Thanks to Dr K and Miss Cindy, I had a great ride on Saturday heading down from MI. Believe it or not I ran into Hot Glue and her husband "What's his name" LOL at a gas stop in Mississippi.
Not unusual except is was on Sunday, 3 days after the event. Had lunch in Dallas with Disco Dave (great place) and finished the last two days in 110 plus temps.
I love my Valk and would live on the road if it weren't for one pesky thing! No it's not her, it's the $$$$$. Maybe one day,
Meathead
Started out at 3:30 am. I was too hyped up and couldn't sleep. Brenda was already gone the day before taking her Mom to Phoenix for radiation therapy. Everything went good and I was making good time.
Listening to the audiobook really made the Interstate not quite so boring. About 5:30 pulling in for gas near Amarillo I hear something. Turn down the sound on my headset. At first as I was coasting in I thought it was a front wheel bearing.
But when I get stopped and helmet off it's obviously coming from the engine. Sounded terrible and I wasn't sure what I should do. Checked for hotels and found one about 5 miles away. Get to the hotel and unloaded.
By this time I'm pretty sure the noise is coming from the alternator. Once the nut came loose on the drive hub and it made a funny noise. Thought maybe I'd get lucky and that would be it. But it wasn't.
But I detected a little side play in the drive side. Had much help here on the forum offering to send one and other help, which I am eternally grateful for. Ended up getting an alternator shop to rebuild it the next day in record time.
Day 2 I only got in 350 miles because I didn't leave till 5:30. The next 2 days are pretty uneventful. I was trying to catch up to my SoCal and AZ buddies. But I had only minimal sleep for a couple days and I was running out of steam.
Got to Roanoke Sunday, my wife had flown in Saturday. Brenda was hungry so we went to eat and pick up some essentials (beer).
Monday hooked up with my Massachusetts buddies and some locals for a spirited ride around the hills there. I still don't know exactly where we went. One place was called Blueberry Ridge. It was a good ride.
Tuesday we rode with Rainmaker, Speedo, and Dennis from Blythe to Mt. Airy (Mayberry). Another good ride.

Wednesday we hooked up with 3fan and a bunch of others for a ride to pay homage to Stonewall Jackson and Robert E. Lee. I very enjoyable and informative ride.
Then the fun began with a little backwoods riding. It was the most fun of all.
Thursday I took Brenda on a ride on the BRP. We only did 60 miles of it and then some other back roads. But it was thoroughly enjoyable.
Each night there might have been a little beer drinking and a little BS'ing. Friday Brenda and I were off to DC for a few days.
We went to the Arlington cemetery that afternoon and then rode across the Memorial bridge and rode around the city a little.
We spent the next two days looking and acting like tourists.
I dropped Brenda off at the Roanoke airport and headed to the tail of the Dragon. It was ok and I'm glad I did it. But I really didn't enjoy it. I have heard so many stories over the years of people over riding into your lane.
I was hyper vigilant of that and really couldn't enjoy it that much. But….Pete had recommended the Cherohala Skyway. I took Joyce Kilmer Road over as a short cut. The Skyway was the bomb !
I thoroughly enjoyed that road. Nice big sweepers at a good speed, perfect pavement, beautiful views.

Made it to Chattanooga for the night. I was really tired and got a hotel right as I got into town. Big mistake ! I battled traffic across town in the morning and had a few close calls.
The rest of the ride was pretty uneventful along interstate 40 the whole way. Met lots of interesting, friendly people all across the country.
Had a great time visiting with old friends and meeting many that I have wanted to for years. It was a great event !
(part of) Serk and Spawn's Long Overdue Inzane XVIII Report with Pics
Okay, now that I've had time to at least partially recuperate, process pics, let the trip digest and settle down, I'm gonna sit down and try to write it out.
Going from Dallas to Roanoke, on the excellent advice of many here, we detoured to Cherokee, NC and rode the first (Or last, depending on your orientation) 85 miles of the Blue Ridge Parkway

Loved it, have to go back and do the whole thing sometime. Glad we did it (And the road through Great Smoky Mountain National Park!) in lieu of US129, no regrets there at all.
I could take a month and just ride around that area and still not get all the good roads I suspect.
From Asheville we superslabbed it to Roanoke where we found Valkyries!


Many lies were told, friendships were rekindled or made, faces were put to names, etc…
And then there were the nightly raffles with Vanna White Jr proudly running prizes out:

I was ever so gently admonished for being a little TOO generous with my arm stretches while distributing 50/50 tickets…

Some pies were auctioned off for a great cause (Seeing Carl go from one end of the room to the other enticing the high bidder with a free sniff was just a bonus!)

With the generous financial assistance of my table mates we were able to get this plate of painfully delicious sopapilla cheesecake (That Kali is STILL ranting about how awesome it was!)

After the pies were bought and consumer, there were some Karaoke shenanigans (But I wasn't NEARLY inebriated enough to get up there myself! You're welcome…)
For one of our day trips around the area Kali and I headed out to the National D-Day Memorial. That was one you didn't want to miss.

From there we wandered around a bit, rode a little of the VA part of the BRP. It was beautiful as well, and fun, but the NC side definitely gets top marks.
There were long stretches of thick pea soup fog. Luckily I love that kinda stuff, kept me on my toes, and luckily also there was almost no other traffic, but it definitely made or an interesting ride!

Back at the hotel, the spot out front became one of the main social gathering spots (Until the hotel decided to threaten to call the cops on us for imbibing in a non-imbibing approved spot, but oh well)

Have to wonder if this sign had always been there, or if they put it there just for our "benefit"?

The fruit infused waters they (almost) always had in the front lobby I initially thought were gimmicky, but will admit I quickly became a fan of. (Especially the watermelon!)

I usually don't do group rides, but Kali was requesting we do at least one since she'd never been in one before, and I'll admit there is a certain thrill to having the roar of bikes all around you, so we did the group ride downtown to the Transportation Museum for the block party.

Lots of cool old cars, airplanes, bicycles, and trains. And more trains. And model trains. And big trains. And BIIIIIIIIG trains:

…and cake!

Loved this pic of a lone Valk on the deserted streets downtown headed back from the museum:

We made the trek up to see the Roanoke Star, and the lookout over the city.

I think you can just make out the host hotel in this pic from the overlook:

We did the poker run in there somewhere (First one of those I'd ever done) but evidently left the camera in the saddle bags the whole time. The route was amazing, loved it!
Back at the hotel…. Man, they'll let anyone in here!
And suddenly, it was Thursday night, the week was almost over, time for the final evening's festivities:

Awards were awarded:

Speeches were made

Goodies were raffled off:

Surprisingly good food (I thought at least) was eaten:

But alas, we had miles to go the next day, so we called it an early night and packed up and prepared, said our first 15 or 20 rounds of goodbyes, got up good and early Friday morning, had a quick breakfast, and said our final goodbyes to Inzane VXIII

We did a 2 day 1200 mile plus run back to Dallas/Arlington after the best week ever in Roanoke.
Thanks to staff for what I think was the best Inzane ever. I can't recall having more fun with my motorcycling buddies or meeting more Valkaholics.
hubcapsc trip report
Me and Stanley Steamer traveled back and forth to InZane.
……..Anywho… it was great to arrive at InZane and find the motel ate up with stinkin' Valkyries!

Many bikes stayed parked in parking places near where the above picture was taken.
Many folks hung out near the bikes and among the bikes each night and drank beer and laughed and talked loud, since, besides the riding, visiting is what they came here for.
After a few days the motel started sending people out to tell us to stop having fun. They had little success.
I ate breakfast every morning at the motel restaurant. It was set up, I guess through the VRCC?, that breakfast was free for us.
Joe wanted to go on a Red Book ride, so I looked for a few roads that would be good for Monday.
The ride was basically this area:

After we circled back to 311, several folks headed back to the motel, and the more adventurous of us headed to Paint Bank on 311. We had to go over a hill top that kind of protruded into a cloud.
If I could have figured out a safe way to chicken out, I would have, but just keeping on going seemed best:

After we got over the top, we could see again, and we made it to Paint Bank.
There's a little country store there, with a nice restaurant inside. The cloud was lessened when we headed back over 311 back to the motel.
On Wednesday a bunch of us followed Mark (3fan4life) from 10:00am until about 8:00pm on a long winding route with lots of historical stop-overs. We stopped at Washington & Lee at the Lee Chapel.
We stopped at Stonewall Jackson's grave site. We came to a giant waterfall that had previously been moved to its current location to facilitate a mining operation.
We stopped at a covered bridge. The covered bridge was our downfall… you had to travel down a snakey little road to get there, and we traveled the wrong way down the snakey little road when we left.
Pretty soon we were on dirt, and pretty soon there were some pseudo-gnarly hills to climb. Everyone handled the dirt with no trouble.
I don't really know Mark's route, I just followed… we were on the 501 for a while:

Here's us at Stonewall Jackson's cemetery:

Here's Joe and Rodney at Stonewall's grave site. There's a fresh lemon's been thrown at the foot of the statue


https://www.vmi.edu/archives/stonewall-jackson-resources/stonewall-jackson-faq/
Too bad I put the smaller SD card in the camera on Wednesday, I don't have any pictures of the dirt road. We made a gas stop and I used the last twenty minutes or so of space on the SD card for this:

Another great InZane!
Some more pics